Cost of travel in the Philippines
Wondering what the cost of travel in the Philippines is like? Well, let us give you a an approximate overview and detailed breakdown of the cost of travel in the Philippines. The Philippines is definitely an affordable destination to visit. Food is reasonably priced and activities are available in a wide budget range. The only glitch is that transportation is relatively expensive (compared to Cambodia or Vietnam), but still affordable. From hostels to resorts, transportation options, activities and daily grub- Our article on the cost of travel will help you calculate an approximate budget to set aside for your next trip to the Philippines.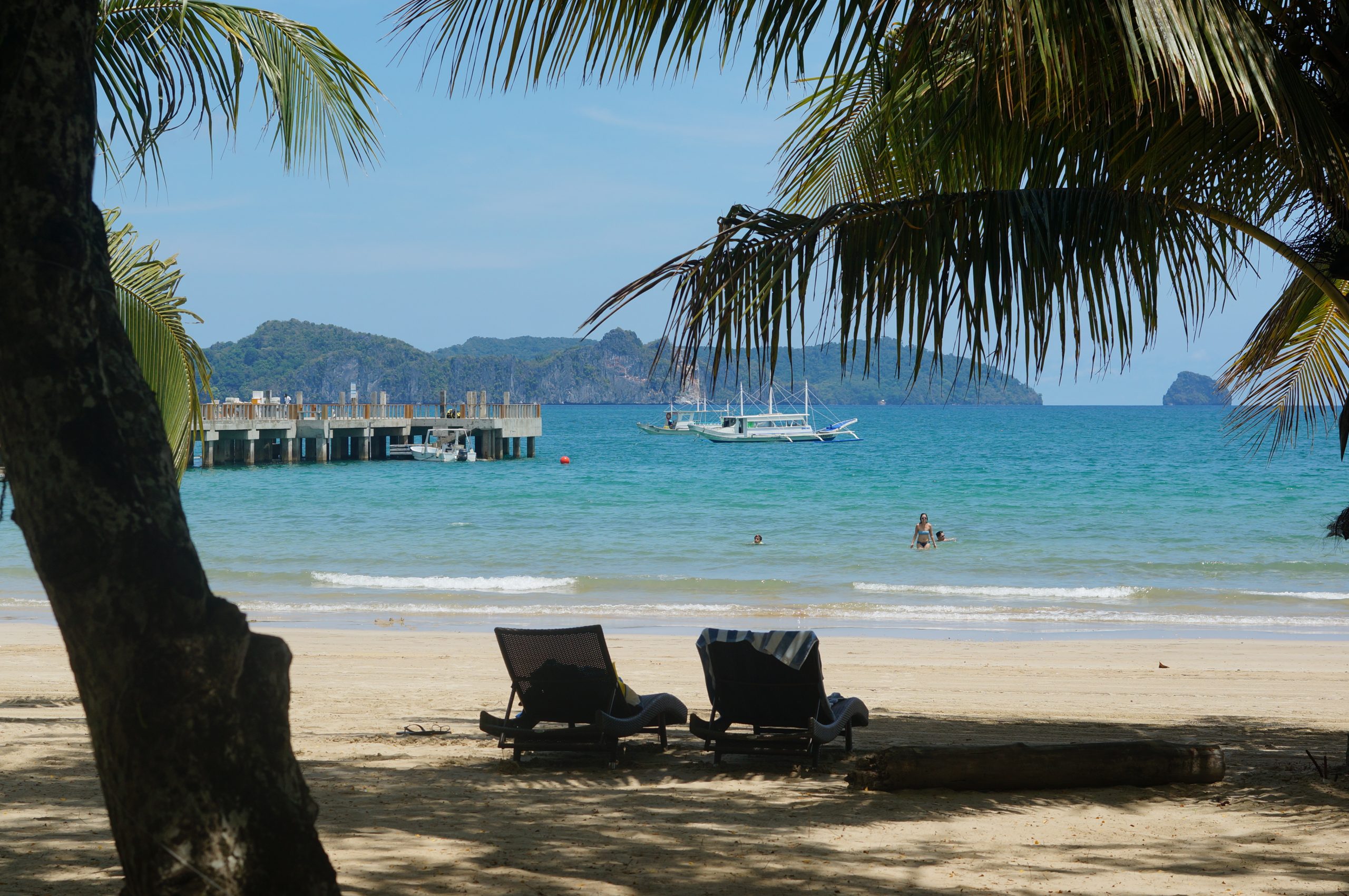 Enjoy the spectacular view of white sand beaches and clear blue waters as soon as you step out of your room – be it at hostels or luxury beach resorts.
Accommodation
Depending on where you go, there is a range of accommodation to fit almost every budget. Thus your cost of travel in the Philippines will increase or decrease depending on where you choose to stay. However the Philippines is not yet as touristy as Sri Lanka or Thailand. As a result, the infrastructure in terms of hotels options is not as diverse. If you do decide to go off the beaten path, expect a more basic accommodation. The same applies for boutique stays and home stays, as the Philippines has not reached that stage of its tourism bell curve. Nonetheless there are several luxury resorts that are very reasonable given the facilities and services they provide.
For a minimum budget of $15 – $20 per head, you can get inns and pension houses that offer a nice room with an attached bathroom. These will be simple, but clean, pleasant and certainly sufficient. Hostels are still are available for approximately $10- $12 a night in good locations. Backpackers would find it easy to search for hostels and as a budget traveller you will have enough options for places to stay.
If you have a slightly higher budget, you can get hotels in a better location, with slightly more luxurious offerings. You will be paying around $60-$80 per person for a more comfortable accommodation. The Philippines doesn't have a lot of mid-range hotels, so if you have this budget, we'd recommend staying in a mixture of simple and boutique hotels.
For those who wish to stay at resorts and have the luxury to spend, expect to spend $80-$150 a night per person. There are many private island resort getaways which will pamper you and offer spectacular views. These are not nearly as expensive as the Maldives and are relatively easy to get to. Popular beaches also have lots of resorts, great for couples and families travelling in the Philippines.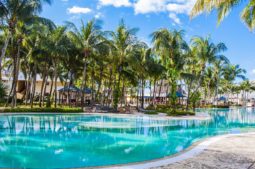 Some islands have the ideal blend of hostels and resorts but certain islands in the Philippines only have luxury accommodation at sky high rates with the best of facilities.
Monuments and Activities
The Philippines doesn't really have your run-of-the-mill 'monuments' or entrance fees for cultural sites. But it does have an environmental fees, and an entrance fee for specific beaches, conservation areas and marine parks. The cost of these range from 50 cents to $5, and it is the same price for everyone; it does not depend if you are a foreigner or local. This lowers the weight on your total cost of travel in the Philippines.
Activities like island hopping and inland tours are also quite reasonable. On average, island hopping in most beach destinations would be $20 – $25, and include snorkel equipment and lunch. These prices are standardized and will not really change from shop to shop. This would include a local tour guide on each boat (though you are generally allowed to explore by yourself most of the time).
Private boat expeditions are more expensive but worth it if you wish to run away from crowds and visit islands and lagoons at your own pace and time.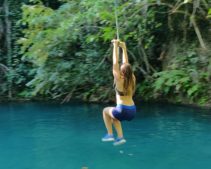 Adventurers and thrill seekers are in for a treat with the countless adventure activities on various islands in the Philippines.
Transport
Internal local transport in the Philippines is very inexpensive. Getting around a city or from one city to another is not very expensive if you take local jeepneys or buses, but it is cumbersome, and very inefficient. A bus ticket will cost you only $2-$10. The same applies to hiring a tricycle for the day well. Though there are no fixed prices for tuk tuks, you should be expecting to pay $15 – $20 a day for the tricycle driver to show you around the island. This is efficient and also a good way to get a local perspective, especially on weekends if you want to visit a cock fight.
Can you afford for a little flexibility for your cost of travel in the Philippines? Hiring a car and driver is the more expensive option as it's the most comfortable form of travel. You're likely to pay a premium for a car as they only really have vans and if you are not sharing them with other people it is kind of expensive. While getting from island to island, your transportation will either be flights or ferries. Flights are also rather inexpensive and of course very efficient. Ferries prices range depending on the distance, but on average a two hour ferry ride on an express catamaran boat (with air conditioning) would cost $6 – $8.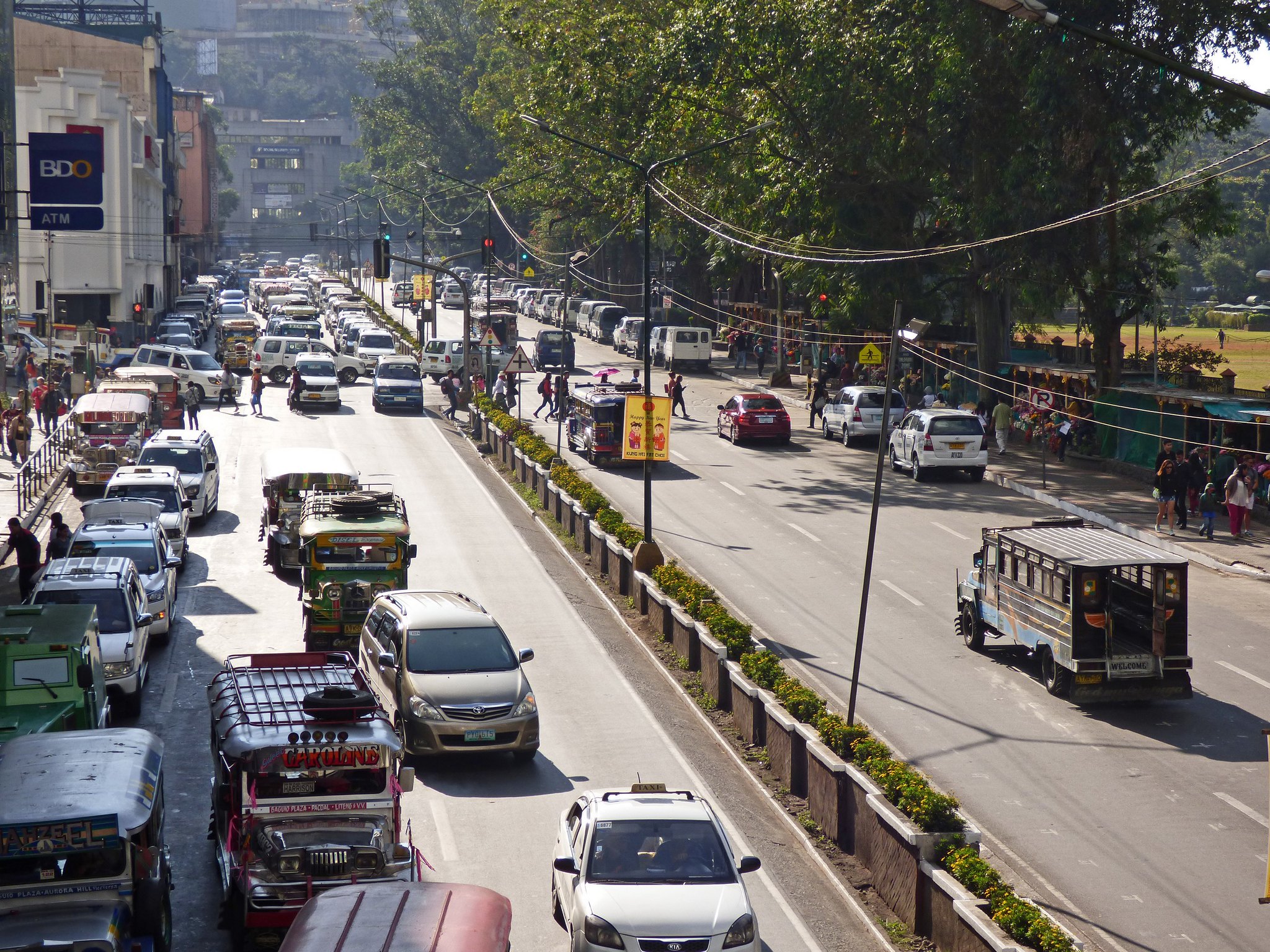 From buses to ferries – transport in the Philippines is an experience in itself.
Food and Drink
Local food in the Philippines is not just delicious, but also quite inexpensive. You can expect to pay $3- $5 per meal maybe even cheaper. Fruits are quite cheap if you can manage to buy them from a market and a fresh Buko (Coconut water) will cost $1.5. Your cost of travel in the Philippines won't sustain much of an impact from these.
You will also find fast food stalls selling vegan and health food bowls. These are relatively expensive but are easily available for those who seek them out. There aren't many fine dining restaurants available unless you visit a luxury or boutique hotel. But, even these hotels don't charge more than $20 a meal. So expect to taste some delicious, inexpensive food during your stay.
When buying alcohol, look out for local filipino beer (San Miguel and Red Horse are famous and very cheap). Even bars and clubs have well priced alcohol. A night out will not put you down by a lot, even a good whiskey would be 3$ for a 60 ml shot. The locals know how to party; no matter how small the island you will find locals drinking and singing karaoke.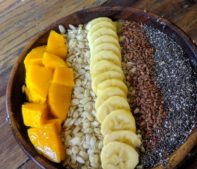 A scrumptious breakfast bowl – healthy and absolutely delicious. Commonly available at local cafes on popular tourist islands.
Shopping and Miscellaneous
The chances are that most of the souvenirs or clothes you buy from markets will only cost you $2 – $5. Make sure you bargain for a fair price, as some sellers will see a tourist and think they can sneakily charge more. Whatever price they tell you, make sure that you half it to begin with. Then move to slowly reach a middle point of agreement. The cities of Manila and Cebu have many shopping malls and you can get any brand of your choice.
Tipping in the Philippines is a tricky one. The staff on island hopping tours and such don't usually ask for tips. If you do leave them a tip they are often surprised and rather happy. The same applies to tour guides and drivers. But we still recommend tipping as the service is often very good and accompanied with a smile. Of course, this is always dependent on how good your experience was.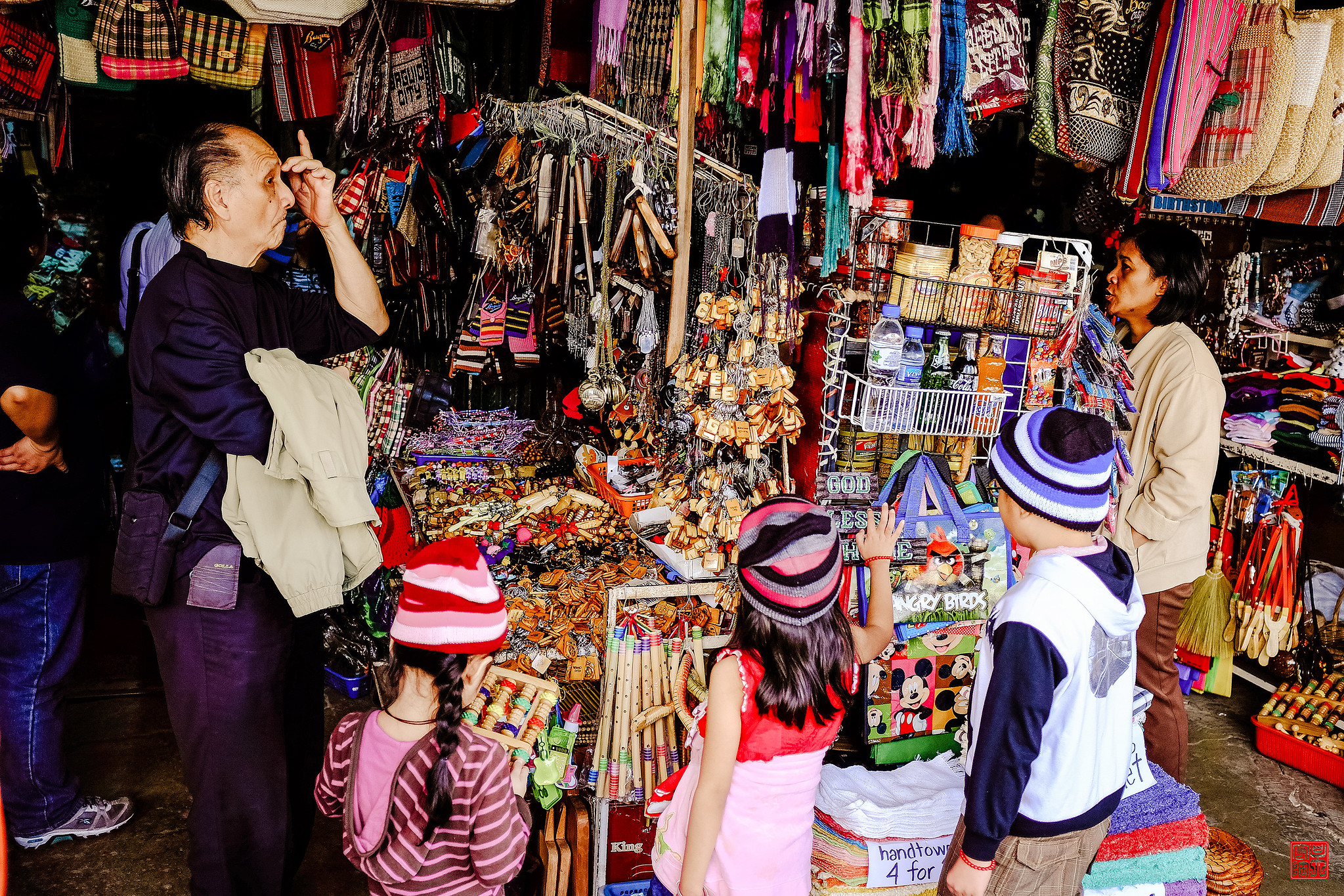 Brush up on your bargaining skills when shopping in the Philippines.
Two Week Budget
We have charted out an overall estimate on cost of travel in the Philippines. This applies for a two-week duration, with a range of budgets as follows-
Backpackers
If you are a backpacker then you can look at spending $40-60 per person every day. This would include $10 – 15 for a dorm bed, $10 – 15 for food and around $20 for an activity (like island hopping). As you won't be doing an activity everyday it would average out the cost of the entire trip. This means $500 – 800 per person. If you are on a budget or a flashpacker then it is possible to spend only $70 – 90 per person every day. This will include private, simple accommodation, and activities not including scuba diving. Therefore you should budget approx $950 – 1350 per person.
Comfort budgets
For those willing to spend for more comfortable accommodation that includes some boutique hotels, a car and a driver for a few days of your trip, you will be paying about $100-150 per day on average. Approximately, you will pay between $1,500-$2,000 per person for the duration of two weeks.
Luxury budgets
Luxury travellers can expect to pay $300 – 350 a day per person. This is if you choose to stay in luxurious or boutique hotels and hire a car and driver for the whole duration of your stay. On average you will end up paying around $3000-$3,600 approx for each person for a two week luxury holiday to the Philippines.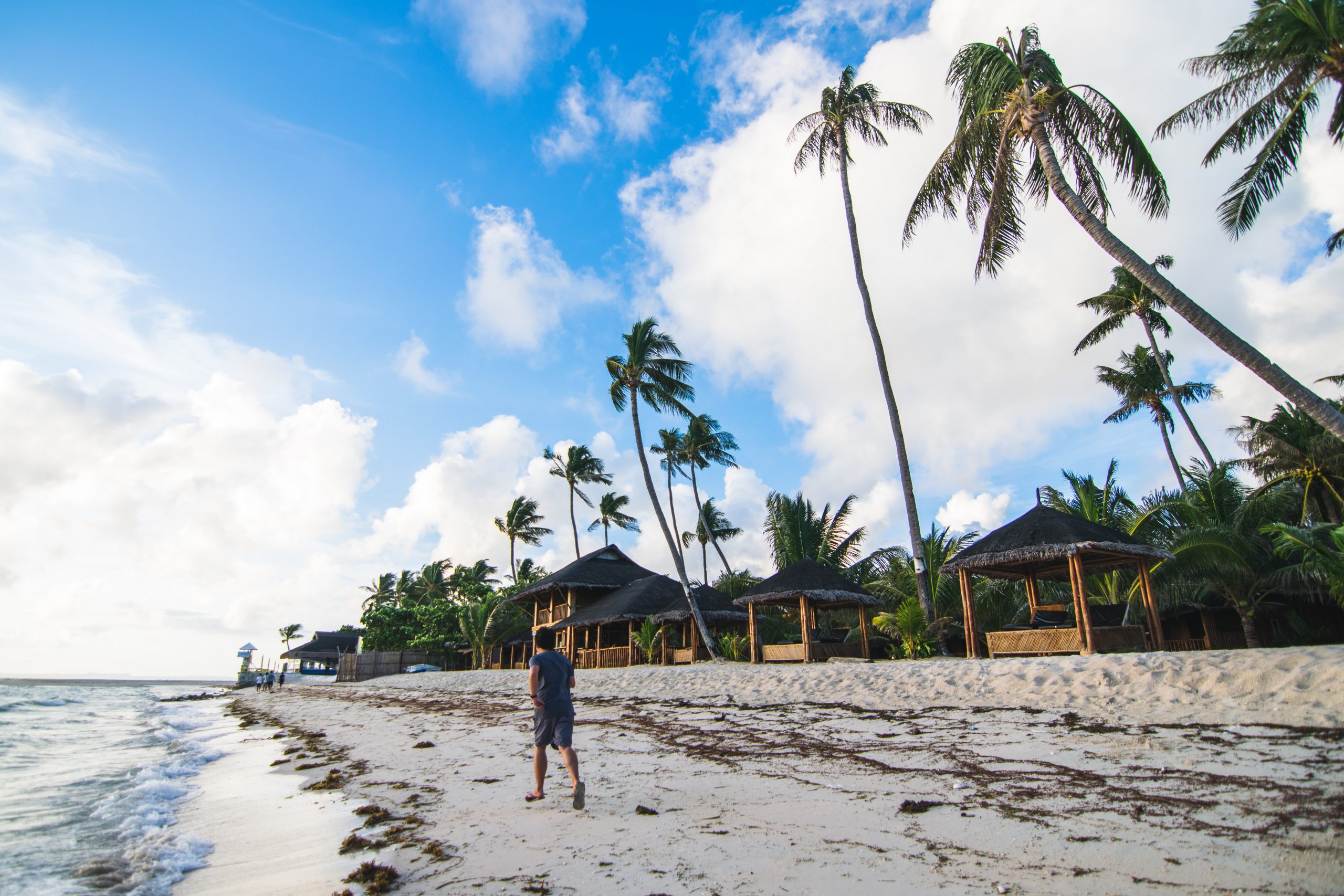 The Philippines caters to every budget, leave it to us to plan the ideal trip while catering to your interests and keeping in mind your budget constraints. Get Packing for an adventure of a lifetime.
Get in touch with us at Asia Someday, and we can assist you in planning the perfect trip to this exotic paradise while catering to your budget requirements and interests. For more information on how long to spend in the Philippines or the best time to visit do check out our other blogs!
helping you travel your way
We provide a helping hand to independent travellers who need assistance with planning and booking their trip. The primary goal is to turn your dream holiday into reality.
YOU MIGHT ALSO LIKE
LEAVE A REPLY