Travelling in the Philippines
Travelling in the Philippines is a valid concern, as it is comprised of approximately 7500 islands. There are different modes of transport to get to each of them. Getting around may not always be easy, especially since connections from one island to another are not always the best. But fret not, there are several options for travelling in the Philippines. Read on to get the best understanding of what suits your budget and route.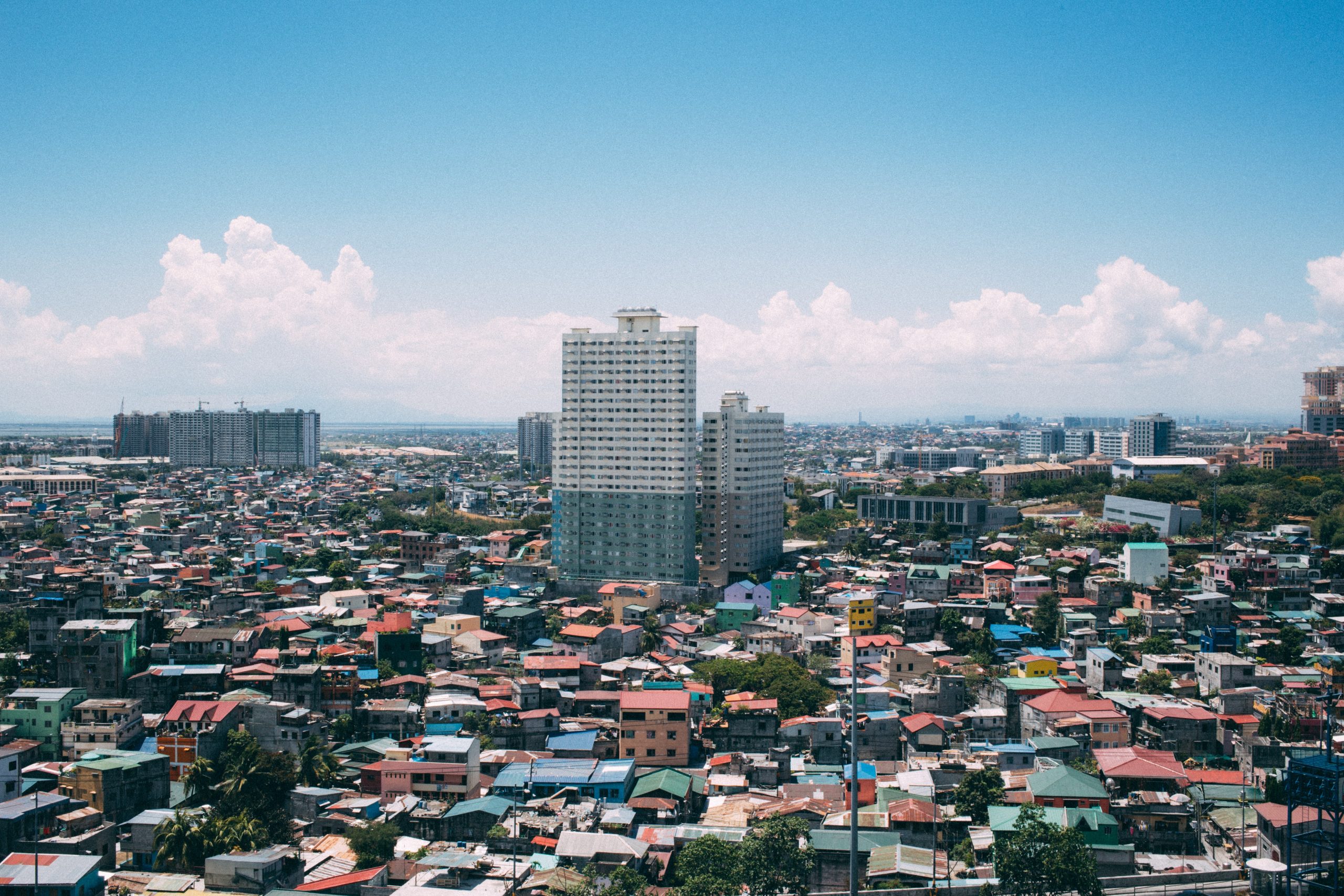 The Philippines are getting increasingly modernized, as are its modes of travel.
travel in the philippines by Private car
We suggest hiring a car with a driver for trips from Manila or within the larger islands. This is especially beneficial if you plan on a few day trips from Manila, or in the region of Luzon. If you would like to visit the rice terraces of Banaue or head to the beaches of Puerto Galera in Mindoro, a chauffeur-driven car would be the best option. That way you get to explore the regions comfortably and at your own pace.
On a smaller island, a car and driver can be really helpful to explore different nooks and crannies, especially if you are not big on biking around. You get to decide what time you arrive to destinations without always being restricted to Jeepney timings (and often, delays). Additionally, we can get this organised for you, so you don't have to worry about finding a reliable driver. Many drivers have a basic to good understanding of English. They can provide you with a cultural insight you otherwise wouldn't have. Expect to pay around $200 a day, which will cover fuel, lodgings, food for the driver, and any extra road tolls. You should tip the driver at least 10% at the end of the trip.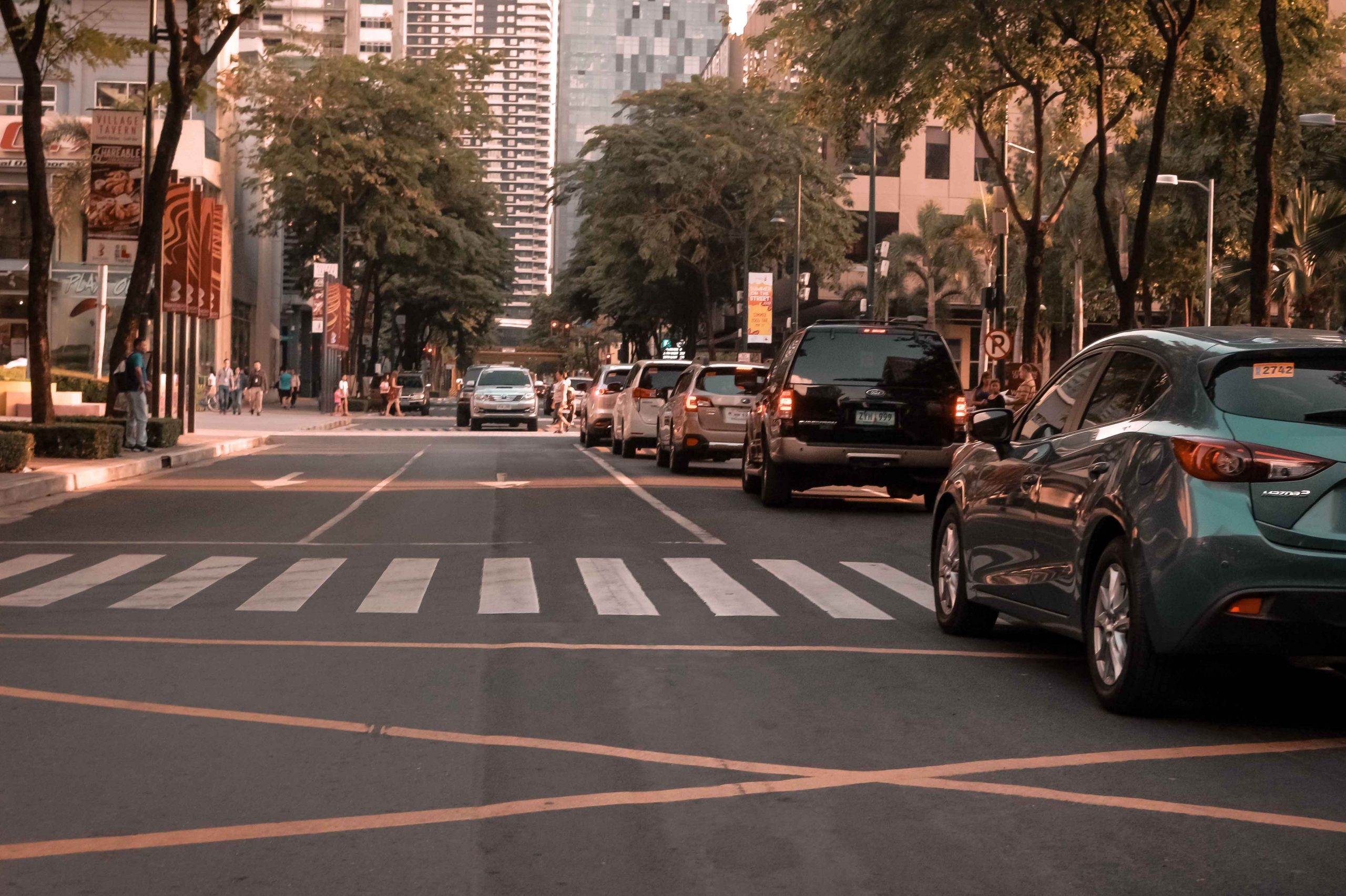 Roads in the bigger Philippine cities are smooth and make for comfortable car rides.
Bus/Shared Minivans/Jeepneys
The Philippines does not have an extensive bus route. Only the large regions of Luzon (the country's biggest island), Cebu and Davao have a local bus system connecting them to the other cities on the island. The timings are easy to check online and the buses tend to leave relatively on time. You can book bus tickets in advance and we can help you with this process. Most buses have air conditioning, especially the long distance ones. In fact it often gets quite cold in these buses, so a shawl would be helpful.
Most airports on islands or near islands have shared minivan services to the port or town center. These can be booked on the spot and is quite easy and comfortable. If you take tours within an island (island hopping, or waterfalls) your pick-ups will often happen on a minivan. The minivans are very comfortable and are also air-conditioned.
The most interesting way to travel in the Philippines is via jeepneys, ideal if you're looking for an authentic, local experience. They are a little tricky to understand in terms of routes, but it's definitely a fun experience to travel within a city or getting around an island.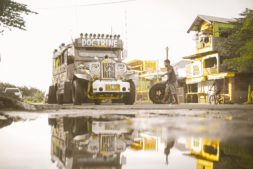 Jeepneys are a fun way to travel in the Philippines.
Tricycles / Hiring your Motorbike
Tricycles (otherwise known as trikes), are a famous attraction. They are a popular mode of transport for tourists to ride and take photos in. They are cheap, fast, easy to locate, and it's amazing how they can squeeze in and out of traffic. Also, the best way to get local insider tips is by speaking to trike drivers and asking them for hidden, unexplored spots around the island. Want to drive but don't have the budget for a car? You can also hire your own motorbike to tour the island. This is a great option for backpackers looking for some thrill and adventure while travelling in the Philippines.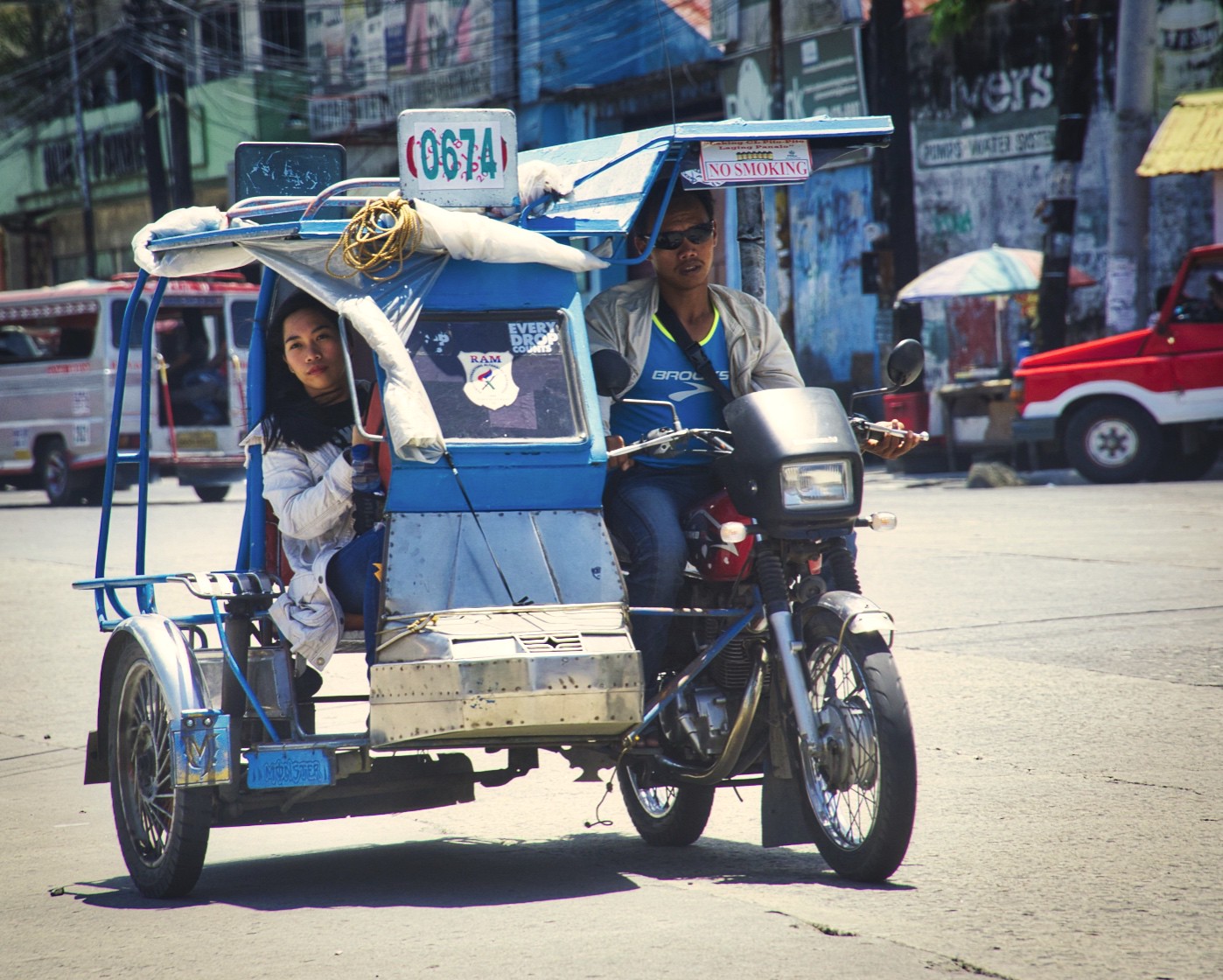 Opt for a tricycle if you want an authentic, memorable experience of travelling in the Philippines.
Flights
Taking a flight sure makes travel in the Philippines easy, but is only possible between certain islands. There are domestic flights within the Philippines to get from one island to another. Do bear in mind that not all islands connect to each other directly. So if you want to get from Boracay to Siargao, you will have to take a connecting flight via Manila or Cebu. The biggest airports are in Manila, Cebu and Davao. And most of the famous islands like Palawan, Bohol, Siargao and Boracay have airports close to them, making them relatively accessible. The airlines that cater to these places range from local airlines like Swiftjet, Cebu Pacific and Philippine Airlines to the more popular airlines like Airasia.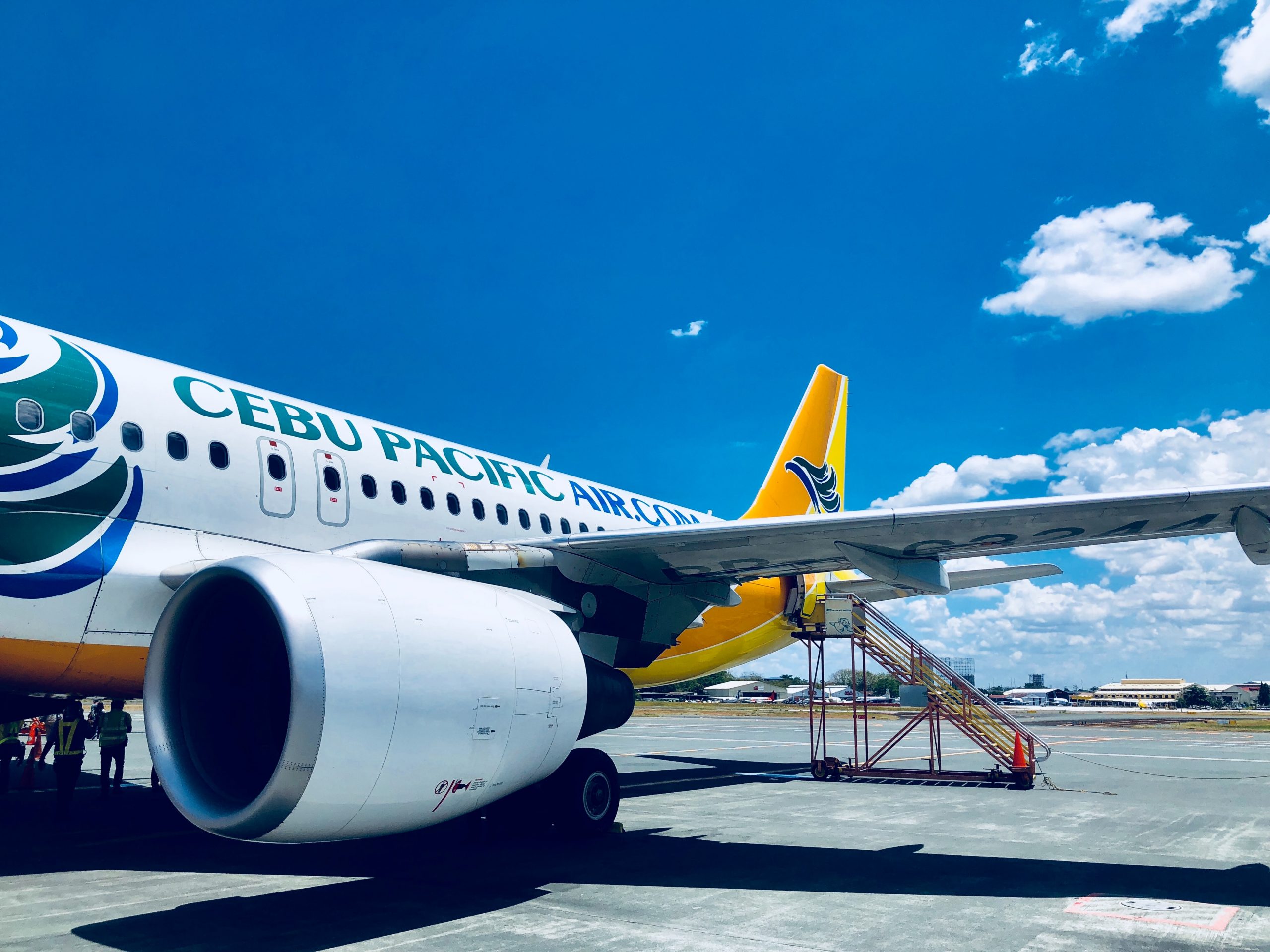 Domestic flights in the Philippines are only an option between certain islands.
Travel in the philippines by ferry
Ferries in the Philippines are a common means to get around multiple islands. They are often called Roros and are a very useful mode of transport. They are sometimes (mostly) not very punctual, depending on the weather, waves, currents and other factors. Irrespective, ferries are the ideal connection between big cities like Cebu and islands of Bohol, or even from Dumaguete to Siquijor. They are usually quite comfortable and most of them are air conditioned, but there are still a few (shorter durations) which are not as well equipped.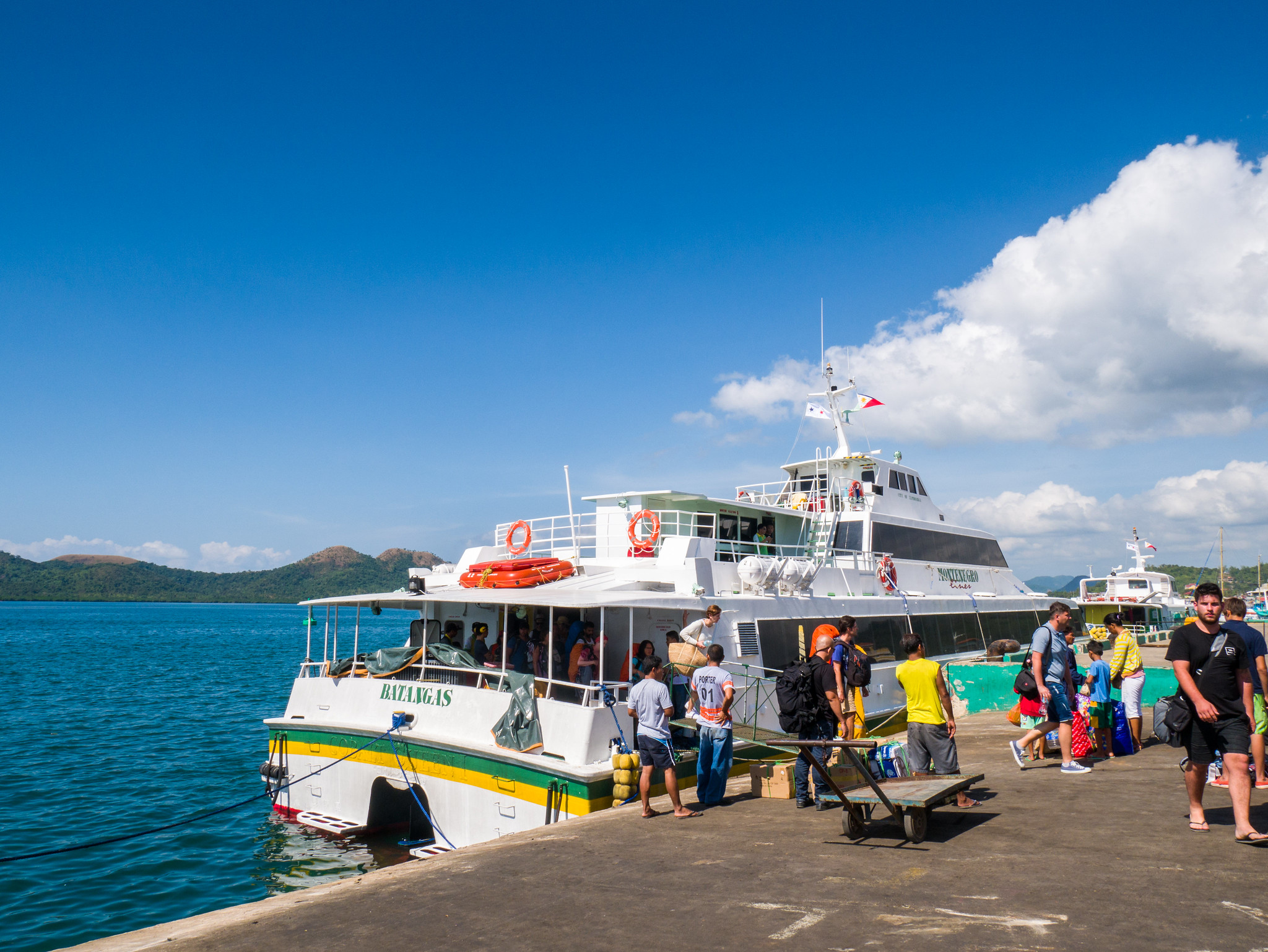 Ferries in the Philippines aren't always punctual but are a very convenient mode of transportation.
If you're wondering why visit the Philippines in the first place, the list of reasons is never ending. Let us help you plan your trip to the Philippines for the ideal trip that covers all the best places to visit and caters to all your needs and requirements. As for travelling in the Philippines, we can make arrangements for all your travel concerns – bookings, or even hiring a driver for either a segment or for the full duration of your trip. Leave it to us to incorporate all your interests, whether it's activities to indulge in or meeting budget requirements. Simply hit the Plan your trip button and leave the rest to us.
helping you travel your way
We provide a helping hand to independent travellers who need assistance with planning and booking their trip. The primary goal is to turn your dream holiday into reality.
YOU MIGHT ALSO LIKE
LEAVE A REPLY