Scuba Diving in the Philippines 
There's no simpler way to put this: scuba diving in the Philippines is an unbeatable experience. Be it, experts or beginners, the clear blue waters and exotic marine life welcomes all kinds of divers. When it comes to the beautiful reefs and the vast number of underwater species you get to see, the Philippines is one of the best places we've visited. If you're planning on scuba diving in the Philippines, here's a list of some of our favourite sites around the country. And of course, whether you want to stay in hostels or luxury dive resorts, we can help make sure you get it all.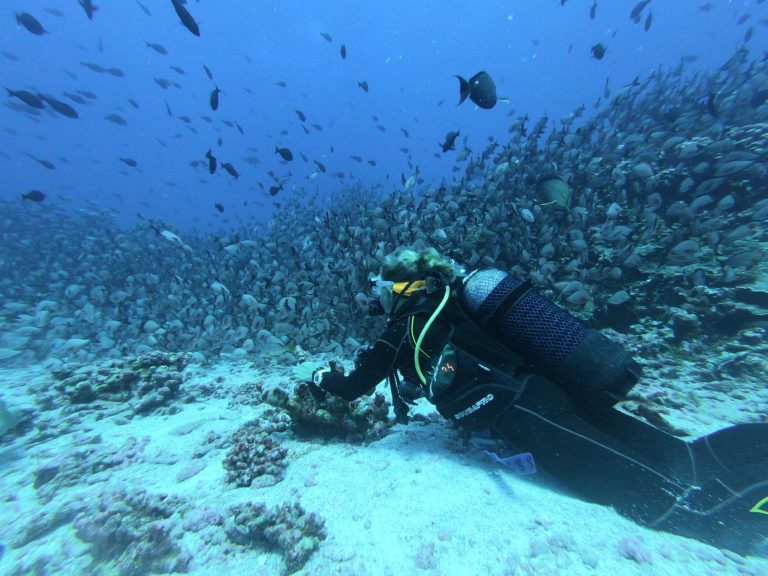 School of fish in Anilao
Diving for Wrecks
Subic Bay:
Want some history lessons when scuba diving in the Philippines? Subic Bay in Luzon is the place to go. It is one of the prime spots to witness sunken ships and warplanes, and the marine life surrounding them. A former US Naval Base that recently opened up as a dive spot, these waters have one of the highest numbers of wreck sites in the world. So far, over 20 wreck sites have been pinned. There are wrecks tracing back to the Spanish American War in 1898, all the way till the World War 2. The USS New York, El Capitan, Japanese Patrol Boat, Landing Craft Utility and F4 Phantom are some of the famous dive spots here.
The best time to dive here is between November and May, in the dry season. There will be lesser currents and better visibility. Apart from war wrecks, you can also spot lionfish, stingrays and octopus. Subic Bay is around 4 hours from Manila and you can get here in a taxi or a bus. The bus is cheaper and more comfortable. It will drop you to Olongapo City, from where you can easily get a taxi to where you want to go.
Coron Island:
Coron has been rightfully named as one of the best diving spots, not just in the Philippines, but in the entire world! One of the main reasons for its fame are the several Japanese fleets that sunk here during World War 2. Like Subic Bay, these wrecks also attract a variety of marine life. Coron's sites welcome people of all levels. Beginners can explore the Taiei Maru, Bugor Reef, or the breathtaking Barracuda Lake. Intermediate and Advanced Divers can explore: Okikawa Maru, Kogyo Maru, Akitsushima and Irako.
The best time to dive is between November to June, although Coron receives most tourists from March to May. You can get their with a direct flight from Manila or Cebu through any of the following airlines: Cebu Pacific, Philippine Airlines, Zest Air, or AirAsia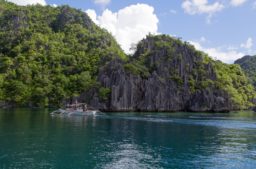 The gorgeous island of Coron is ideal for all levels of diving, from beginner to intermediate and advanced, you are sure to have an unbeatable diving experience.
Diving For Large Fish
You just can't describe the feeling you get when you're swimming besides some of the most majestic sea creatures out there. If scuba diving in the Philippines in on your list, then you must add these places to your list.
Apo Island
Apo island close to Siquijor in the Central Visayas region, around 20 miles south of Negros' main hub, Dumaguete. It is yet another wonderful destination for divers to explore the depths of the Philippines' waters. It's only a 3-km long island and you can explore the whole island in a day. Besides, Apo has an amazing marine sanctuary, which is home to over 650 species of fish and over 400 species of corals!
There are plenty of colorful reefs, but do keep an eye out for larger creatures like the Giant Trevally and sea turtles. Resorts organize diving programs for different skill levels. Some dive shops and resorts we recommend are: Paul's dive shop, Apo Island Resort and Marios Homestay. The best time to dive here is from November to May and you can get here on a car and then boat from Dumaguete.
Apo Reef National Park
Scuba diving in the Philippines is genuinely made that much more memorable when visiting this spot. The Apo Reef national park is phenomenal place to witness the huge variety of marine life that resides here. The lionfish, barracudas, grey reef sharks, hammerhead sharks, large manta rays, dolphins, sea turtles and corals are just some of the creatures you'll find here.
We were not surprised when we found out that the Apo Reef Natural Park is one of the best dive sites in the entire world. Apo Reef is almost between Mindoro and the island of Coron. Sablayan in Mindoro is the most common boarding point to the island.
The best time to visit Apo Reef National Park is between November and May. The Apo Reef Sanctuary fee is around 3000 pesos and it's not really included in many of the tour packages. It does get expensive here, especially if you plan on spending a few nights on liveaboard boats. But if you can, we highly recommend diving here.
Moalboal (Cebu)
There's no denying that Moalboal is in our top 5 for scuba diving in the Philippines. A wonderful town to avoid tourists, Moalboal has some of the most exciting diving experiences to offer. The Sardine Run at Panagsama Beach and Pescador Island is something that will definitely blow you away. The sight of millions of sardines coming together and swimming in perfect sync is absolutely magical. From Pescador Island, you can also dive into the depths of the underwater cave, Cathedral, to witness some magnificent corals.
Moreover, Pescador Island is also a great diving site to spot giant sea turtles. Tangmo and Taisay are some of the other diving sites you can visit to experience exotic reef life. And on the extremely rare occasion, with a bit of luck, you might even spot a whale shark. Moalboal is just a 3 hours drive away from the Cebu airport, so getting here is not too big a hassle. The best part about Moalboal is that you can dive here all year round. However, we would suggest visiting between November and April.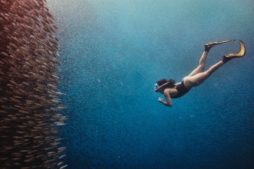 The beautiful and unique scuba diving experience with thousands of sardines in Moalboal.
Diving for Tiny Fish:
Without a doubt, you're most likely to go to either 2 or all of the following places when scuba diving in the Philippines. Apart from being hot spots for all kinds of tourists, these destinations are perfect examples of how vast and diverse aquatic life is.
Anilao
When it comes to the amount of rare macro critters (tiny marine life), Anilao is probably the most popular destination. It is also our 2nd favourite place to go scuba diving in the Philippines. Anilao is around a 3-hour drive south of Manila, and most dive resorts here are pretty remote. We recommend booking in advance due to Anilao's popularity and ease of access.
Some fantastic dive sites in Anilao are Twin Rocks, Beatrice Rocks, Devil's Point, Secret Bay, and Kirby's Rock. You can spot a variety of corals and critters in all of these sites. The best time to dive here is between November and May but between January and March, the waters often have more life and temperatures are cooler too.
El Nido
El Nido is literally paradise on Earth. There's an inexhaustible list of things to see, like the limestone cliffs, beaches, lagoons, and more. There are so many dive sites just under a half-hour boat ride from the beach. Some dive sites here are: South Miniloc Reef, North Rock, Dilumacad Tunnel and South Entalula (a gorgeous coral garden).
South Miniloc is the most popular dive site in El Nido and you get to spot a host of amazing aquatic creatures like yellow-tailed barracudas, Tree Corals, yellow snappers and much more! To get to El Nido, you can take a slow boat or take a cheap flight from Manila to Puerto Princesa. Then take a minivan and ride a few hours up north.
Boracay
While Boracay is the party destination of the Philippines, it is also a great place for divers with around 25 dive sites. You can spot lionfish, coral walls, eels, angelfish and other schooling fish too. You can also start or advance your dive certifications at any center too. Friday's Rock and Angol Point are the best dive spots for beginners. But the most amazing dive sites are difficult, challenging and not recommended for beginners. They are: Yapak, Bat Cave and Laurel Island.
The best time to dive here is between November and May. But we would suggest you book your stay and travel well in advance because this party-island is always crowded. You can get to Boracay from the nearby towns of Kalibo or Caticlan. Both these towns have airports which can be reached through Manila, Cebu or other main cities.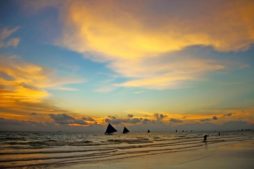 Boracay, the popular party island has dive spots for beginners as well as advanced divers.
Unsurprisingly, there are tons of sites for scuba diving in the Philippines that you can choose from. But we've selected the ones that you definitely must not miss. If you're ever revisiting or you have the time, we also recommend the following places when it comes to scuba diving in the Philippines:
Tubbataha: A marine reserve and paradise for divers, notably one of the best diving spots in the world.
Malapascua: Famous for thresher sharks, Malapascua's beautiful blue waters are amazing for snorkeling, diving or a light swim.
Siquijor: Many macro critters can be found here, Siquijor is a fantastic island, which has also made it to our list of our 10 favourite islands in the Philippines.
Puerto Galera: Just close to Anilao, you can come here to dive too.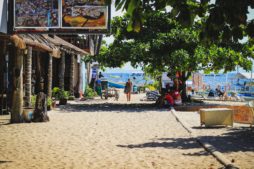 Malapascua is a great destination to spot thresher sharks in the clear blue waters ideal for snorkeling and diving.
If you're looking for more than just relaxing by the white sand beaches of these gorgeous Filipino islands, Scuba Diving is the perfect activity. It is an absolute paradise for diving enthusiasts and adrenaline junkies looking for some thrill. Get in touch with us and we'll help curate the ideal itinerary for the Philippines. We'll curate a blend of adventure, relaxation, parties and whatever else it is that interests you most. Hit Plan Your Trip for a plan that fits your travel style while accounting for your needs, be it the cost of travel or your time constraints.
helping you travel your way
We provide a helping hand to independent travellers who need assistance with planning and booking their trip. The primary goal is to turn your dream holiday into reality.
YOU MIGHT ALSO LIKE
LEAVE A REPLY