Indochina itinerary: Vietnam, Cambodia & Laos
If you think you don't need an Indochina itinerary to help navigate this amazing region, think again. Indochina comprises three neighbouring yet totally distinct countries. Vietnam, Cambodia and Laos are all great holiday destinations, each catering to a different range of travellers. However, they're just as amazing when combined with each other. You can either cover just Vietnam with Cambodia, or Cambodia with Laos.
But why not all three? Read through 3 different formats of an Indochina Itinerary and take your pick of the fascinating Orient.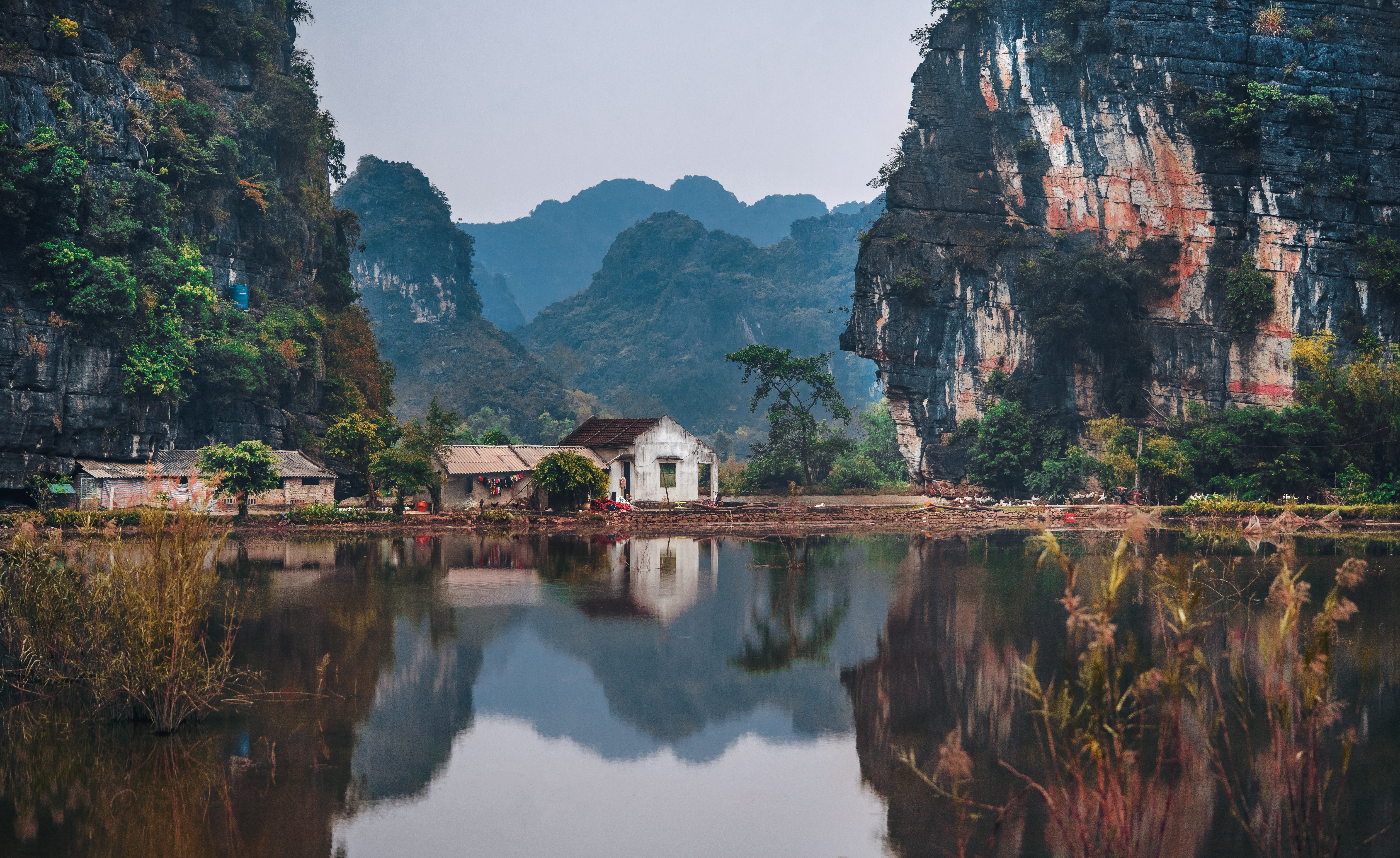 Combine Vietnam, Cambodia and Laos in a single trip to get the ultimate holiday experience.
Route 1: World Heritage Sites- Indochina Itinerary: 2 weeks.
Indochina is filled with rich historical, architectural and natural heritage. Many of these are designated UNESCO World Heritage Sites. This route is brimming with 7 heritage sites, ideal for the history and culture buffs. If this is you looking for the ideal Indochina itinerary, 2 weeks on our suggested route will be the best choice you can make.
Suggested Route: Siem Reap – Luang Prabang – Hanoi – Halong Bay – Hoi An
Highlights:
You start in Cambodia, where you arrive into Siem Reap. A great base to explore the nearby sights, it is definitely much more than just the gateway to the Angkor ruins. Catch a sunset at the lake, or go on a craft or evening bicycle tour. You spend the next day on the grand circuit tour of the renowned Angkor temple complex.
After a restful sleep, day 3 takes you Preah Vihear, an impressive 9th century Hindu temple. It isn't as known as Angkor, which is why it is not as frequented by tourists. It is 3.5 hours away from Siem Reap, and we recommend getting there by private car or a group tour to be able to return on the same day. Asia Someday will look after all the bookings for you.
Next, fly to Luang Prabang in Laos, and take an enriching temple and Royal Palace sightseeing tour. Situated at the confluence of the Mekong and the Nam Khan River, it is surrounded by lush nature. Trek to the breathtaking Kuang Si waterfalls, and relax with some temple meditation the next day. End your stay in Luang Prabang with an upstream cruise to see the Pak Ou Caves- two caves in limestone cliffs lined with hundreds of Buddha statues. Before hitting the sack, observe the traditional Baci ceremony. A Lao tradition dating back hundreds of years, it involves tying white cotton strings around a person's wrists to unify the spirits of the body.
Up next your Vietnam adventures start off in Hanoi, on day 7. The capital of Vietnam, Hanoi is known for its ancient architecture and heritage. Start off with a guided walking tour of the Old Quarter and experience its timelessness. Visit the gorgeous Imperial Citadel and take a street food tour in the evening of the following day. You go next to the world-famous Halong Bay, to witness this UNESCO marvel. You will leave in the morning for an overnight cruise among the karst towers. Disembark at noon the following day, and head back to Hanoi to catch your flight to Hoi An.
A former port city, its history is reflected in its multi-colonial architecture. Take a guided walking tour of the Old Town, and enjoy a half-day bicycle ride to a traditional village on the next day. Take a half day trip to My Son, a cluster of abandoned Hindu temples, and spend the rest of your day wandering around or packing up. You then head back home from the nearby Da Nang International Airport the next day.
Indochina is a great region to travel with kids!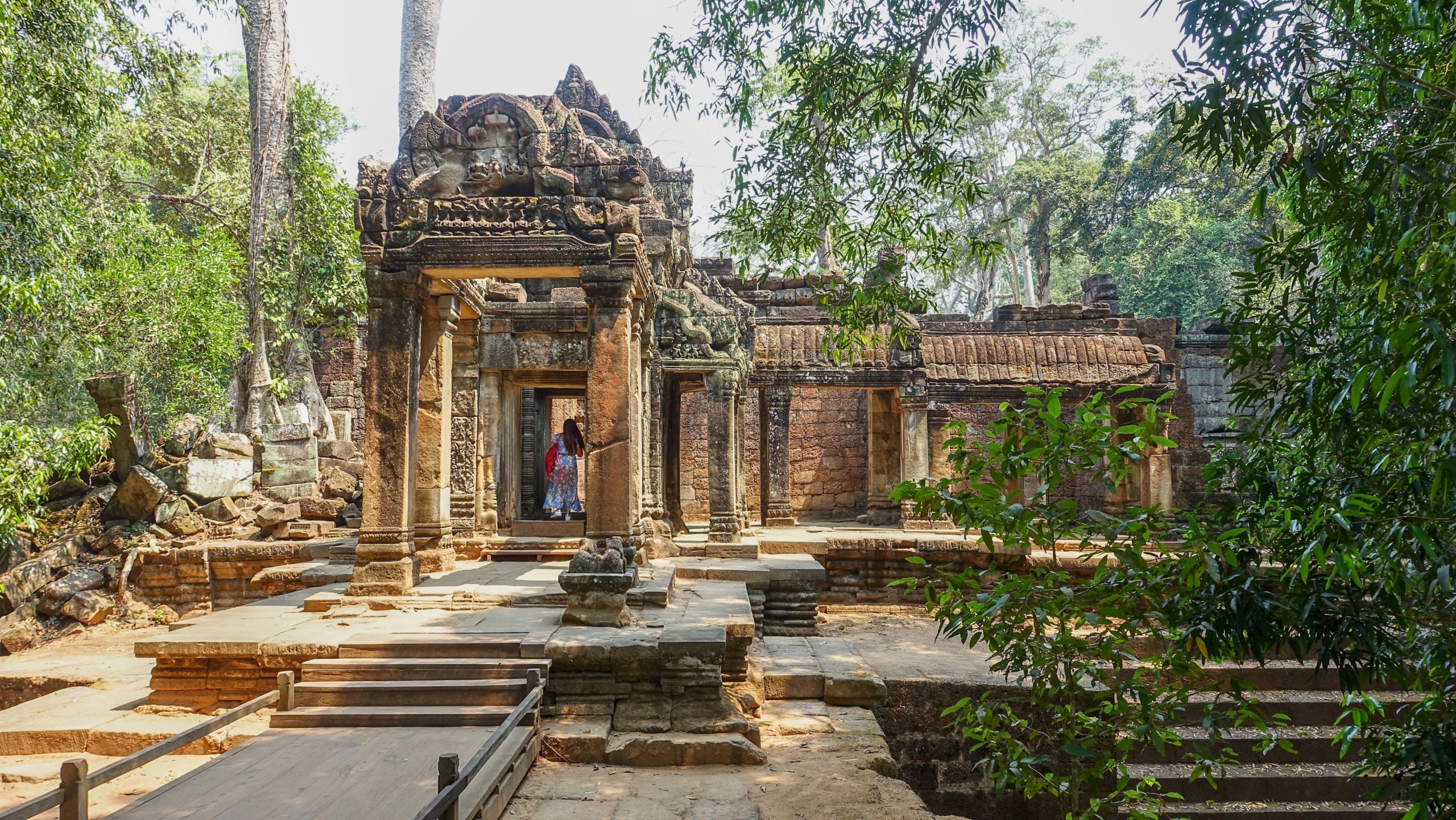 Explore the beautiful temples and ruins in the Angkor temple complex in Siem Reap, Cambodia.
Budget:
This Indochina itinerary definitely caters to a comfort or luxury budget. Unfortunately for the backpackers, there are one too many flights and private transport involved. Additionally, the cost of getting a guide (which we highly recommend) will also weigh on a budget.
What you miss:
With this Indochina itinerary, 2 weeks across all three countries will be packed. It doesn't leave much space for relaxation. However we can book you some time at a beach resort or countryside escape in Hoi An. All you have to do is let us know what you prefer and we'll get it done.
Alternative:
As rich as it already seems, there are actually some more interesting sites in all 3 countries. The pre-Angkorian Prei Kuk site in Cambodia, the mysterious Plain of Jars and Champasak's temples in Laos, and the city of Hue, Trang An karst sites and the Phong Nha national park in Vietnam. This leaves you with some options. Depending on whether you're interested in history, culture or nature, we can modify the route to cover your picks.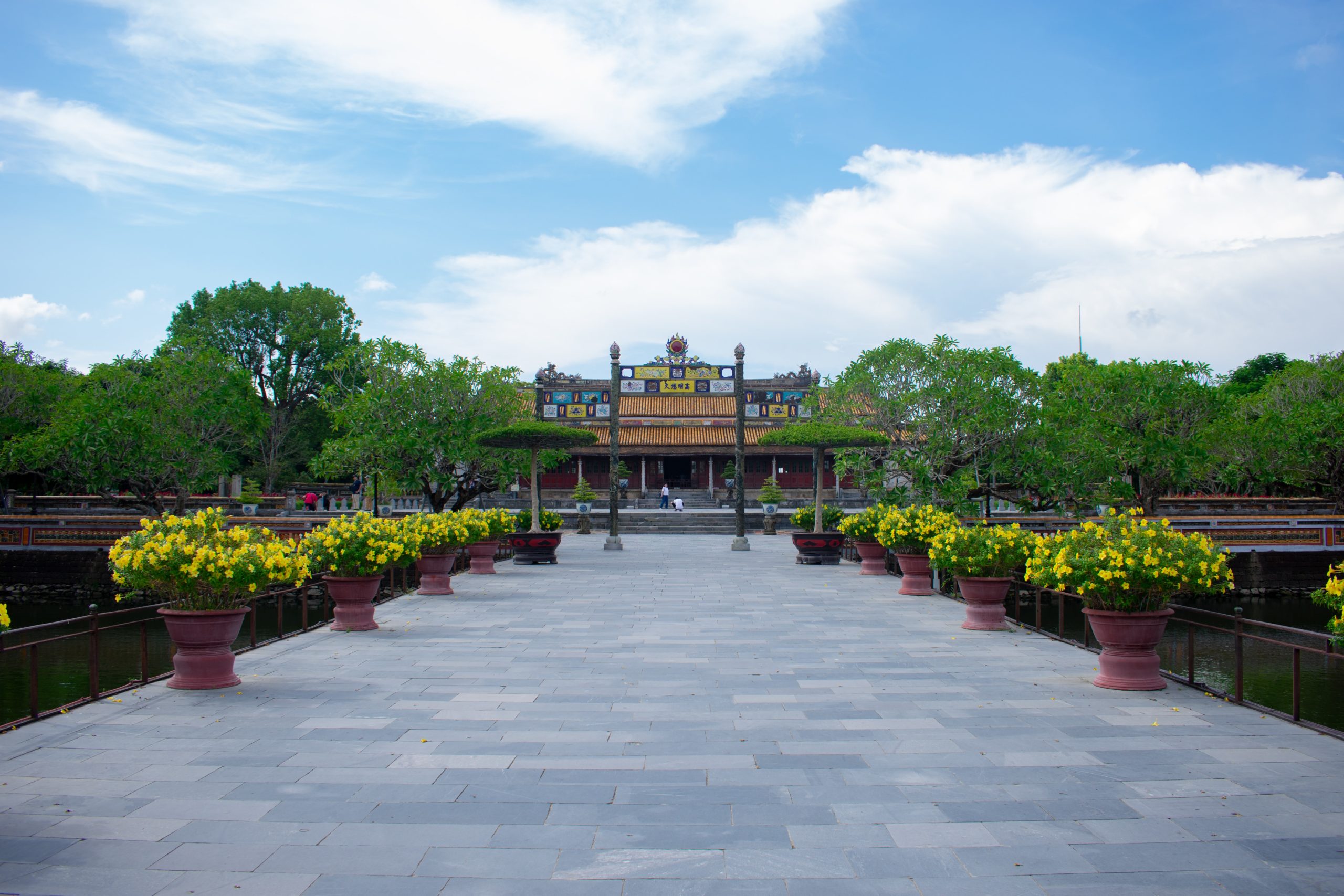 Hue is one of the most charming towns in Vietnam, having a long and rich history,
Route 2: Flavours of Indochina- 2 week Indochina itinerary
The cuisines of Vietnam, Cambodia and Laos will stun you with their diversity and uniqueness. Each has various influences, from historical to cultural to religious. Each is as diverse as the other. Their one common factor? They're all so good you'll have a hard time picking a favourite. This Indochina itinerary is one for the foodies. From street food to fine dines, cooking classes and local recommendations; get a taste of Indochina with this Indochina itinerary for 2 weeks.
Suggested Route: Luang Prabang – Siem Reap – Phnom Penh – Ho Chi Minh City – Hue – Hanoi
Highlights:
Your international food trail starts in Laos, among the rich Buddhist culture of Luang Prabang. You start off with a street food tour, sampling the delicious food of Laos. The next day, go on a temple tour to see the many temples, and relax on an afternoon river cruise. You enjoy a traditional Lao dinner in the evening.
Day 3 sees you trek to the Kuang Si waterfalls surrounding this city, post which you enjoy a cooking class. Next, you fly to Siem Reap, the gateway to the famous Angkor Complex in Cambodia. You get to enjoy an authentic dinner at a local home in a village. A stroll through the village builds up your appetite for the traditional, simple yet delicious food. Plus, the profits go towards funding the tuition for the local kids. Hit us up to know more!
The following day, go sightseeing along the Siem Reap temple circuit. That evening, you enjoy a rich dinner right before some authentic entertainment- The Phare circus. Unlike any other circus, the Phare Cambodian circus uses its talent to tell tales of Cambodia in colourful, entertaining ways. Usually in very high demand, travelling with Asia Someday means all your booking needs are looked after. The next day, try your hand at some cooking yourself in a fun cooking class, and enjoy the sunset in style with cocktails by the lake. This leaves you rested for the 6 hour scenic drive to Phnom Penh, the capital city. Take an amazing street food tour that takes you to authentic local joints, giving you an insight into the amazing Cambodia cuisine.
Week 2 starts off in Vietnam's Ho CHi Minh City, a merge of ancient and modern. Go sightseeing around this marvelous city, and head to the Cu Chi tunnels the next day. Dating back to the Vietnam War, they were used by the VietCong soldiers. That evening, relish the street food on a fun Vespa tour. Ho Chi Minh City is the culinary capital of Vietnam, so you're definitely in for an amazing evening. Fly to charming Hue and its imperial structures the following day. Here you have yet another interesting meal- a vegetarian lunch, prepared by Buddhist nuns!
Tour the Imperial Citadel the next day, take a fun market tour, and attend a Royal cooking class. Fly next to Hanoi in the north, and mark your last day with a fun beer and food bike tour. You'll get to try Bia Hoi, the local brew. Drink to your amazing 2 week Indochina itinerary, and head home the next day.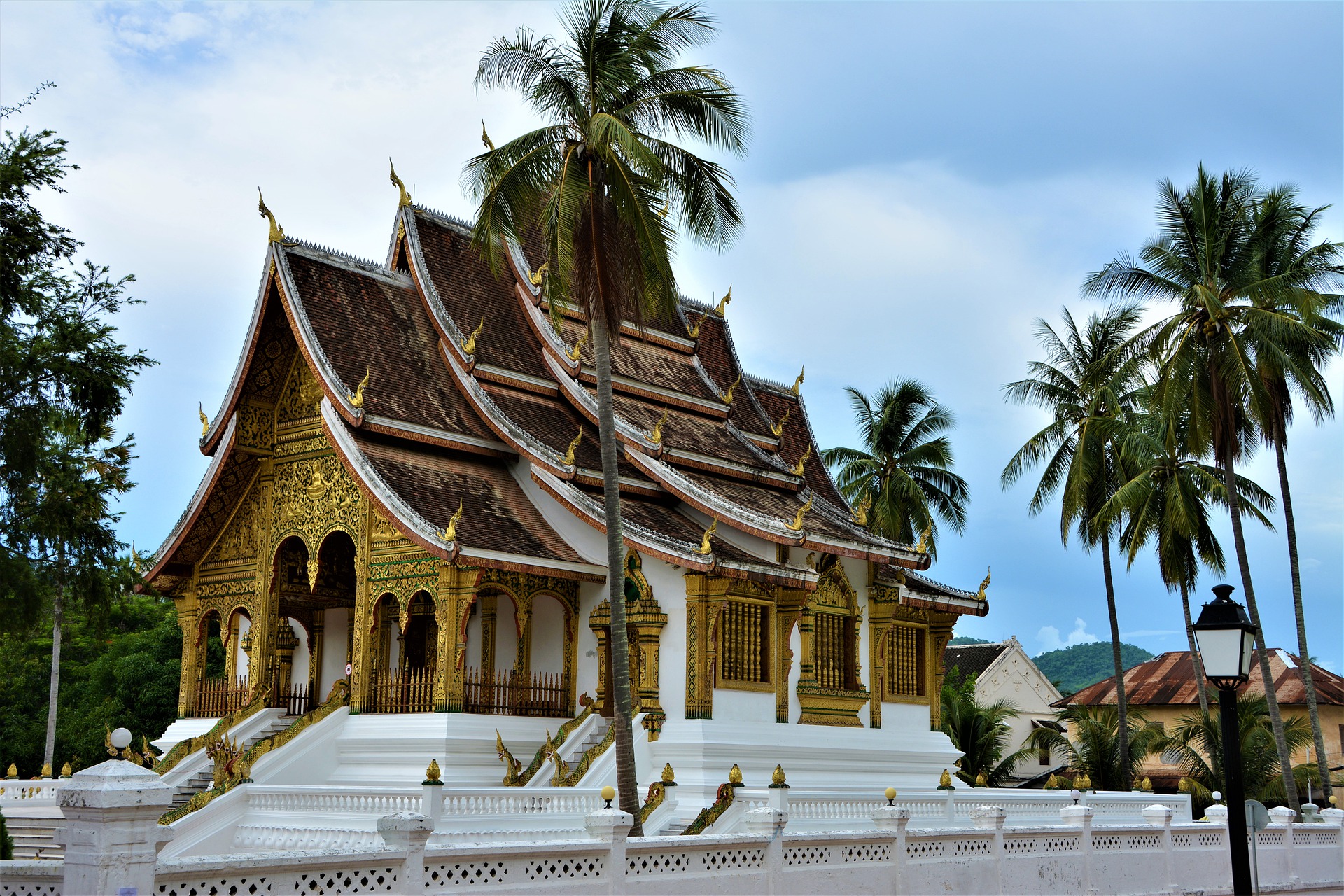 Luang Prabang offers scenic views and and is home to majestic religious architecture, making it worth a visit.
Budget:
Again, this Indochina itinerary is for the comfort and luxury travellers. Four flights and many included activities require a large budget. However, we can also help you plan the same route for a smaller budget. With fewer activities, you can explore a lot on your own. By skipping Hue, and adding an overland trip from Phnom Penh to Ho Chi Minh City, you cut out on two flights!
What you miss:
You miss out on Hoi An, the former port city with a melting-pot history. You also skip on marvelling at Halong Bay's magnificent karst towers, and fun Vang Vieng in Laos. Overall, it's a dearth of nature and the countryside, both of which are in abundance in all 3 nations. However. Remember you came for the food, and the food is what you get!
Alternative:
We understand wanting to be budget and environment conscious by avoiding some flights. As mentioned, replacing Hue with an overland trip from Phnom Penh to Ho Chi Minh City cuts out on two flights. Looking for more? Just hit Plan Your Trip.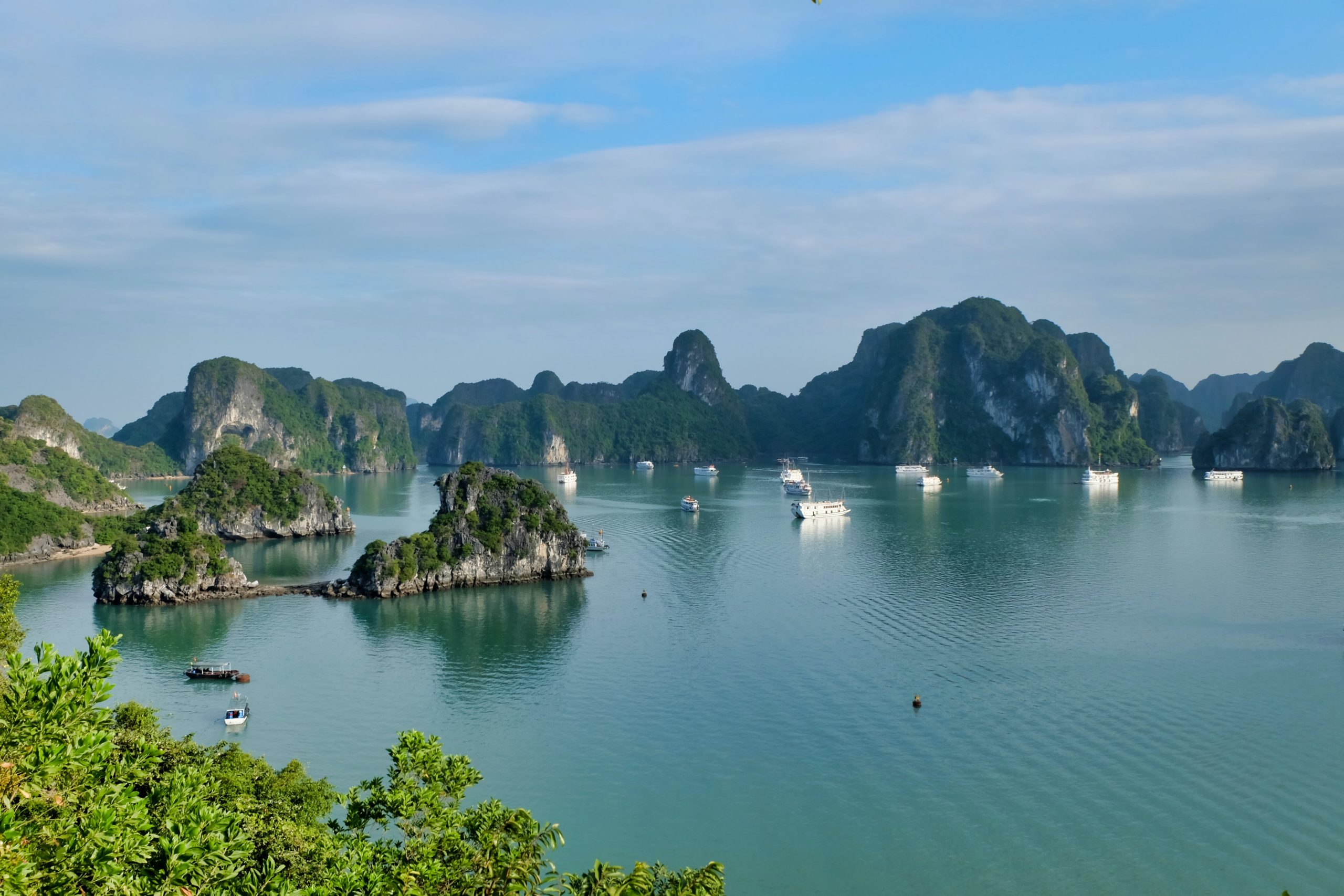 Halong Bay is an impressive natural wonder dotted with thousands of towering limestone karsts and grottoes.
Route 3: Cross-border Trip- 3 weeks In indochina
This Indochina itinerary is crafted for those looking to cut down on their carbon footprint. With no flights, you will cross borders on land, and use cars and trains. Offering a more authentic way to experience these countries, this 3 week Indochina Itinerary is tons of fun.
Suggested Route: Luang Prabang – Vientiane – Hue – Hoi An – Ho Chi Minh City – Phnom Penh – Siem Reap
Highlights:
Start off in Laos' Luang Prabang, where you go sightseeing after a day of rest. On day 3 you enjoy the scenic Kuang Si waterfalls that surround this city. The following day takes you to Vientiane, the lumbering laid-back Lao capital. After recovering from the 7- hour drive, go wandering around this pretty city, and end your day with a drink by the riverbank. You spend the next night in the Lao countryside, post which a 9-hour drive takes you to Savannakhet. Stay overnight in this marvelous blend of old and new Laos. Cross the border at Lao Bay the next day, and off into Vietnam you go. Start off in Hue, the imperial seat of power in the Vietnam of old. Go sightseeing, and take in the Imperial Citadel. The next day, drop in to the marvelous Bac Ma national park on your way to Hoi An.
Once in Hoi An, admire the multi-cultural architecture in its Ancient Town. All aboard the overnight train to Ho Chi Minh City- you alight at Da Nang in the afternoon and arrive the next morning at 6 am. Ho Chi Minh City is the culinary capital of Vietnam, so we recommend trying out the inexpensive street food during your 2 day stay there. Week 3 starts in Cambodia's Phnom Penh. You get there post a 7 hour drive which includes a border crossing. Spend a day sightseeing, and head to Siem Reap next. This gateway to the Angkor Wat complex is a 6 hour drive away. Spend three days here, where you can visit the temple complex or simply poke around Siem Reap's streets. This brings your 3 week Indochina itinerary to an end as you head home on day 21.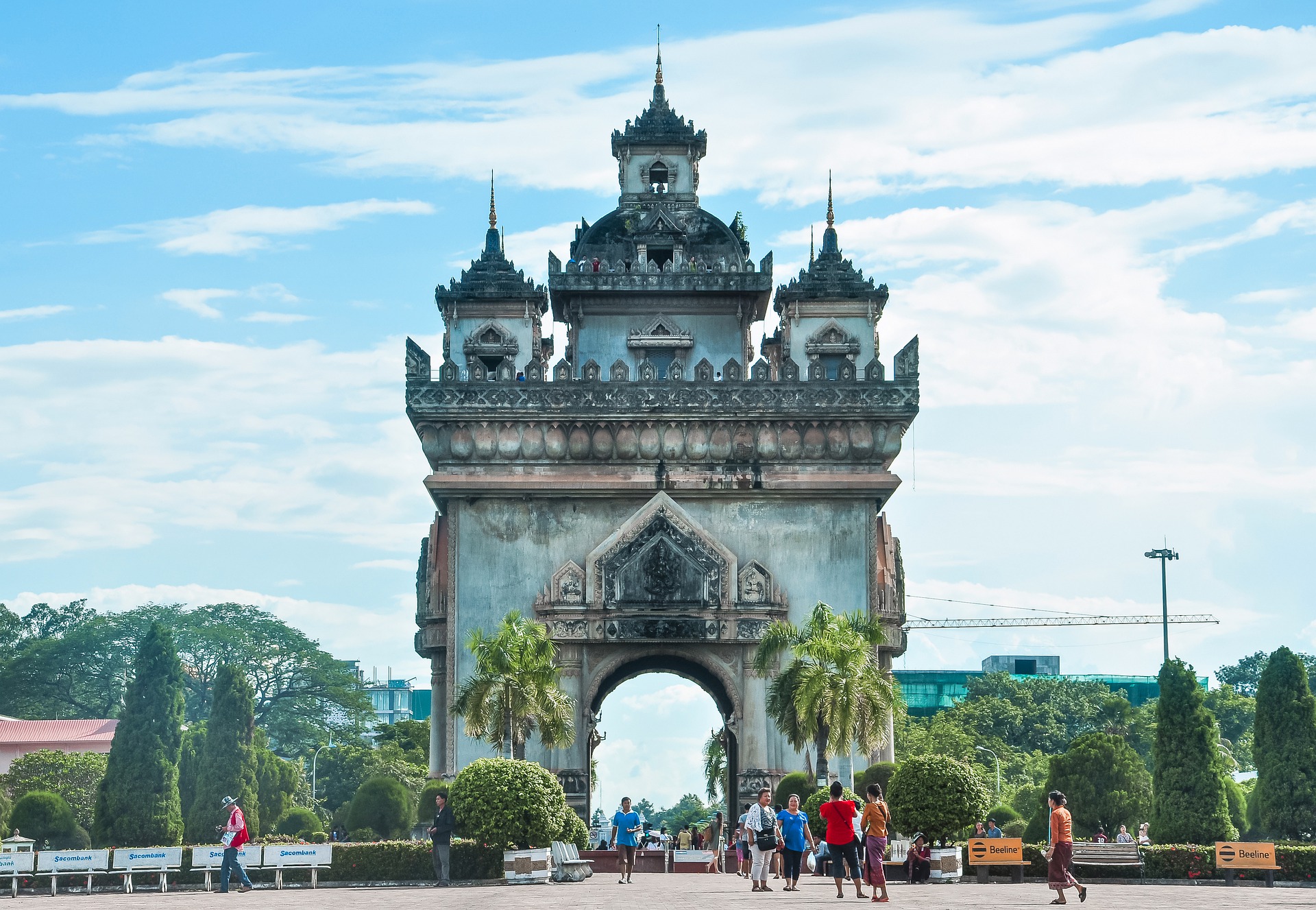 The capital and the largest city of Laos, Vientiane is a gorgeous city with a French colonial influence.
Budget:
This Indochina Itinerary is meant for the comfort and luxury travellers. The car rides are expensive and a 4 wheeler is required.
What you miss:
Needless to say, fast travel. You will spend a lot of time on the road or on trains. But the best way to get to know a country is to get out of the cities and explore it. And that is just what you get on this trip.
Alternative:
Flights are a very possible alternative for this route. Using flights also shortens it to 2 weeks by flying from Da Nang (close to Hoi An) to Siem Reap directly and leaving Ho Chi Minh City and Phnom Penh. You can also travel south of Laos to see Champasak, the gateway to the Wat Phu temple complex. This change also allows you to see the laid-back Si Phan Don (4000 islands) and then cross into Cambodia to then finish in Vietnam. There's several ways to do this, so don't hold back!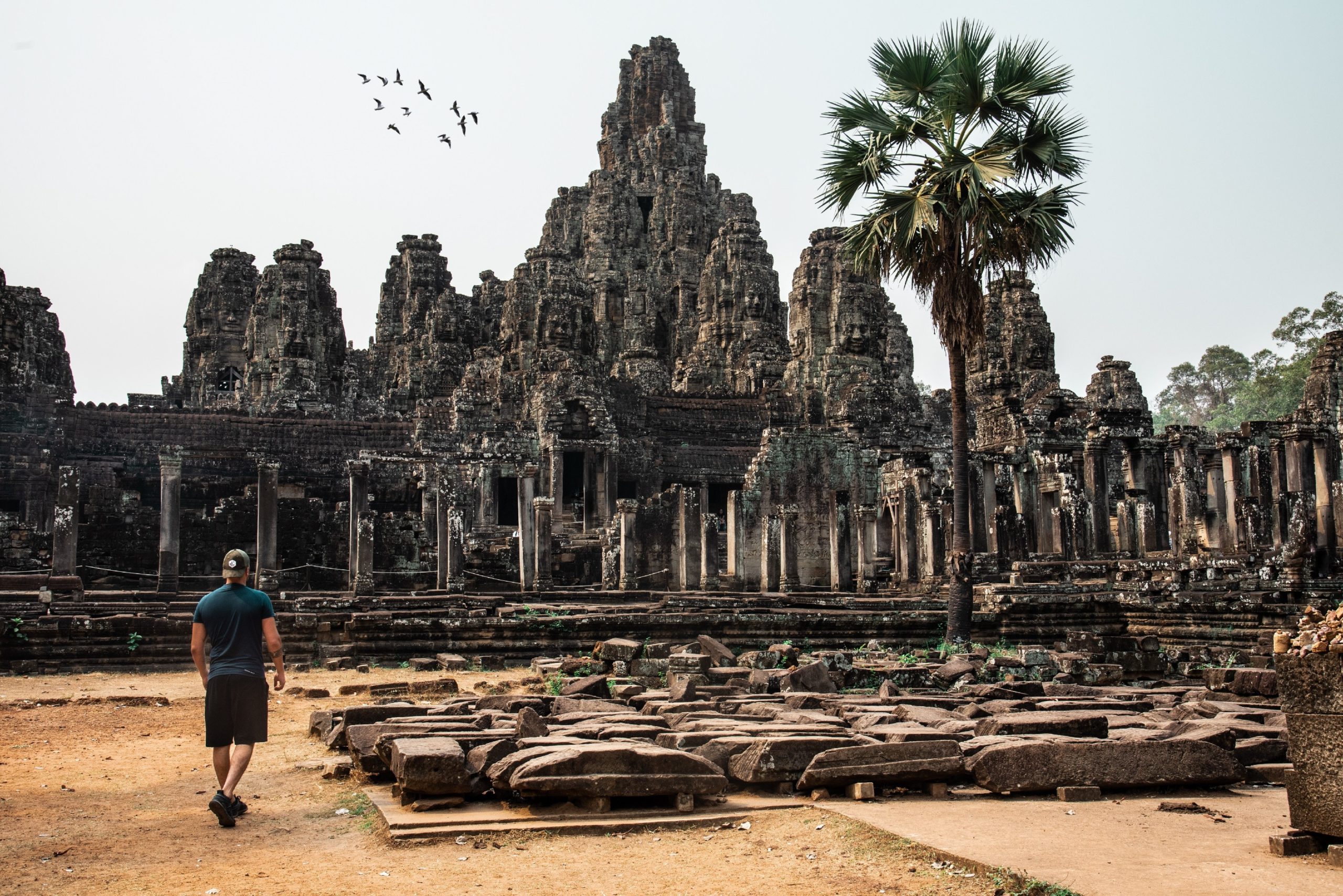 The Angkor Wat temple complex is one of the most unmissable places in Cambodia.
From their history and culture, to their cuisines, these countries are breathtakingly different. The weather in all 3 locations differs as well, and this is an important detail to get right. For anymore queries you may have, be it visa regulations or vaccinations, we've covered it all. Here's hoping this choice of an Indochina itinerary has instilled in you the desire to travel. And, if you think these three are the only Indochina itineraries we can craft, let us prove you wrong- just hit Plan My Trip for the experience of a lifetime.
helping you travel your way
We provide a helping hand to independent travellers who need assistance with planning and booking their trip. The primary goal is to turn your dream holiday into reality.
YOU MIGHT ALSO LIKE
LEAVE A REPLY