Cambodia with Kids
Travelling to Cambodia with kids? You probably have a couple of doubts to be addressed. Cambodia sure makes for the ideal family holiday destination in South East Asia, so feel free to check this off your list of worries. It has the perfect blend of a deep rooted culture, a gorgeous countryside, numerous jungles and exotic palm fringed beaches.
Cambodians prioritise family first, a common sight in any Khmer household. With tons of exciting activities and interesting sightseeing opportunities, Cambodia with kids is definitely a good idea.
Look at a Two Week Cambodia and an One Week Cambodia itinerary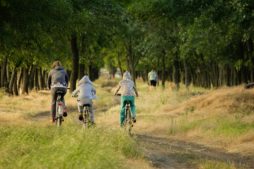 There is a lot to see & learn in Cambodia- not just for adults but certainly also for kids and teens! Besides sightseeing there are a number of exciting activities to indulge in.
Travelling to Cambodia with Children: the low-down
In a country with 50% of the population being below 25 years of age, the locals are definitely used to kids. Many small guesthouses or restaurants are family run and you will find kids running around their working parents. This gives your children the chance to interact with locals and possibilities for them to make local friends. A common concern of course is the language barrier. But from our experience, when it comes to children, language is the least of your concerns.
Cambodia boasts a wide range of activities to keep the kids interested and occupied at all times. Some of these activities include: temple hopping through thick jungles, swimming in waterfall pools, cycling off-road in the countryside and playing in the pool all day.
After all, what kid wouldn't want to be tomb raider in the morning and cool down in a pool by the evening? Family friendly experiences make for a never ending list, from zip lining to down time by the beach, from exploring the floating villages to spending a night at a village homestay. These unique experiences are not merely for the sake of fun but also make for great learning experiences.
Getting around Cambodia is very easy and fun – read our detailed article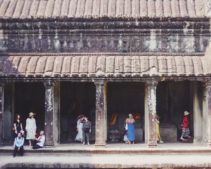 The Angkor Archeological Park is an exciting place for young Indiana Jones fans but keep in mind that it can get hot in the daytime.
THINGS TO DO In Cambodia WITH KIDS
Phare Circus (Siem Reap or Battambang)
:
An awe inspiring experience, more than just a mere circus. Performers use music, dance, theatre and other forms of contemporary art to tell the story of Cambodia in a unique, fascinating manner. The proceeds of this go to an NGO that provides employment to the underprivileged. It also aims to create an environment of sustainable financial development, which is what you'll be contributing to.
Angkor Archaeological Park (Siem Reap)
:
The temples of Angkor, with Angkor Wat being the most well known, are sure to pique the interest of the little ones. The excursion could be tiring, so make sure you split the sightseeing over a period of 2-3 days. Alternatively, simply stick to visiting only the few main sites. Siem Reap also has other things to do so plan this well. For help on planning the ideal itinerary for Cambodia with kids, get in touch with us now!
Look our detailed guide on how to explore the temples of Angkor
Adventure Activities in Cambodia :
Quad biking in the countryside to airboats along the waters of Tonle Sap, ziplining within the Angkor Park to staying with the locals like a local at a village homestay. Bicycle tours, Kayaking, visiting the floating village, the list of activities is endless, each one with its own unique charm. In Phnom Penh, bicycle tours along the rice paddies and plantations make for an unmissable experience.
A Taste of Cambodian Cuisine :
This melting pot of culture with the Kingdom of wonder boasts a cuisine like none other. It is often overlooked by most and mistaken as Thai or Vietnamese, whereas it has a completely unique identity. Authentic Cambodian food has tons to offer. There's a wide array of unique, exciting street food to fine dining establishments with intercontinental cuisines. Your children are sure to enjoy trying out this new food. And you can always fall back on the more familiar cuisines in case they don't.
Warm, Welcoming Locals :
For a country that has endured years of war and tragedy, the locals are the highlight of this country. Nowhere is this more evident than when you're travelling to Cambodia with children. They have warm smiles, friendly gestures and lots of love. Irrespective of your creed, caste or nationality, they will welcome you and win you over.
Pristine Beaches :
Beaches may not be the first thing that comes to your mind when one says CAMBODIA! But these untouched, white sand beaches make for a lovely escape. Free from the crowded tourist destinations, they have tons of exciting watersports for children and adults to indulge in.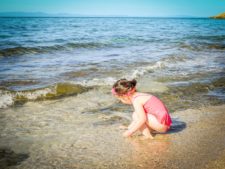 The beaches of Cambodia's islands are perfect for a holiday with the kids. The water is warm, clear and easy to swim in and it makes for a lovely, peaceful getaway.
Tips For Travel To Cambodia With kids
Average temperatures in Cambodia ranging between 25 – 35°C (77 – 95°F). Try to ensure your sightseeing comes to an end before the afternoon heat. Ideally commence temple tours by sunrise in order to avoid large crowds and unbearable heat. Some activities can be undertaken before sunset when the weather starts to cool down again.

Be sure to apply a good amount of sunscreen and wear full sleeves in order to avoid bad sun burns.

Children may find it difficult to adjust to local Cambodian cuisine. In this case one can head to one of the many popular food chain eateries. In the bigger towns like Siem Reap and Phnom Penh, even local restaurants serve popular western food.

The S21 genocide museum and the killing fields might be a little too daunting for kids below 12. Both places are very visual in their explanations, narrating a horrifying part in Cambodia's history. This may not go down too well with younger children. Irrespective, it's a decision we leave up to you, as you know your kids best.

As far as the basics are concerned, try sticking to bottled water. This keeps all possible water borne diseases at bay. Be sure to apply child friendly insect repellent to avoid insects, especially mosquito borne illnesses like malaria and dengue.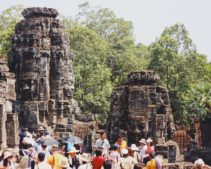 While sightseeing, avoid the touristy places and get off the beaten path with your kids.
On a whole, if you're still second guessing, be rest assured that travelling to Cambodia with children is a great idea. How long to spend and the best time to visit are both essential details, so get those in place as well. Leave the planning to us and we'll make sure you visit the best places at the right time for the ideal family holiday to Cambodia.
helping you travel your way
We provide a helping hand to independent travellers who need assistance with planning and booking their trip. The primary goal is to turn your dream holiday into reality.
YOU MIGHT ALSO LIKE
LEAVE A REPLY