What to wear in Cambodia
Right off the bat, what to wear in Cambodia may seem like a ridiculous question. After all, you're there for a great time as a visitor. Shorts and tanks tops all the way right? Wrong. As with any other country, you should always be aware of cultural differences and the norms of dressing and behaviour before you visit.
While it is not wrong to wear what you choose, you stand to offend the locals, whose country you have chosen to visit and admire. Read through this quick guide on what to wear in Cambodia so you know just what to pack for the trip of a lifetime.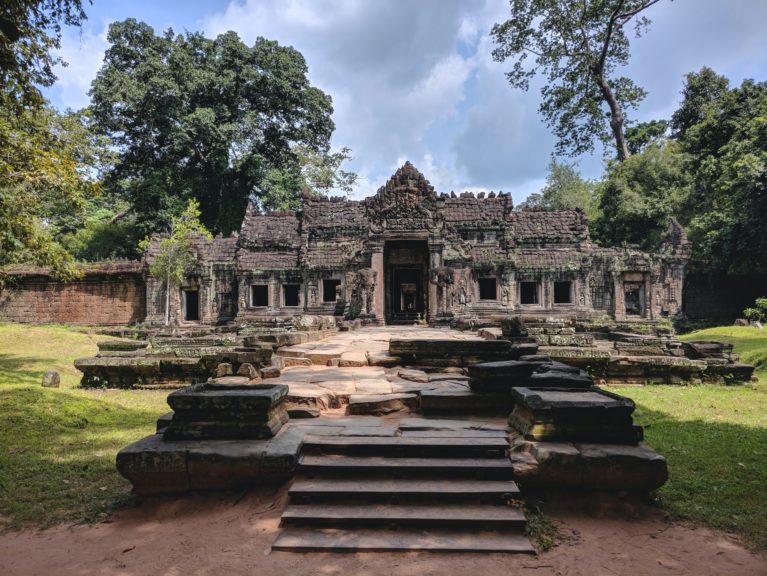 Comfort is key when exploring the magnificent Angkor complex of Cambodia.
Dressed for the weather
Remember, no matter the season, Cambodia faces a heated tropical climate the year round. This means that their usual temperature range is 21 to 35°C (69.8 to 95°F). When travelling to Cambodia, carry light and loose cotton clothing to better cope with the heat. March to June are some of the hottest months of the year. Be sure to carry a hat, and glares to protect yourself from the sun bearing down on you. A comfortable pair of sandals is recommended; closed shoes don't help with the heat.
The wet season, from June to October, is damp, and the rain does lower the temperatures a bit. Despite that, they still hover in the mid to high 20's and you have to face the high precipitation. Make sure you carry a light windcheater or raincoat and rainy sandals.
Look at a Two Week Cambodia and an One Week Cambodia itinerary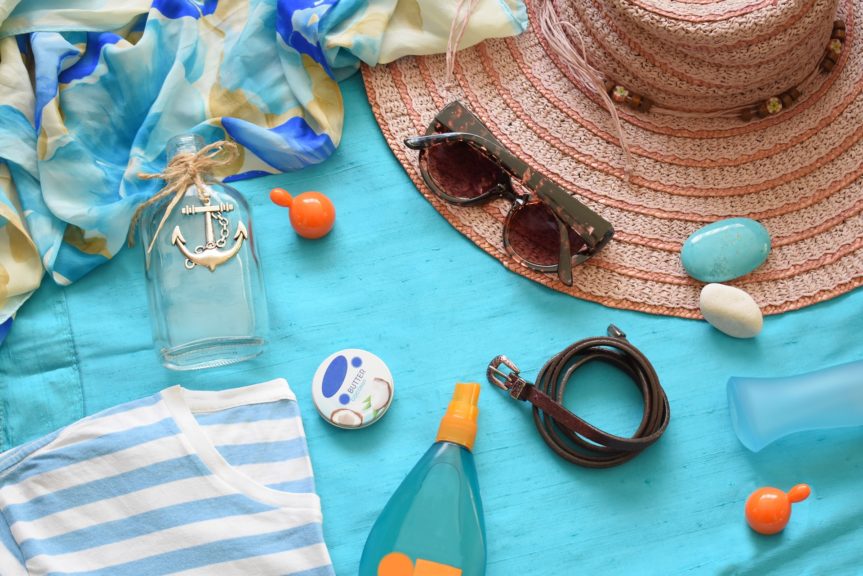 A hat and glares are a must in Cambodia, irrespective of whether you'll stop at a beach or not.
Religious sentiments
Over 90% of the population in Cambodia follows Buddhism. It is the main religion here, and plays an important role in the daily lives of the Cambodians. The locals are gentle and bashful, and their dressing follows suit. Completely covering your legs and shoulders, and wearing modest clothing, are musts when visiting temples or other religious sites. Please note, this also applies for the ruins, whether Angkor Wat or any of the other ancient sites. This is an easily avoidable tourist faux-pas when travelling to Cambodia.
Always wear long pants and if you have no other option, a scarf to cover your shoulders. This applies for the men as well, who will have to forego their shorts. We highly recommend dropping in to one of the night markets to shop before your visit to Angkor or any other temple complex. Keep an eye out for long pants called temple pants; they are airy, comfortable and come in nice prints as well.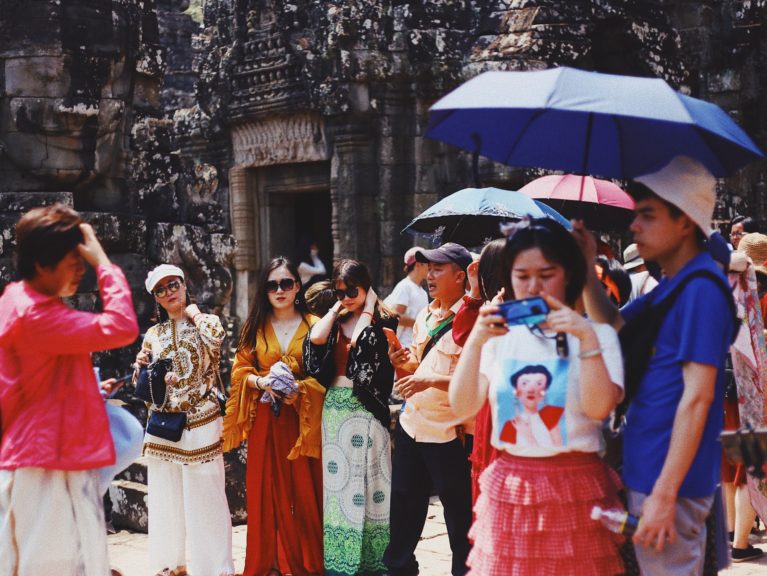 Make sure your legs and shoulders are covered when visiting Angkor Wat.
What to wear in Cambodia for Activities
When in Cambodia, you may want to go trekking, or engage in adventure activities. It is important you dress appropriately for that. Comfort should be your first priority. Avoid very short or tight clothes. We recommend breaking in a pair of hiking shoes a few weeks before your trip, so you can enjoy the lush greenery to the fullest. Shoe bites aren't the best company while trekking through the Cambodian undergrowth. This is especially important for backpackers or those looking to go off the beaten path when travelling to Cambodia.
The good news is you don't have to entirely ignore your fancy wardrobe! If you drop in to places like Pub Street or any of the beaches, you can dress up a bit as you'll have the company of other travellers dressed similarly. You will blend in instead of standing out. The nightlife in Phnom Penh is also worth checking out, and is another place to ramp up your wardrobe.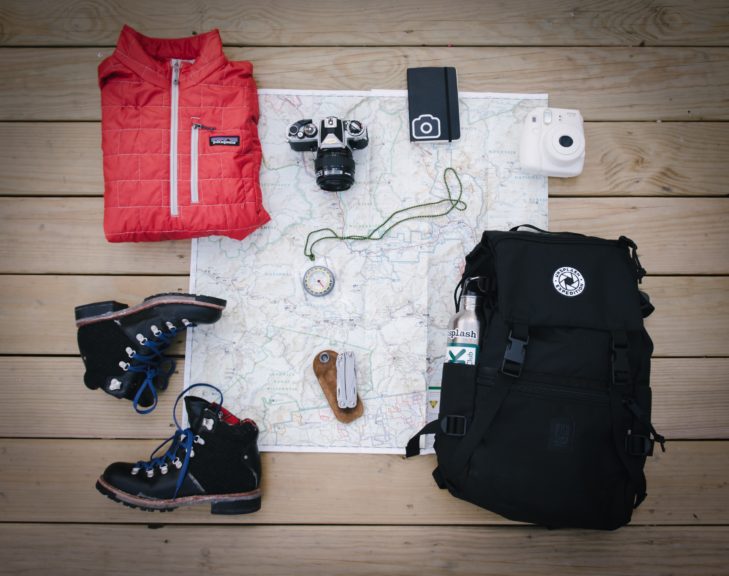 If you're going trekking in Cambodia, ensure you have a pair of good shoes, some water and a sturdy backpack.
Additional cultural tips
Similar to Vietnam, Cambodians consider feet to be dirty, and the head to be respectful. Always slip your shoes off when entering someone's house. If you see locals do it at certain temples or sites, follow suit. Ensure you don't point your feet at someone, or place them on the seat across you. Avoid touching people on their heads as it is a sign of disrespect.
Now that you have an idea on what to wear in Cambodia, get on to other details like how to navigate the magnificence of the Angkor Temple complex or the best places to visit. Make sure you have details like the visa procedure, trip costs and currency in place. For any planning assistance, or drafting your ideal itinerary, hit Plan Your Trip.
helping you travel your way
We provide a helping hand to independent travellers who need assistance with planning and booking their trip. The primary goal is to turn your dream holiday into reality.
YOU MIGHT ALSO LIKE
LEAVE A REPLY