Top 5 things to do in Phnom Penh
Cambodia's bustling capital city is brimming with exciting things to do. From bustling streets with motorbikes, to breathtaking historic sites, and the allure of local markets, the "Pearl of Asia" is charming. It is a city that rose from the ashes to restore its former status, despite its gruesome past. Phnom Penh is also the Cambodian hub for religion, technology, innovation and education. The city has so much more besides the Tuol Sleng Genocide Museum and the Killing Fields; both reminders of the horrific oppression during the Khmer rouge in the 70's. Yet these two sites are a must-visit, for an insight into the city's tragic past and present day culture.
Phnom Penh has an exciting, quirky side to it as well, proof of their resilience and efforts to overcome the past. So before you decide to skip this fascinating capital altogether and head straight to the Angkor Complex in Siem Reap, here's a list of things to do in Phnom Penh.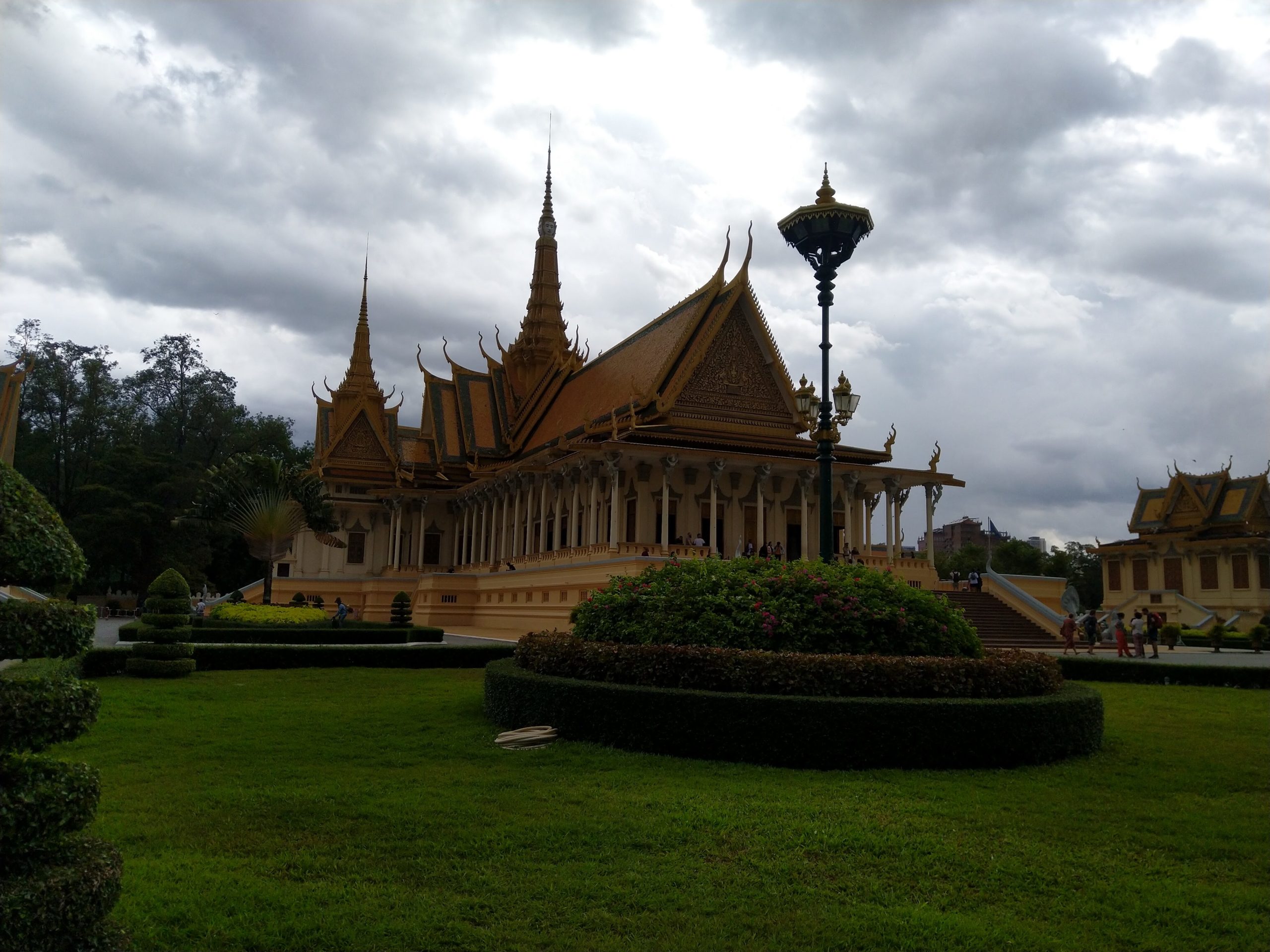 The Royal Palace is one of the most visited sights in Phnom Penh and for good reasons!
1. The Phnom Penh Cyclo Tour
Explore Phnom Penh like a true local on a guided adventure, using a mix of local transport and walking. Cyclos, bicycles with a shaded seat in front, were a common mode of commute in Phnom Penh. But this iconic mode of transport is now dying out. Cambodian farmers looking to earn more money come to Phnom Penh and buy cyclos. Therefore the cyclo tours support the underprivileged of the Cambodian transport industry. Hop in as they showcase the flavors, cultures, monuments and hidden gems of Phnom Pehn, while supporting local communities.
Additionally, cyclos move slowly, giving you time to absorb the surroundings and take photos if you like. This route provides a unique insight into this wonderfully chaotic metropolis. From showcasing iconic heritage buildings to visiting locations relevant to local culture, we recommend this tour for sure. Besides this, it's an absolute treat for your taste buds while sampling the local cuisine.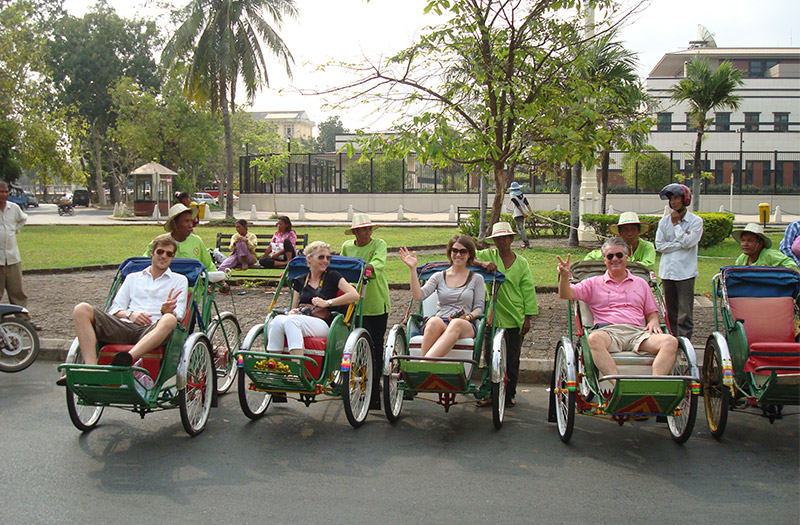 Go on a cyclo tour in Phnom Penh to support a driver from a struggling background.
2. Food Tour in Phnom Penh
After exploring Phnom Penh's colonial architecture and bustling markets, see the other side of this phenomenal town. Explore the lesser-known Cambodian cuisine while traversing off the beaten path. Be prepared to dig into the authentic Cambodian flavours at markets, street food stalls and hole-in-the-wall eateries while understanding the origin of this food.
For a long time now, food in Cambodia has been overlooked because of the popular cuisines of its neighbouring countries like Thailand and Vietnam, but no longer. The Khmer cuisine is fresh, adventurous, organic, and filled with so many wonderful flavors and textures. The food tour is a great way to understand the various colonial influences and historic past. With dishes like barbecue and curried fish, and Cambodian beers against the backdrop of Phnom Penh's night scenes – get set for a culinary adventure.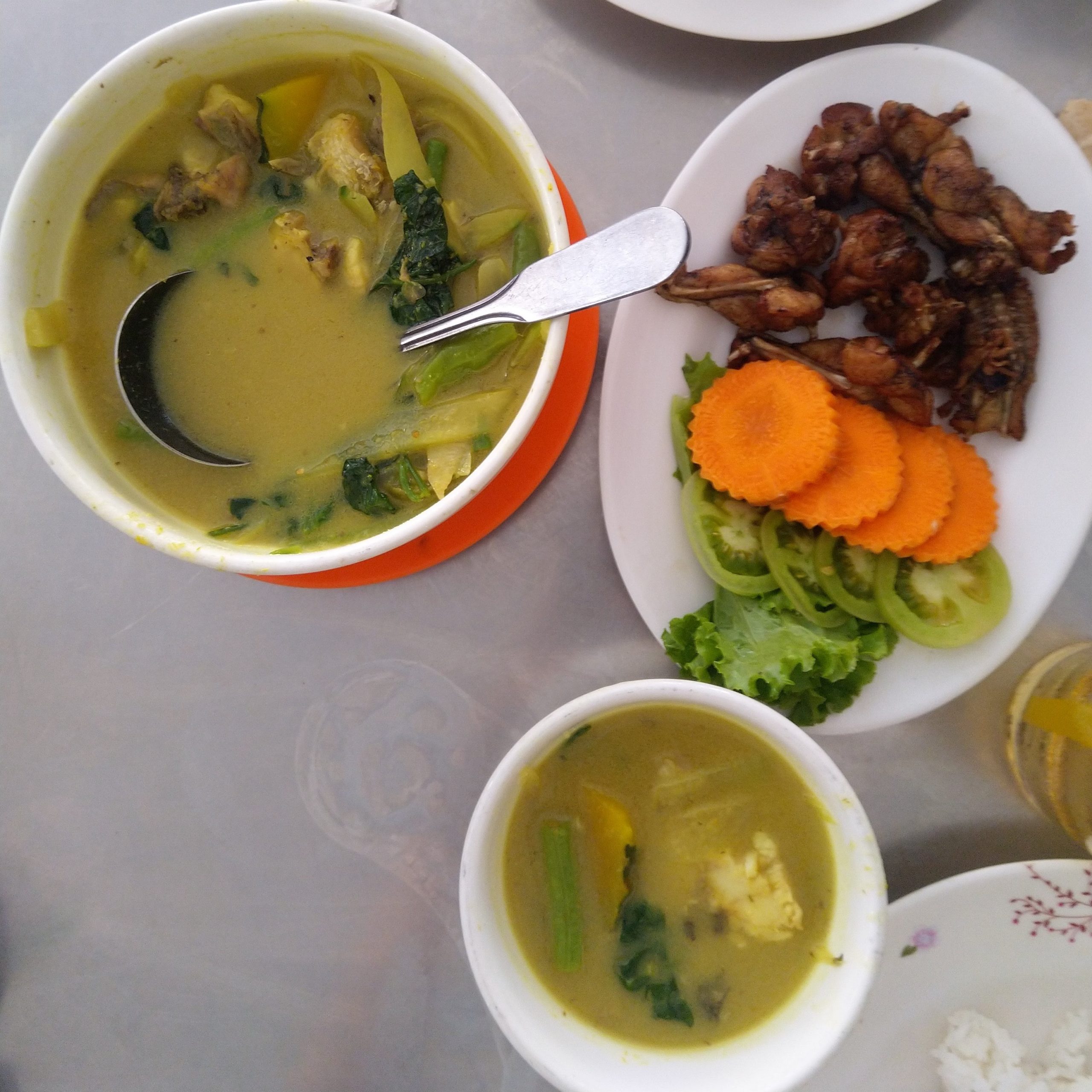 Phnom Penh's food choices are as multifaceted as the city's history. On a food tour you will explore all of it!
3. Cambodian Beer and brewery tour
Phnom Penh's rather unexpected beer culture, amazing nightlife and rooftop bars will awaken the party animal in you. The craft beer scene in Phnom Penh is one of the best in Asia. The small yet rapidly growing micro-brew scene in Cambodia's capital is what everyone reminisces about. Brewers setting up shops, tinkering with local ingredients, brewing huge batches- it makes for a great beer experience. Despite being a small area in Cambodia, it has some great bars, pubs, restaurants, food streets, and shops. These just add to the charm of the city's nightlife culture.
Experience an authentic beer tour where a fleet of tuk-tuks will take you to local, family-run breweries. You will witness the preparation process, visit different sit-down restaurants and street stalls. You'll hear about the story behind each dish and its relevance to the local culture. So pull up a chair and watch the 'happy hours' pass by while eating and drinking with other locals.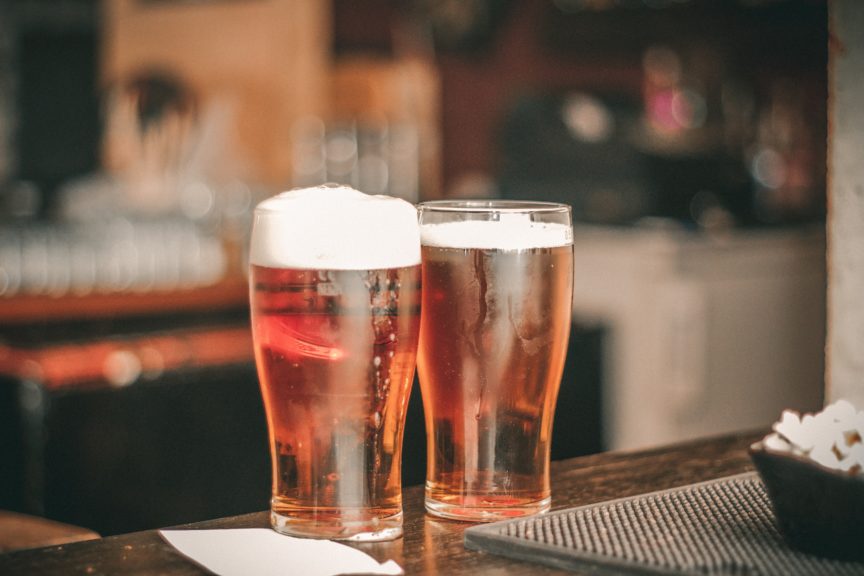 On a beer tour in Phnom Penh you will get to know the nightlife scene of Cambodia's capital.
4. The Cambodian Living Arts – Apsara and Khmer dance
Cambodia is steeped in history and tradition and no visit to this country is complete without watching a renowned magic Apsara show. Apsara is the traditional dance of Khmer people. The Apsara dance is famous not only because of its beauty, but also for its enchanting, mysterious appeal. Evidence of this delicate form of dancing is etched into the walls of ancient temples as well.
What is the Apsara dance all about? Well, it is an amalgamation of the different religions on which Cambodia has been built – Animism, Hinduism and Buddhism. Every single movement of the fingers has a particular meaning. Children, especially girls will start to train for this complex dance form at a very young age. It takes at least 9 years to perfect this form of dance. Make sure you don't skip this experience that showcases religion, culture and elegance- all integral characteristics of Cambodian culture.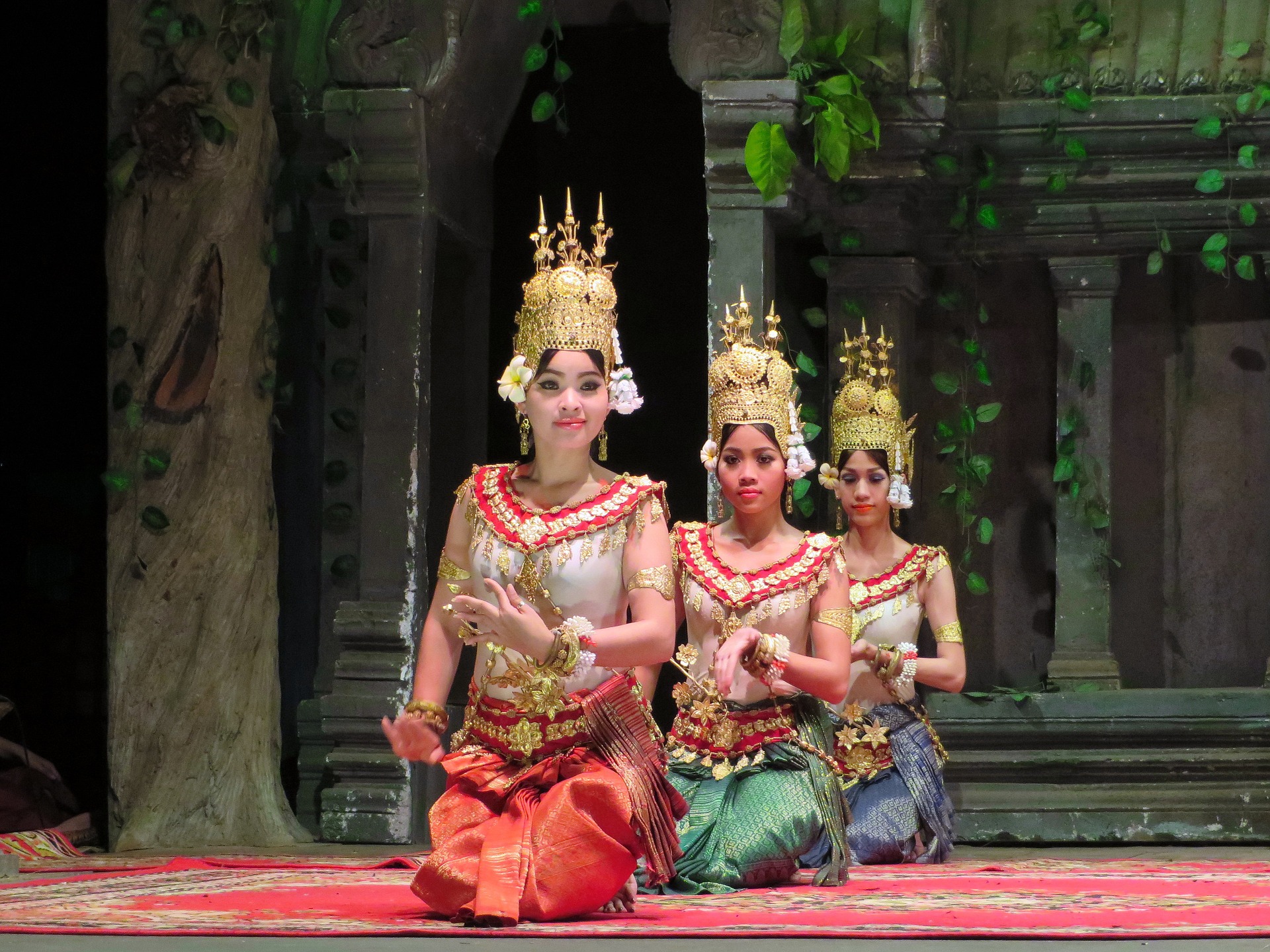 The Apsara dance shows happen daily and can be visited by anyone.
5. Explore the gorgeous Cambodian countryside – Koh Dach
If you're looking for some down time to escape the hustle and bustle of the city, experience the countryside lifestyle by simply crossing the river. Be sure to visit the Silk Island, locally known as Koh Dach. It is an island in the Mekong River, north of the capital of Phnom Penh.
It's an easy day trip destination that offers insight into the rural Cambodian life without having to travel too far from the busy urban life. Renowned for its traditional silk-weaving community that's been around for 400 years, it is a great way to explore the lesser known rural lifestyle. While cycling around this island, you'll learn how people go about their daily lives, witness how they make products using silk, and observe farmers in action along the riverbank. If you're looking to get your hand on organic seasonal fruits and vegetables, purchase it from local farmers who sell their produce in front of their homes.
The vibrant yellow Koh Dach Pagoda is a site you ought visit while exploring this village. After this enriching experience, make you way to one of the many riverside cafes to enjoy a local meal with chilled beer. This is definitely an experience that tops our list of things to do in Phnom Penh.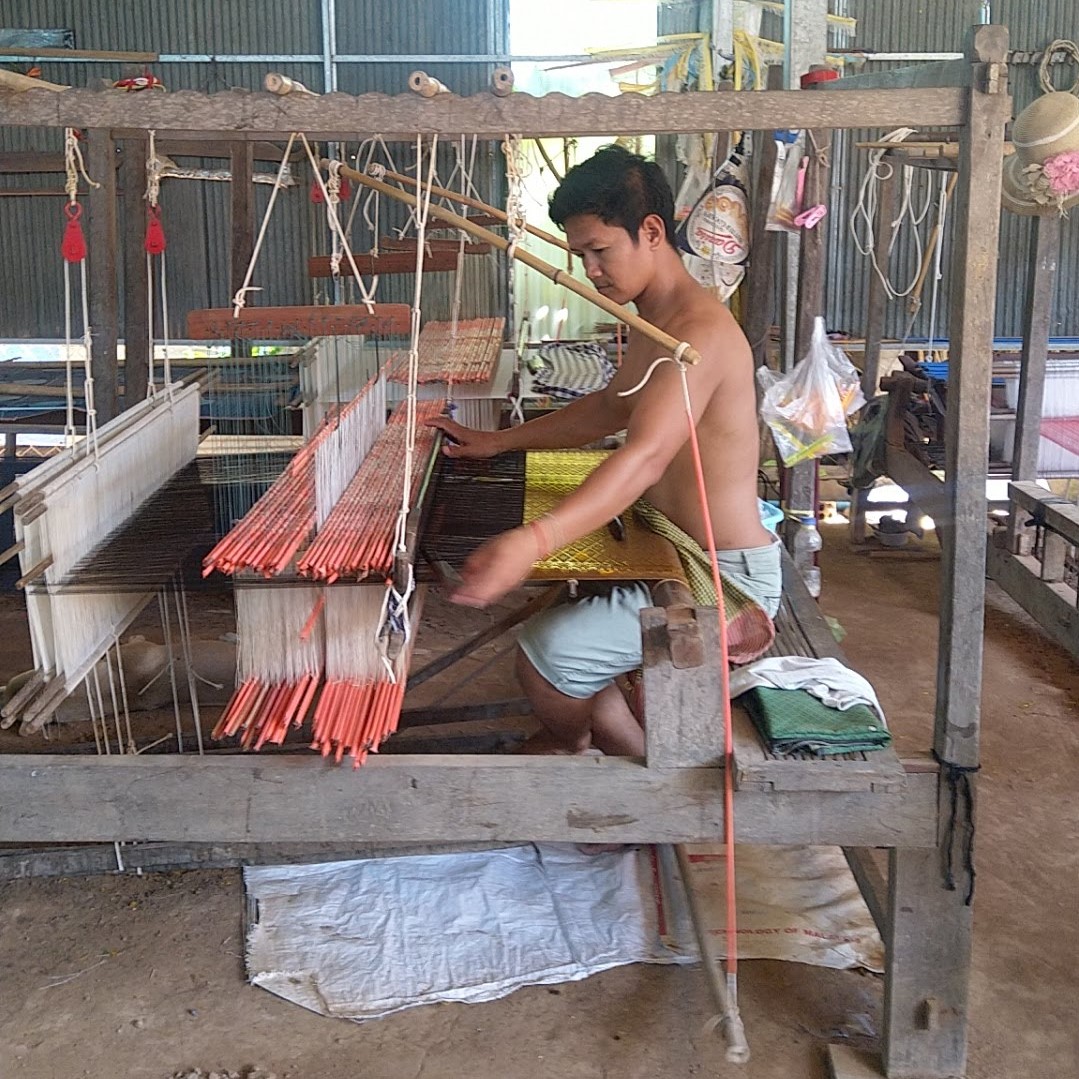 Learn about the centuries old silk weaving traditions in the villages along the Mekong river.
If Cambodia is on your travel bucket list for Asia, be sure to explore the culturally rich, capital city of Phnom Penh. Take a leisurely stroll in the park,explore some of the many different markets, cruise along the Mekong, bond with locals while you learn about the history and culture, or simply marvel at the gorgeous temples and architecture. Besides Phnom Penh, Cambodia is home to a number of cities worth exploring. Hit the Plan your trip button and we'll help curate your ideal Cambodia trip. One that caters to your time constraints while making sure you don't skip any of the exotic destinations in this region and explore more than just the Angkor complex for a better understanding of this beautiful country.
helping you travel your way
We provide a helping hand to independent travellers who need assistance with planning and booking their trip. The primary goal is to turn your dream holiday into reality.
YOU MIGHT ALSO LIKE
LEAVE A REPLY