Best Places to Visit in Cambodia
Though a rather small country along the Indochina peninsula, Cambodia is bound to steal your heart. One common struggle is picking the best places to visit in Cambodia. Brimming with culture and tradition, Cambodia continues to exist in coherence with urban trends. Primarily associated with the Angkor complex, Cambodia is a lot more than these temples.
The ancient ruins and picture perfect islands give you an insight into Cambodia's rich cultural heritage. It caters to all types of travellers, irrespective of whether they're backpackers or luxury travellers. Here's our list of the best places to visit in Cambodia and all that it has to offer.
Look at a Two Week Cambodia and an One Week Cambodia itinerary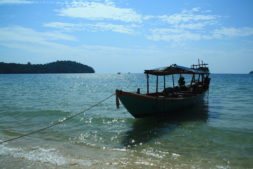 The islands off the coast of South Cambodia are definitely worth visiting for some relaxing beach time.
SIEM REAP
The provincial town of Siem Reap has acclaimed world recognition as a gateway to the Angkor complex. A UNESCO world heritage site, Angkor is a collection of 400 temples, the most renowned being Angkor Wat. But besides these awe-inspiring temples and ruins, Siem Reap has a lot more to offer, especially once you're weary of the temple excursions.
Siem Reap has revamped itself to be the ideal blend of modernism and tradition. Throw in a creative cultural scene, that includes Cambodia's leading contemporary circus. The Chinese inspired shop-houses and French colonial architecture all add to its charm. The relaxed vibe, cozy cafes and restaurants, great hotels are other aspects you ought to explore.
Activities you must indulge in include countryside bicycle or quad tours or a visit to the National Museum. Additional highlights of this region are day trips to Tonle Sap lake and Phnom Kulen National Park. You can learn about local crafts and art at Artisans Angkor, Rehash Trash or Theam's Gallery. Visit the many charming markets, and purchase handicrafts and textiles manufactured by local communities to shop with a social conscience. Basking by the pool, local food tours and the drinking capital of Pub street- Siem Reap with its access to Angkor give it a top spot on our list of best places to visit in Cambodia.
Cambodia is an extremely affordable destination to travel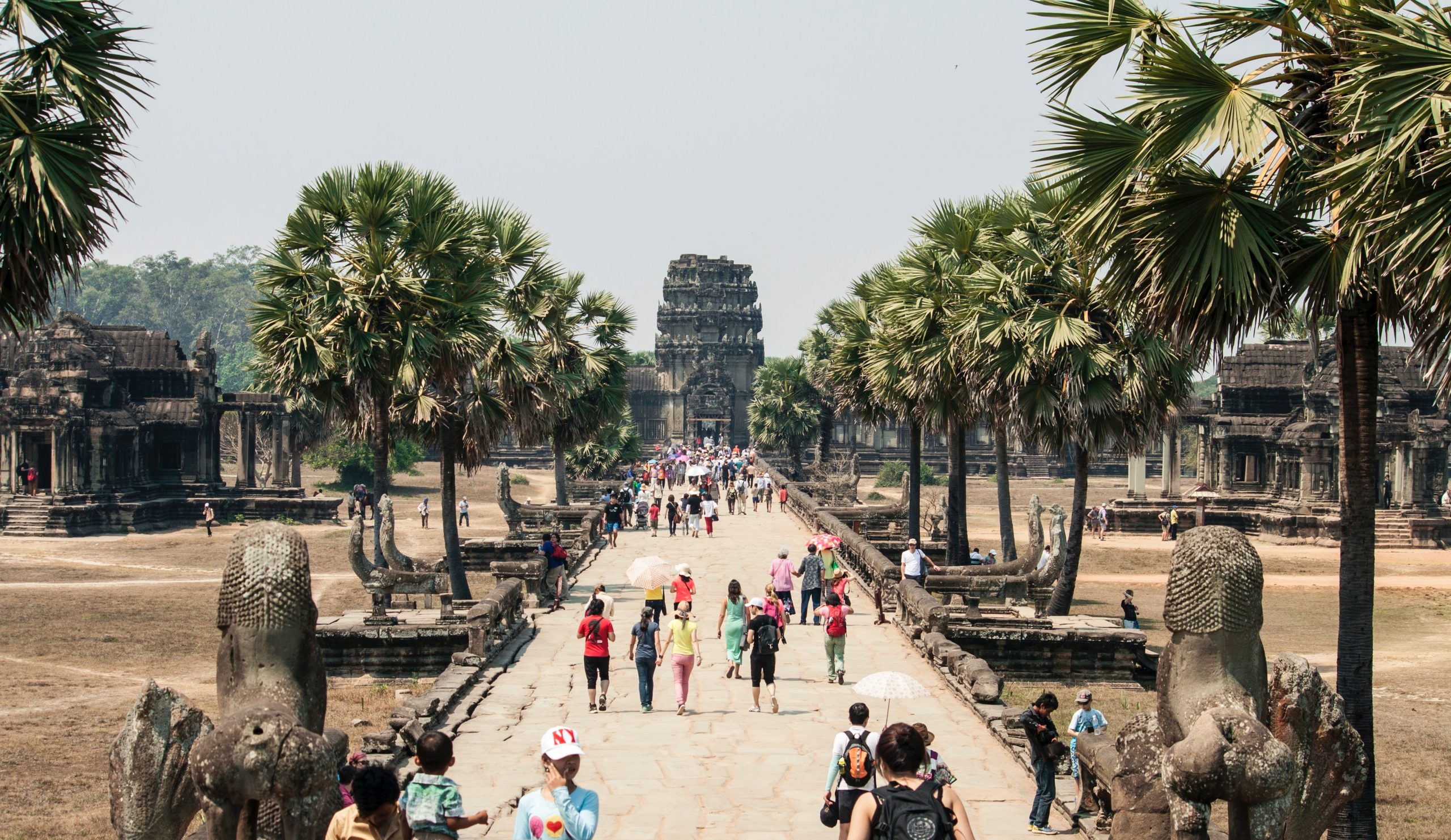 Attracting millions of people from around the world, Angkor Wat is the No. 1 sight for tourists coming to Cambodia.
PHNOM PENH
The capital city of Phnom Penh is situated at the confluence of the Mekong, Bassac and Tonle Sap rivers. Phnom Penh is known for its vibrant culture, impressive architecture, religious significance and royal heritage. Add to this its major economic and tech infrastructure, and it makes for one of the best places to visit in Cambodia. It's pre and post colonial history play a crucial role in shaping the character of this town, once known as the Pearl of Asia.
Tourists from around the world visit to learn about the Khmer Rouge era at the Tuol Sleng Genocide museum and the Killing Fields. Other popular sites we recommend are the National Museum, Royal Palace and the Russian market. Visit the Wat Phnom, a Buddhist temple on the only hill in the region.
For an offbeat experience, head to the countryside across the Mekong and to the Silk Island. You can go there either by tuk tuk or bicycle, to see the peaceful, rural countryside. You will witness an absolute contrast from the city, devoid of high rises and crowded streets. Visit a silk and weaving community that has been around for 400 years and learn about the process. If you're a foodie, take a street food tour for an authentic culinary experience. Cambodian cuisine has several influences, and is also evidently influenced by its history. It's easy to visit both Siem Reap and Phnom Penh, so make sure you do.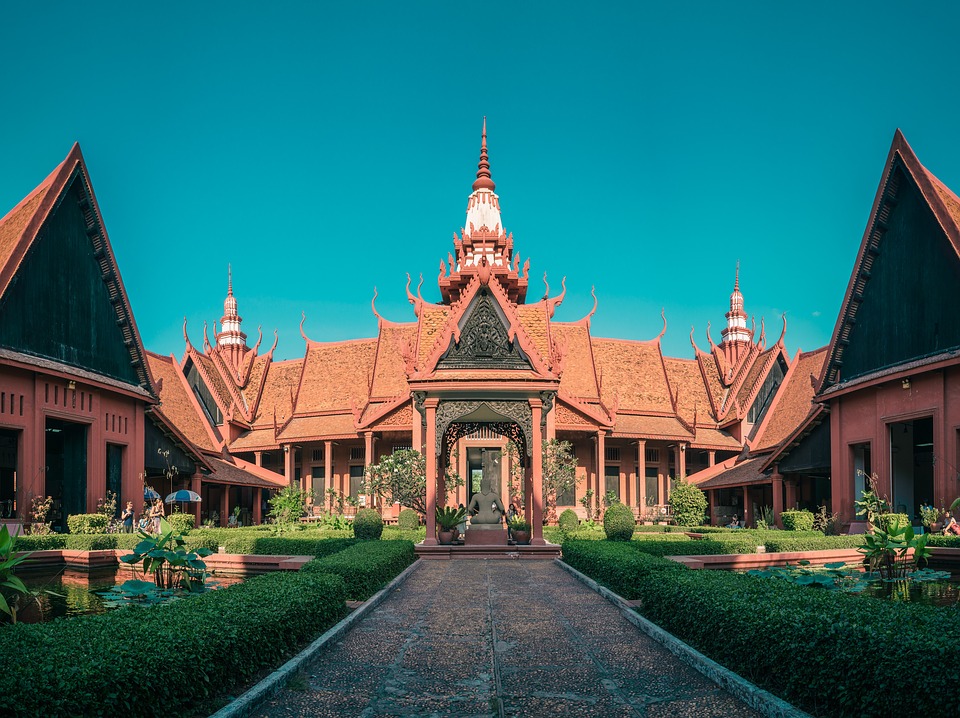 The National Museum in Phnom Penh, Cambodia is a must-visit for all History and Architecture enthusiasts.
KOH RONG
Sihoukville tends to be the first destination that comes to mind when one mentions beaches in Cambodia. However, this town no longer has the charm that once drew travellers from all over. No reason to be disappointed though; Koh Rong and its surrounding islands make for splendid beach destinations. Koh Rong is an island 40min off the coast with beautiful white sandy beaches and clear turquoise waters.
With accommodation ranging from hostels to uber luxury resorts, it's all here. Ferries leave from the mainland all through the day. You can book it along with a driver or bus services as well. Boat trips from the island take you to some gorgeous snorkel sites. Better still, see the bioluminescent plankton at night, where no air pollution disturbs the sight.
Come seeking peace and relaxation, or indulge in activities ranging from water sports to sunset boat rides. Koh Rong makes for an ideal choice after all the sightseeing in Cambodia. The nightlife here can be exciting and fun as well. Bit of advice – Go quick before rampant development takes over these islands too!
Leave all the planning to us, get in touch for a non obligation travel plan.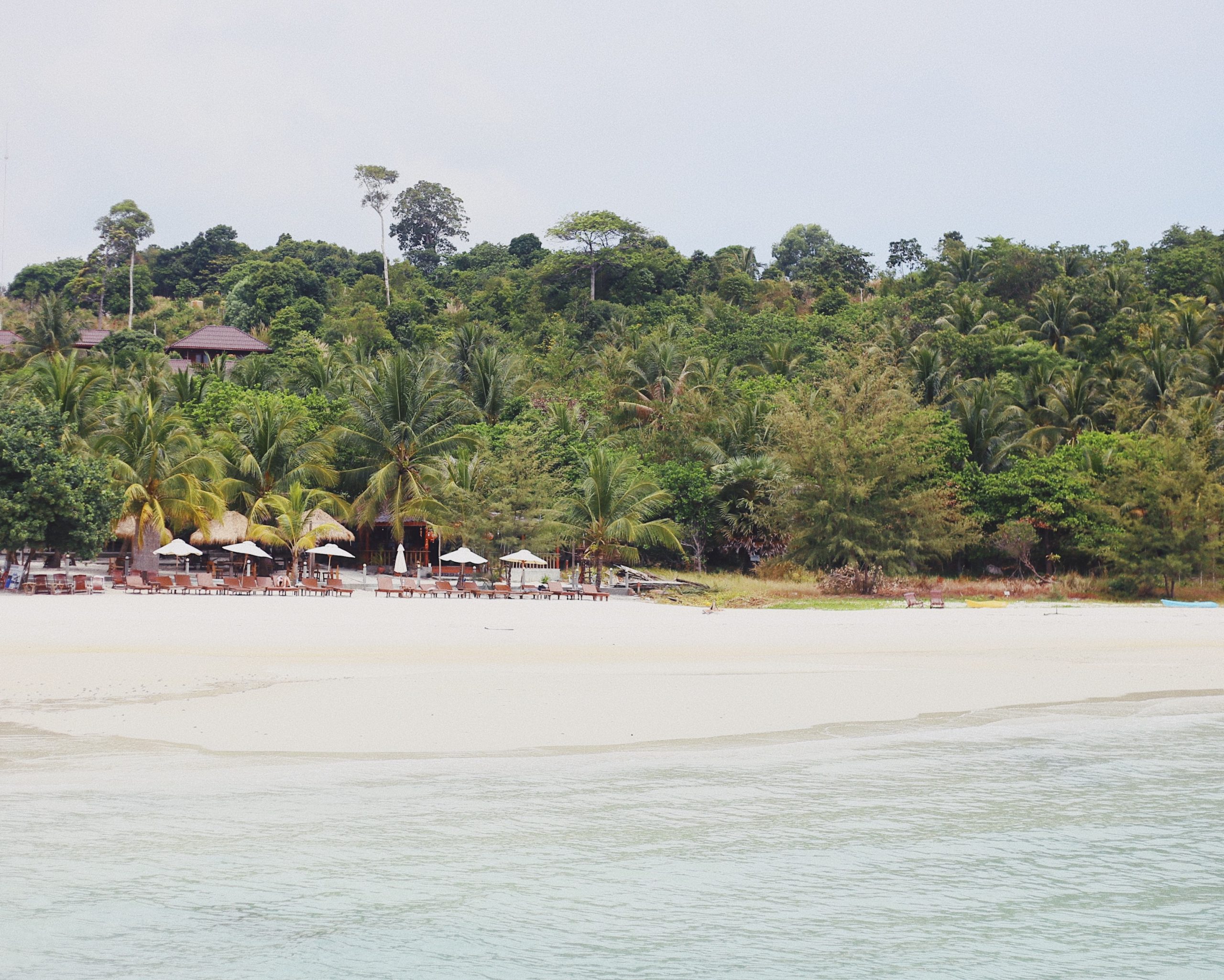 The relaxed beach paradise of Koh Rong island offers white sand beaches and dense jungle with some hiking trails.
KAMPOT & KEP
A quaint town with a vintage vibe, it's hard to resist the charm of Kampot. Streets bearing crumbling French influences, shop-house architecture and a range of tourist accommodation. Pick from boutique resorts to backpacker hostels that offer water sport activities like kayaking on the river. Known for the unique flavour of it's black peppercorns, it attracts tourists from across the world. Despite the growth in tourism,
Kampot continues to maintain its peaceful serene vibe. It is also a base to visit Bokor National Park, an abandoned French hill-station and Kep, the neighbouring seaside town. Authentic cuisine, fascinating history and alluring ambience, this small town is definitely one of the best places to visit in Cambodia.
Kep may not be your first choice if you're looking for a beach holiday. Nonetheless, it still attracts a relatively large number of tourists. The scrumptious sea food, range of boutique resorts and gorgeous sunsets by the shore are unmissable. Hikes in the butterfly-filled Kep National Park (yes you read that right) is a prime highlight of this region. Kep, unlike Sihanoukville, is an exotic luxury destination that keeps most backpackers away.
Looking for some pampering at some of the most stunning beach side resorts? Kep is one of the best places to visit in Cambodia for you.
The serene river town of Kampot shows another side of Cambodia – the quiet and simple countryside & the exciting exotic nature.
BATTAMBANG
Battambang is the ideal example of a modern take on a local, small town. Brimming with colonial architecture, Angkor style temples and Buddhist shrines, it is a popular tourist spot among history enthusiasts. We highly recommend a heritage walk around this town for better insight into the varied forms of architecture and colonial history. Most locals would agree that it is a replica of what Siem Reap was 15 years ago.
The splendid riverside setting and quirky laid back cafes are a highlight of Battambang. A quiet, artsy town with several offbeat experiences, Battambang gives you a whole new perspective of Cambodia. Go on a hike or bicycle tour, take a local cooking class and take a ride on the bamboo train. Other attractions include the Battambang Circus School, the Central Market and the bat caves on the town outskirts. Getting around on foot or on bicycle is most convenient.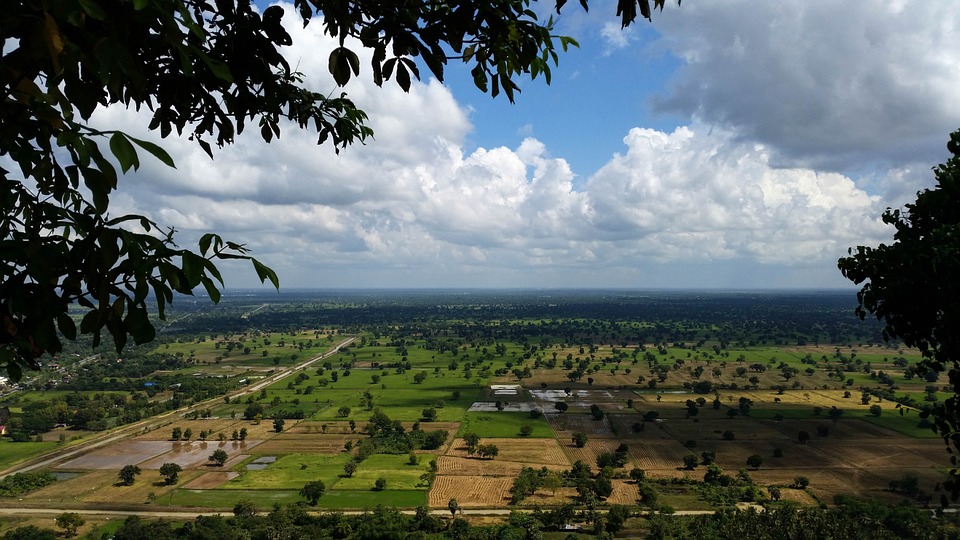 The countryside surrounding Battambang is wide and flat, making it a great place for a bicycle tour through rice fields and quaint villages.
MONDULKIRI
Six hours north of Phnom Penh is Mondulkiri, a province that's a world apart from the lowlands devoid of the Cambodian rice paddies and palm tree clusters. This upland area is a beautiful blend of grass laden hills, pine groves and rainforests. This region has some of the best waterfalls including Bou Sraa, Romanear Waterfall and Dak Dam Waterfall. Ecotourism projects taken up to conserve the area are a fascinating learning experience.
One can indulge in activities like hiking, visit a responsible elephant sanctuary and engage in bird watching. The Mondulkiri province is also home to a large wildlife population consisting of leopards, bears, wild pigs and especially elephants. The regions of Sen Monorom and Koh Nhek village are the highlight of this province with accommodation limited to a few resorts and homestays.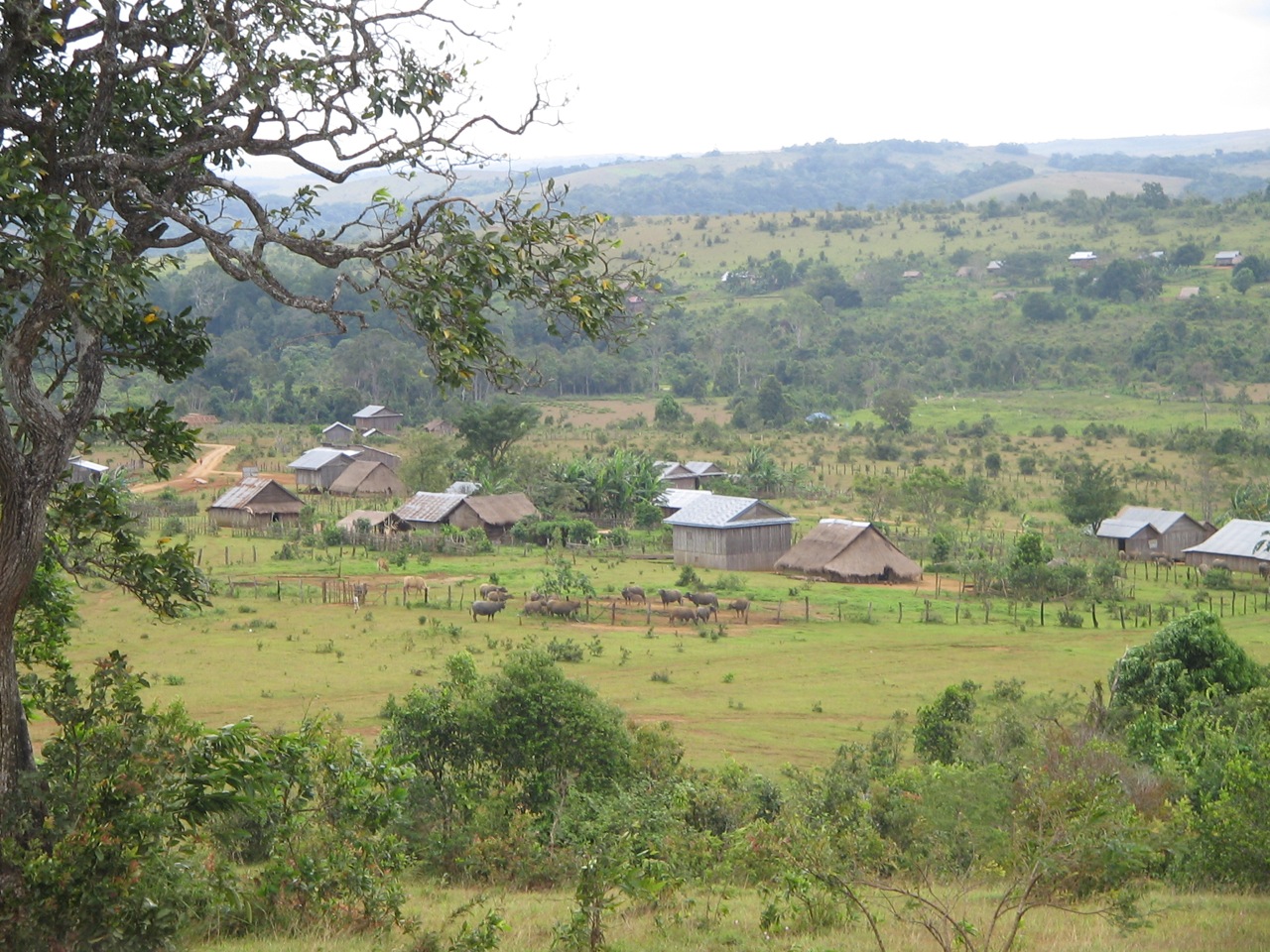 Mondulkiri is definitely an off-the-beaten-track destination many travellers don't visit. But the landscape and wildlife is very unique in this region.
A holiday in Cambodia should definitely make it to your travel bucket list. The best places to visit in Cambodia is a never-ending list, but these are definitely our favourites. Merely visiting Siem Reap before heading to another destination on your Indochina route would certainly be injustice to this exotic nation that has so much more to offer. Take a look at some of our Cambodian as well as Indochina itineraries to help cover all the hidden gems of this region. If you are looking to explore the region in a manner that fits your personality best, get in touch with us and we'll make it possible.
helping you travel your way
We provide a helping hand to independent travellers who need assistance with planning and booking their trip. The primary goal is to turn your dream holiday into reality.
YOU MIGHT ALSO LIKE
LEAVE A REPLY