Travelling in Cambodia
Planning a trip to Cambodia? An essential part of preparing an itinerary for your trip will be deciding how you are going to get from point A to point B in Cambodia. Traveling in Cambodia is easy, and relatively cheap. This makes it, by far, one of the most easily traversable countries for backpackers and solo travelers.
That being said, there are a few quirks and safety tips that you need to keep in mind while traveling in Cambodia. Here's a detailed guide on getting around in Cambodia, the best modes of transport and an approximate budget for you to account for.
Look at a Two Week Cambodia and an One Week Cambodia itinerary
Cambodia's must-see is the Angkor Wat temple. Read on to find out hoe to get there and other modes of transport for getting around in Cambodia.
Getting around in Cambodia
With an increase in tourism, Cambodia has definitely seen a major developmental growth over the past few years. Roads that were formerly dirt roads for the longest time are now accompanied with actual highways. Travelling around Cambodia is time consuming, but has become much easier and relatively straightforward.
The roads are probably not the best, but with the availability of a relative well developed bus network and several different ways to get around, it sure has become an easy process. With the multiple modes of transportation available in the country and reasonable rates, its simply a matter of picking which mode to use. Which mode you pick mostly depends on whether you are traveling within the city or from one city to another.
Look our detailed guide on how to explore the temples of Angkor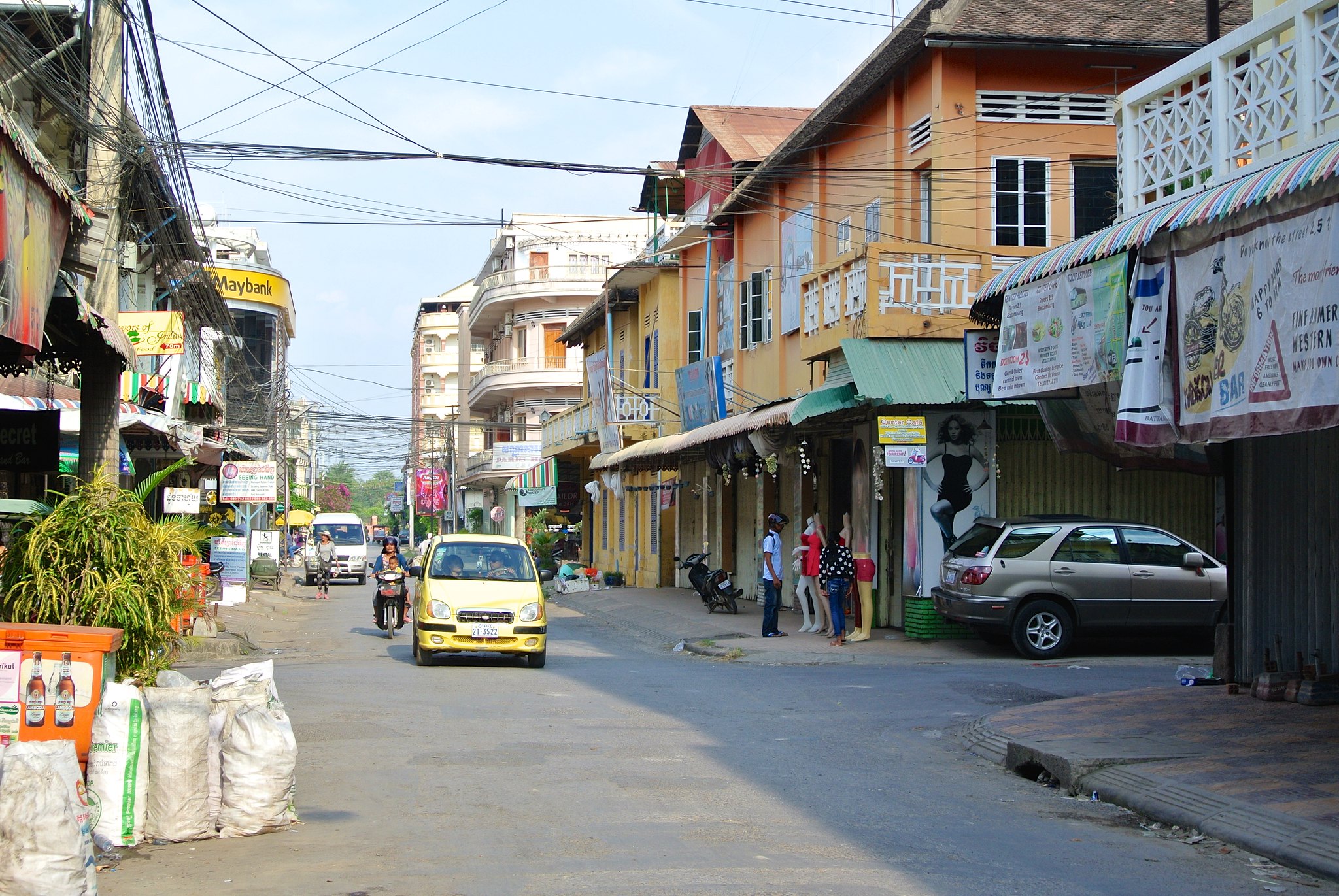 Traffic isn't too crazy in the small towns of Cambodia but can get tough in Phnom Penh and Siem Reap.
Tuk Tuks IN cAMBODIA
Tuk tuks are the most common mode of transport in Cambodia. If you're looking for a comfortable and cheap ride within the city, tuk tuks are the best when travelling in Cambodia. If you are traveling short distances ranging up to 15-20 mins, then Tuk Tuks are the best option for you.
Consequently, you have the option to hire a tuk tuk for a day-long trip. You can avail this at places like Siem Reap for the Angkor temple tours and Phnom Penh, for a trip to the killing fields and S-21.
Fares: Fares range from 1$ for short rides up to 4$ for 10-15 min trips. The trip from Siem Reap airport to your hotel could cost anything between 5 and 10$, depending on the distance. The day-long trips in both Siem Reap and Phnom Penh can cost you between $15 – $30 USD.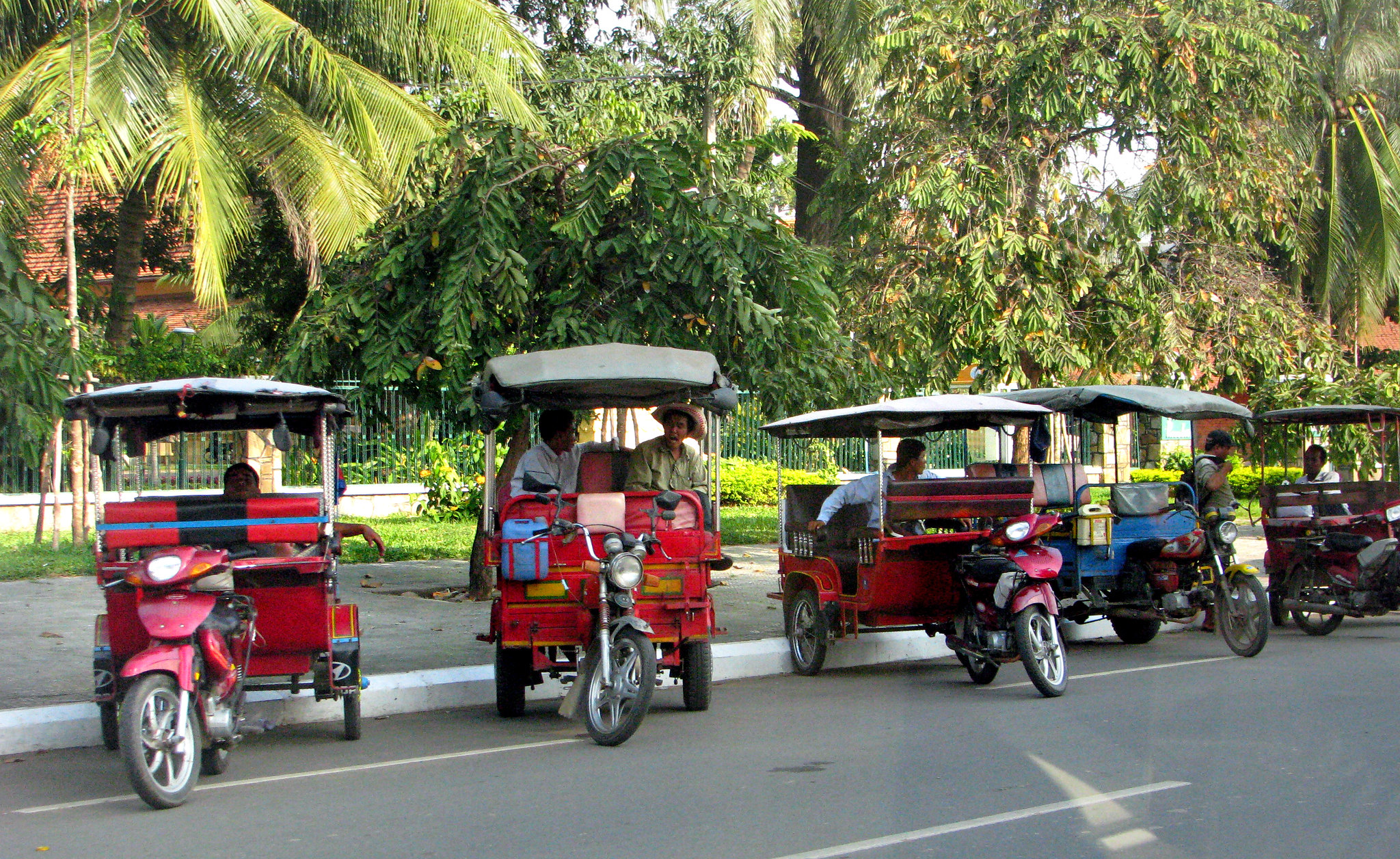 Tuk tuks are the most common public transport mode and can take you anywhere you want. But be prepared to bargain!
Private Car Services
Hiring a private car (or bus if you are part of a large group) is your best bet if you are traveling between the major cities like Phnom Penh, Siem Reap, and Sihanoukville. The drivers are generally very good. They do not speak much English, but are considerate folk and will make regular stops for toilet breaks and refreshments.
Private transport services also offer you a reasonably comfortable journey through the Cambodian countryside where you can soak in the beautiful sights of the traditional stilt houses, large rice paddies and much more. If you would like to make some stops on the way for some sightseeing, we'd recommend you also hire an English speaking guide for the journey.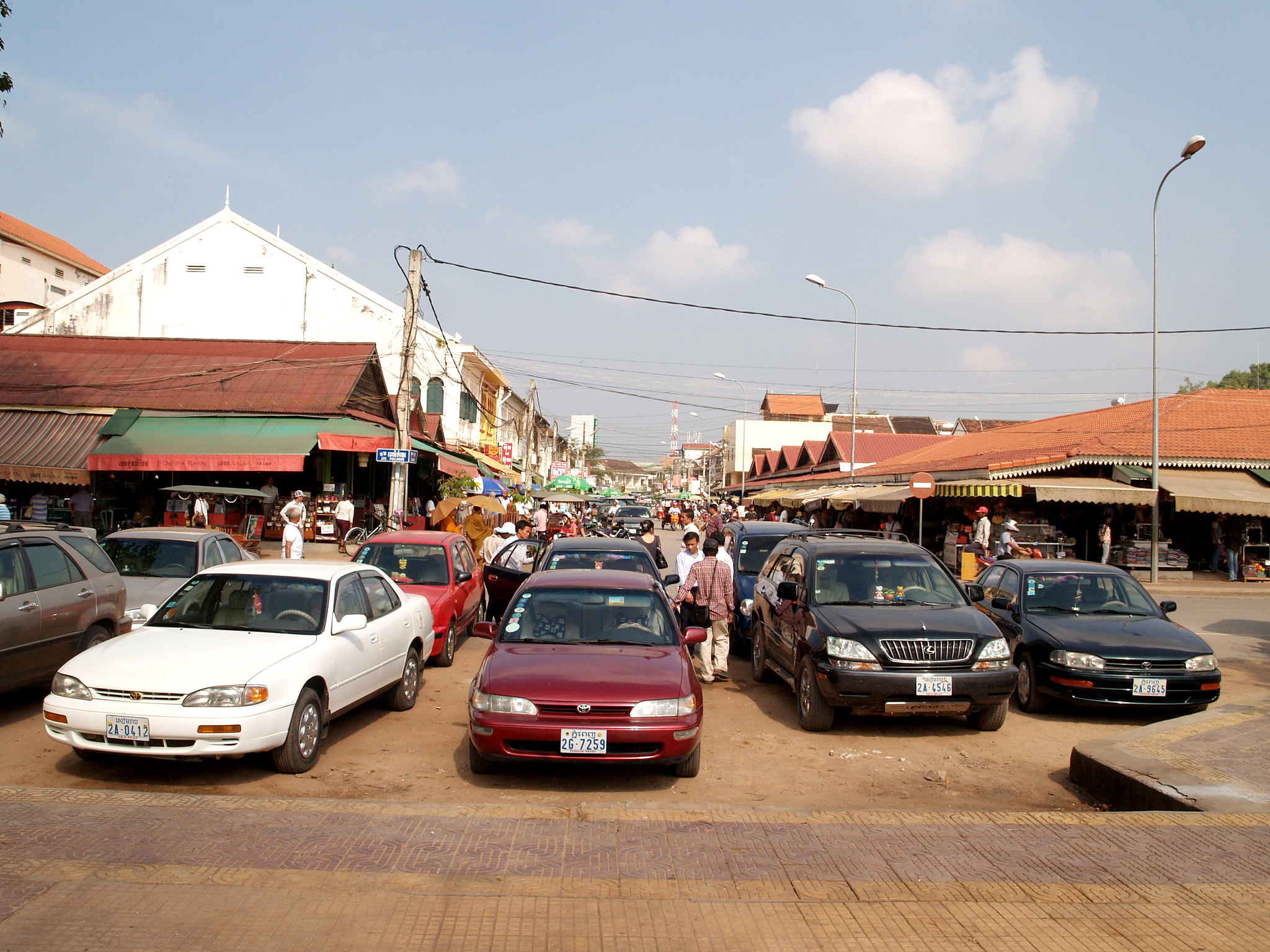 Hiring a car with driver is a commonly used transport mode for tourists in Cambodia.
Bus Services in Cambodia
Taking a Bus is much cheaper than private cars. Some also provide you with hotel pick up services. Furthermore, you will always be accompanied by an English-speaking guide. This makes buses an interesting alternative to private cars when travelling in Cambodia.
Keep in mind though, that buses drive slower and make more stops. Therefore, if you don't mind a longer trip then buses are a cheaper option to cars. Oh, and did we mention free water and snacks!
You can book minivans that are a faster alternative to buses if you want to travel between cities faster. Many services operate at night and we strongly recommend against using them. Lack of streetlights, careless drivers, poor road conditions- it really isn't ideal.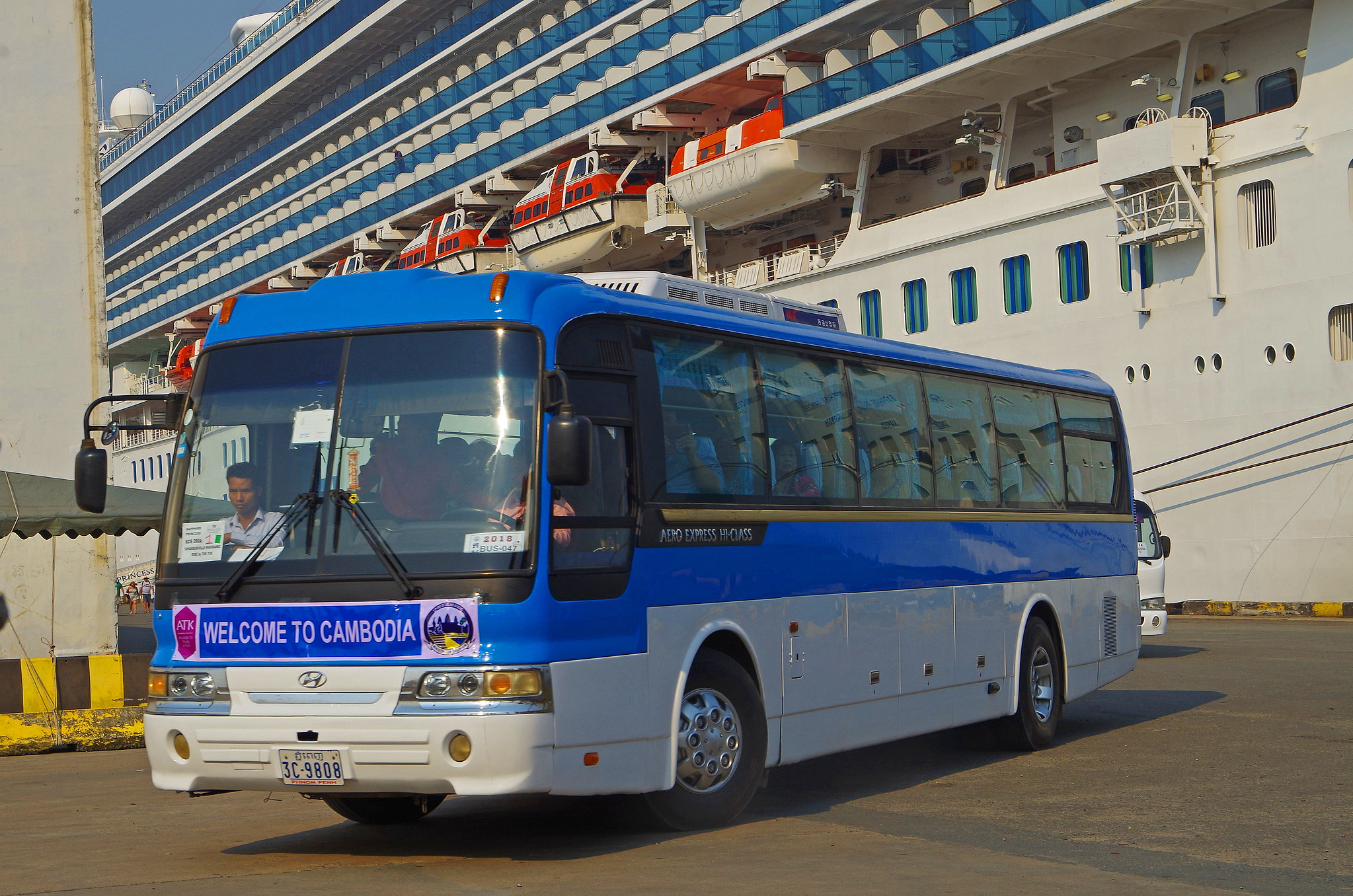 Taking a bus from one city to the next is an affordable and comfortable option in Cambodia.
Grab and Pass – THIRD PARTY COMMUTE APPLICATIONS
Grab and PassApp are apps akin to Uber. You book a ride and you will be picked up at your location. You can choose from a taxi, a tuk tuk or an Indian tuk tuk (also known as a remorque tuk tuk). For traveling short distances within cities, Grab and PassApp is an alternative to the traditional tuk tuk. You can also get a car on one day rental basis using these apps.
Keep in mind that you will need to buy a local sim card to use these apps. Getting yourself a sim card is easy and recommended, to make communication easier when travelling in Cambodia.
Fares: The minimum fare on this service is 3000 Riel (0.75$). Fares rarely ever exceed 5000 Riel (1.25$). You will need to pay the fare in cash. However, if you use the Grab app, you can pay directly through your credit card or via GrabPay.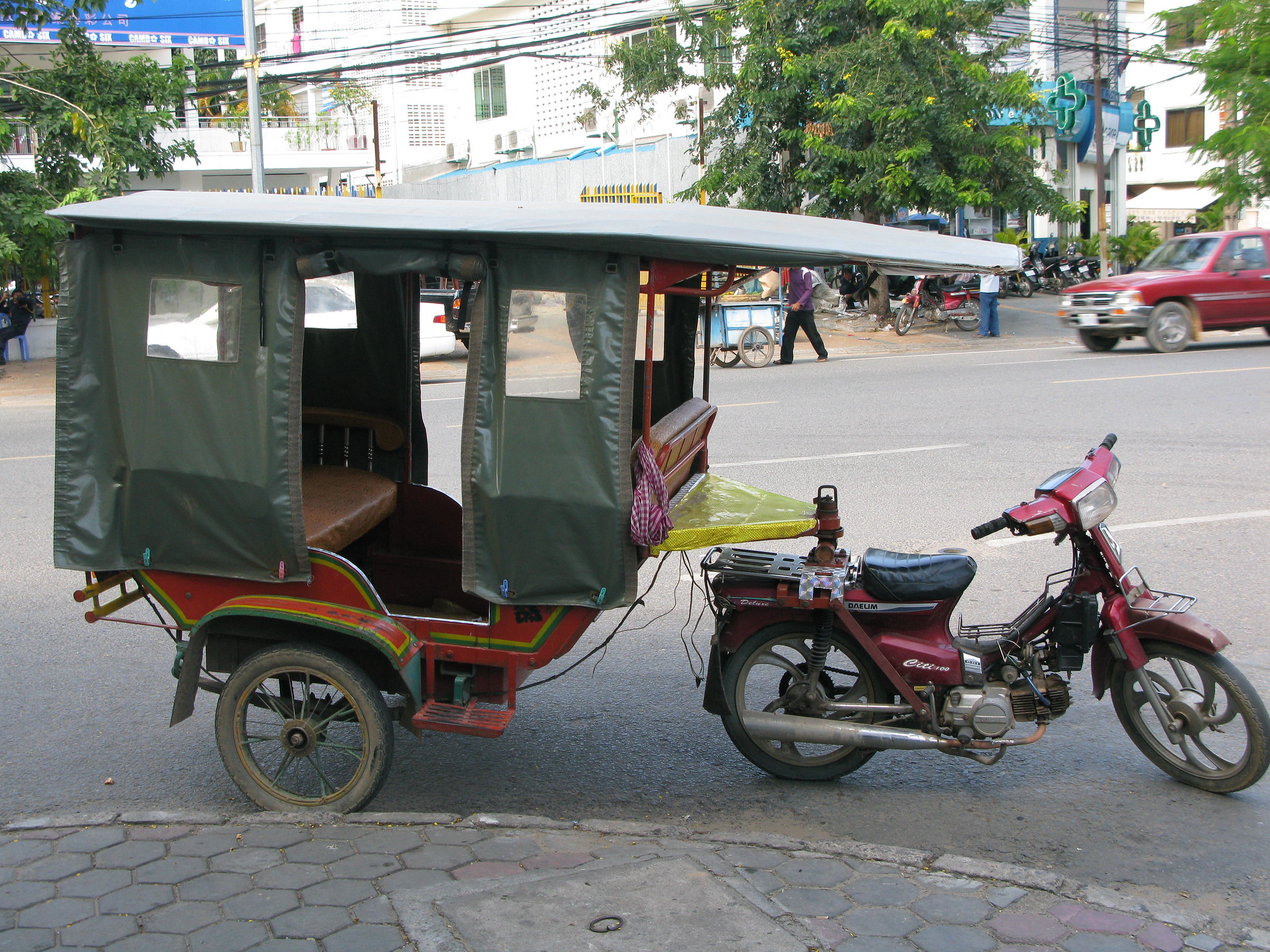 Tuk Tuks can also be hired via the apps Grab or PassApp.
Ferries TO TRAVEL IN CAMBODIA
Ferries are your best bet if you are planning to visit the islands of Koh Rong and Koh Rong Sanloem. You can book your ferry to the islands from Sihanoukville. You can choose from some of the major players in the ferry transit business which include Island Speed Boat Cambodia, Buva Sea, Angkor Speed Ferry, GTVC and Speed Ferry Cambodia. These companies provide modern boats and fast travel options that will take you to the islands in under an hour.
You can also book a ride on one of the smaller companies that offer a slower ride (90 minutes to over 2 hours) but are considerably cheaper at 5-10$.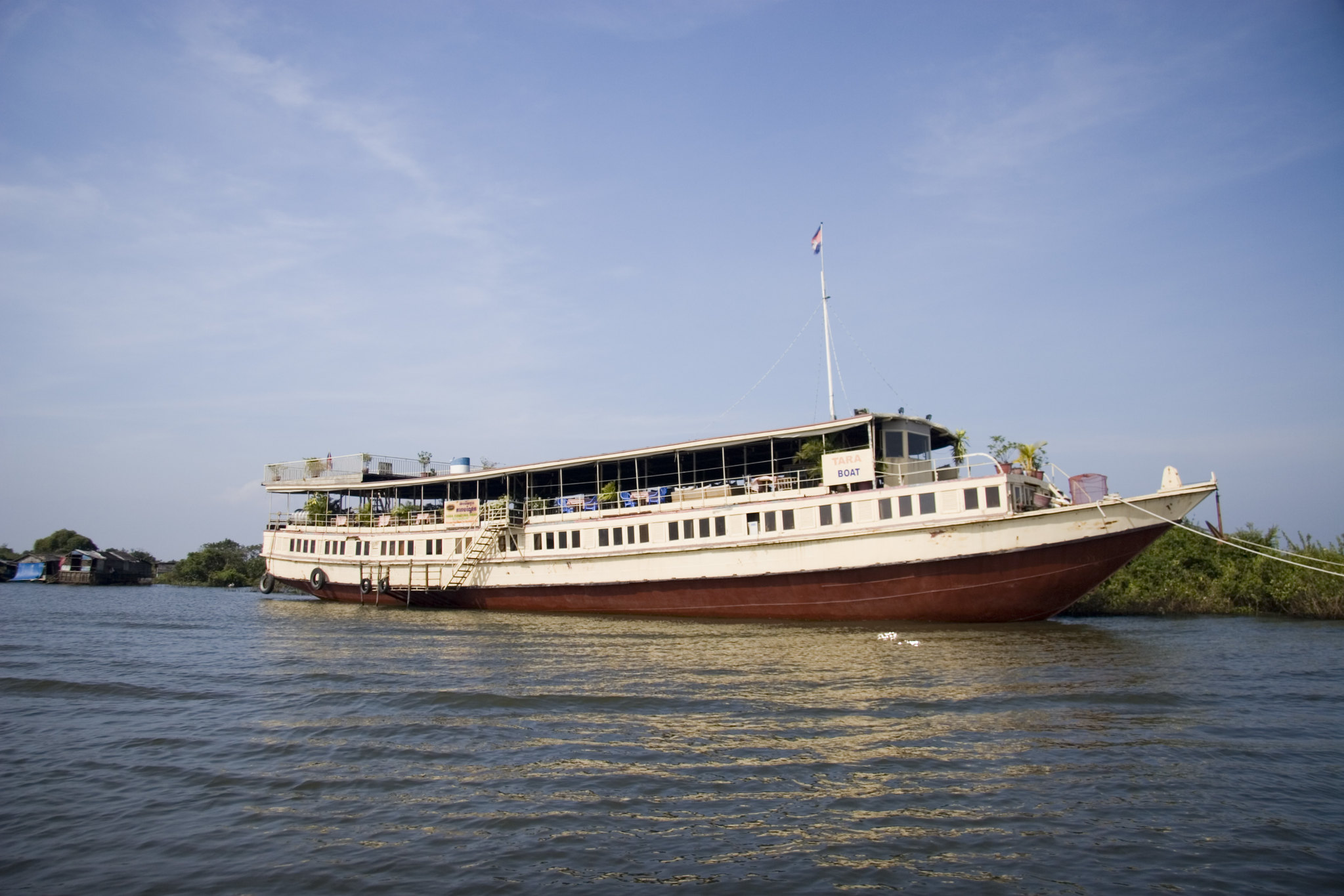 Avoid the slow ferries and opt for a speed boat instead to get to the islands on the Cambodian coast.
TIPS FOR BARGAINING
Where rates on tour buses, private car services and Grab and PassApp are standardised, tuk tuk fares remain exceedingly unregulated. Certain sneaky tuk tuk drivers can, therefore, trick you into paying up a higher sum than is required. Remember this travel tip and try to bargain.
Bargaining is a natural aspect of tuk tuk travel. Always bargain to the appropriate price BEFORE you start your trip. Once again, keep in mind that most short fares cost no more than 1$ and longer fares may exceed to 4-5$.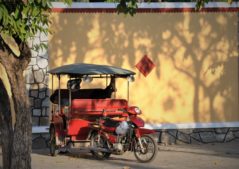 Negotiating is necessary for tuk tuk travel in Cambodia and with these tips you will be an expert in no time.
Road Quality and travel safety in Cambodia
If there's one main glitch with travelling in Cambodia, its this, Cambodian road quality can range from above-average to downright atrocious. The major highways connecting the big cities like the one between Phnom Penh and Siem Reap are in good condition at the moment. The road is wide enough for three vehicles to travel abreast. However, if you stray away from the prime highways, ride quality will fall markedly. Certain stretches along the road are pothole-ridden to a point where even seasoned bikers tend to find it challenging.
During the monsoon season, road quality on the countryside may become dangerous. Certain roadways may even cease to be operational during this period. Traveling around the country will be a safe as long as certain risk factors are accounted for. For example, opting for tuk tuks with side nets over the ones that have none. This way, you can keep your belongings from getting snatched as you travel. Another helpful tip would be to refrain from traveling anywhere at night. Not only are the roads more dangerous at night, but the drivers are at their reckless worst and chances of theft are more likely.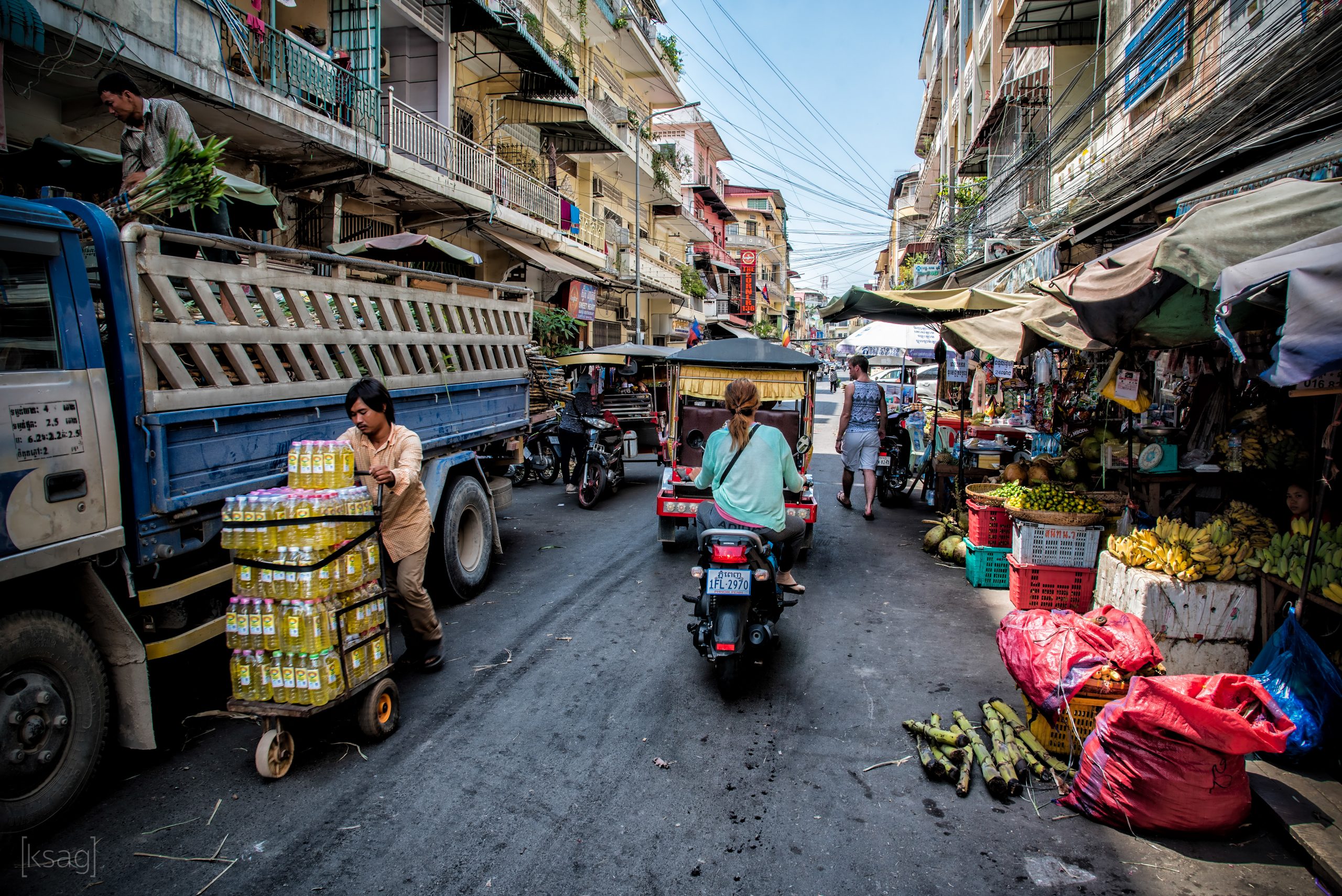 Watch your valuables when navigating through busy roads, by tuk tuk or foot.
Walking and Cycling around Cambodia
Like many Asian countries, one of the best ways to travel around the city has to be by bicycle. You can avoid most of the traffic and travel around for very cheap if you rent out a bicycle. Most hotels provide rentals if this is an option you want to consider. Alternatively, if you are based in good locations within the cities of Siem Reap and Phnom Penh, most restaurants, bars, and cafes should be a relatively short walk away from you.
Don't forget to put on that heat and wear loads of sunscreen. Cambodia receives the full blast of the tropical sun and sun burns are definitely not something you'd want.
As you walk or cycle through the by lanes of this country you can indulge in some of its simple charms. From women practicing aerobics by the river to children playing near the roadside and men engaged in a game of Jianzi (badminton, but you use your feet instead of rackets!). Perhaps, if you are feeling adventurous, you can also try out some of the exotic street food, a unique food culture you ought to explore.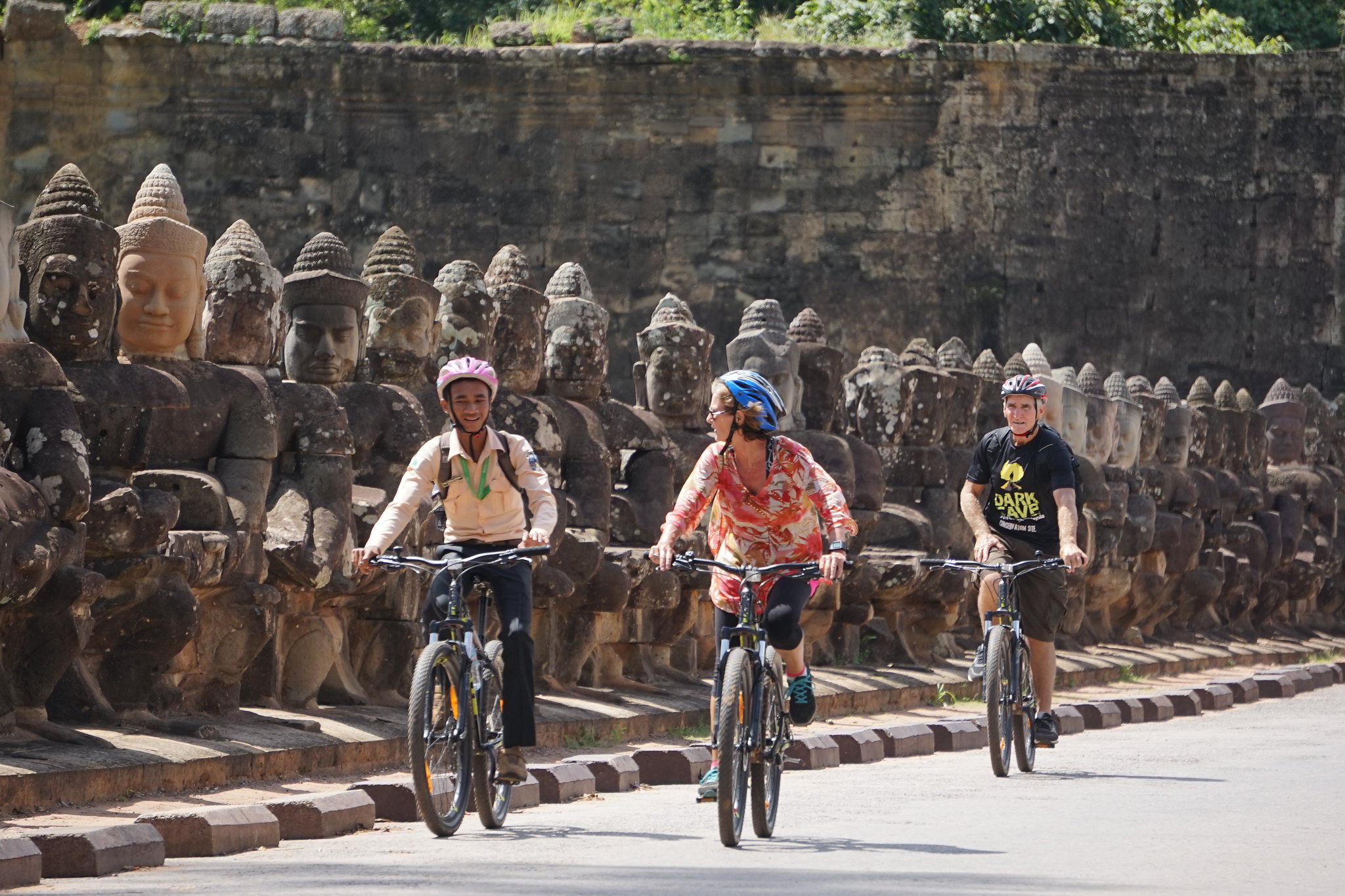 Sightseeing by bicycle is a good option in Siem Reap but keep in mind that it can get hot in the middle of the day.
If you're concerned about the cost of travel in Cambodia and other formalities like procuring a Cambodian visa, simply read our detailed guides on the basic essentials. We hope this article on travelling in Cambodia has eased your travel worries. To avoid lengthy, overwhelming procedures and enjoy a hassle free trip across Southeast Asia, hit the Plan Your Trip button and leave the rest to us. We'll help you plan the ideal trip to Cambodia or across Southeast Asia while keeping in mind all your interests, travel needs and specifications.
helping you travel your way
We provide a helping hand to independent travellers who need assistance with planning and booking their trip. The primary goal is to turn your dream holiday into reality.
YOU MIGHT ALSO LIKE
LEAVE A REPLY