Cost of Travel in Cambodia
Considering travelling to Cambodia soon, but uncertain of the cost of travel in Cambodia? Well, we've got you covered. Travel in Cambodia is fairly reasonable despite the rampant growth of tourism over the last couple of years. Cambodia basically caters to all kinds of travellers and budgets. Whether you're a backpacker or a luxury traveller, Cambodia is your go-to destination.
Find a detailed breakup of the various aspects that affect your total cost of travel in Cambodia, ranging from accommodation to sightseeing to commute.
Look at a Two Week Cambodia and an One Week Cambodia itinerary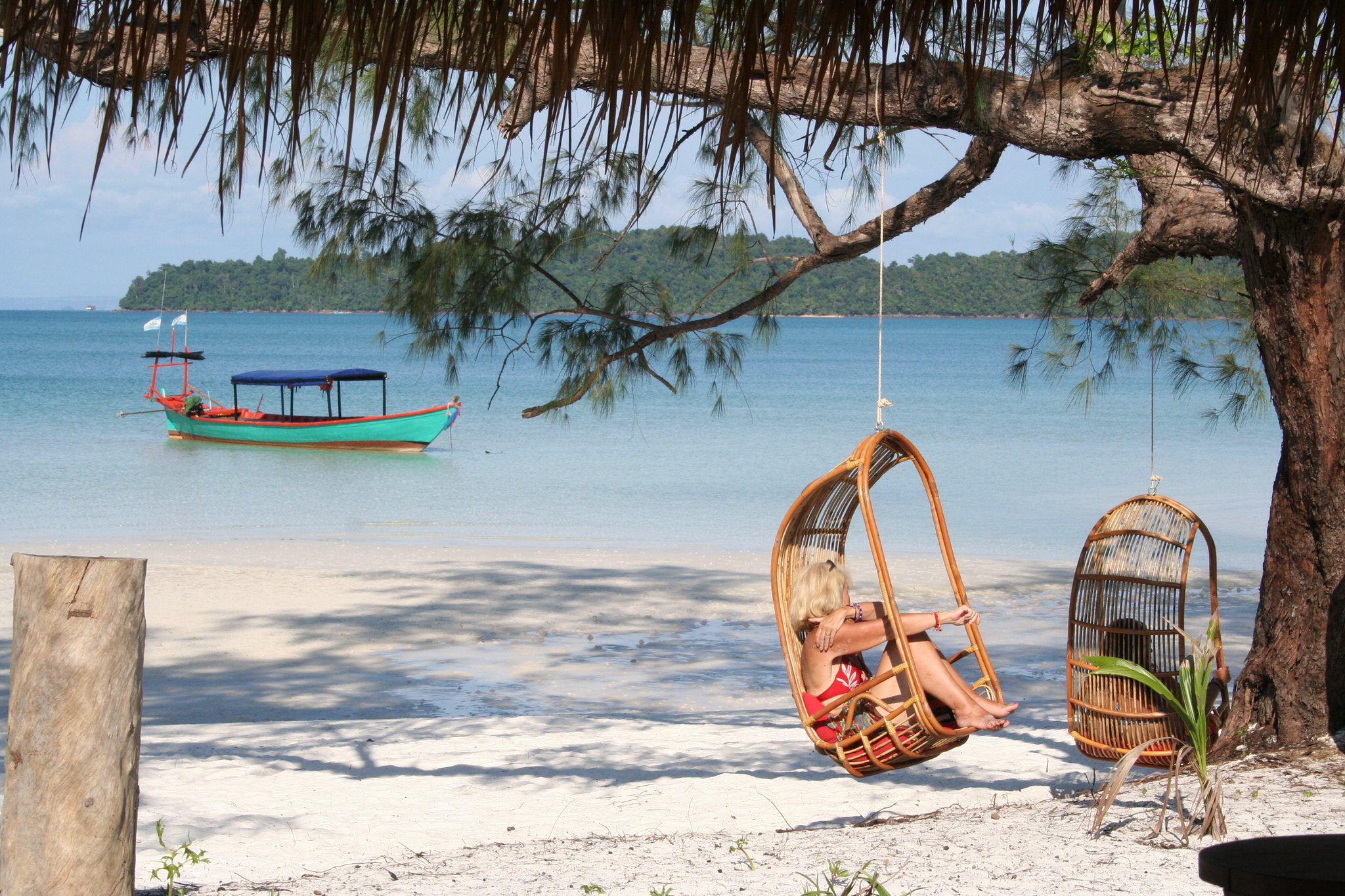 Treat yourself with some beach time in Cambodia. Either combined with sheer luxury or at a backpacker budget – both work just fine and definitely won't let you down.
Accommodation IN CAMBODIA
Cambodia is home to a diverse range of accommodation; hostels, homestays, guesthouses, hotels and resorts- you can have your pick. Depending on your budget you can keep your cost of travel in Cambodia under control.
Backpacker and Budget Traveller
If you're a backpacker looking to get cheap accommodation, you don't need to worry. There's several hostels with dorm beds, where you can park your luggage and sleep in at the end of the day. Popular tourist cities like Siem Reap and Phnom Penh have a wide range of hostels to pick from. Other cities have alternatives like small guest houses that won't take a toll on your expenses. Hostel dorms would cost an approximate of $7-10 whereas private rooms in hostels would cost an approximate of $20. Hostels are ideal for solo travellers or travellers on a shoestring budget- they're affordable and are great for finding company to explore the region.
Budget travellers looking for private rooms with guaranteed cleanliness and low-key comforts have some options. You can choose between homestays to budget hotels that usually lack amenities like swimming pools. Accommodation for 2 person rooms at such stays would amount to an approximate of USD 25-30 a night. You can also opt for something a little more upscale, featuring more amenities like a pool, gym or 24-hour cafe. Your price range would be slightly higher, somewhere upto USD 60 a night. In offseason these could be booked at great deals where comfort stays are made available for budget travellers.
Comfort and Luxury Traveller
Don't mind shelling some money for a little more comfort? Choose from good hotels or boutique stays brimming with character and charm, offering great service at prime locations. Equipped with swimming pools and other amenities, they're available for USD 60-110 for double bed rooms. They make for a great choice if you're looking to spend some extra time indoors instead of exploring the region all day long.
Cambodia has several spectacular choices of accommodation to experience this culture in style. If you're looking to pamper yourself basking in luxury, Cambodia has a range of boutique resorts and luxury stays to spoil you. With the rise of tourism, every city has luxury stay options and several that are situated off the beaten path. These rest in absolute seclusion from the city chaos and no other accommodation facilities around it. For a double bed room at exotic properties of this kind, the approximate cost would amount to anything over USD 110-120. Opt for this if you are a luxury traveller, flexible with your cost of travel in Cambodia.
Choosing the right accommodation, taking into consideration every little detail, can be an overwhelming process. If you're travelling to Cambodia, get in touch with us and we'll help plan your trip your way.
You can also look at our two week and three week itineraries for Vietnam OR our Cambodia + Vietnam itinerary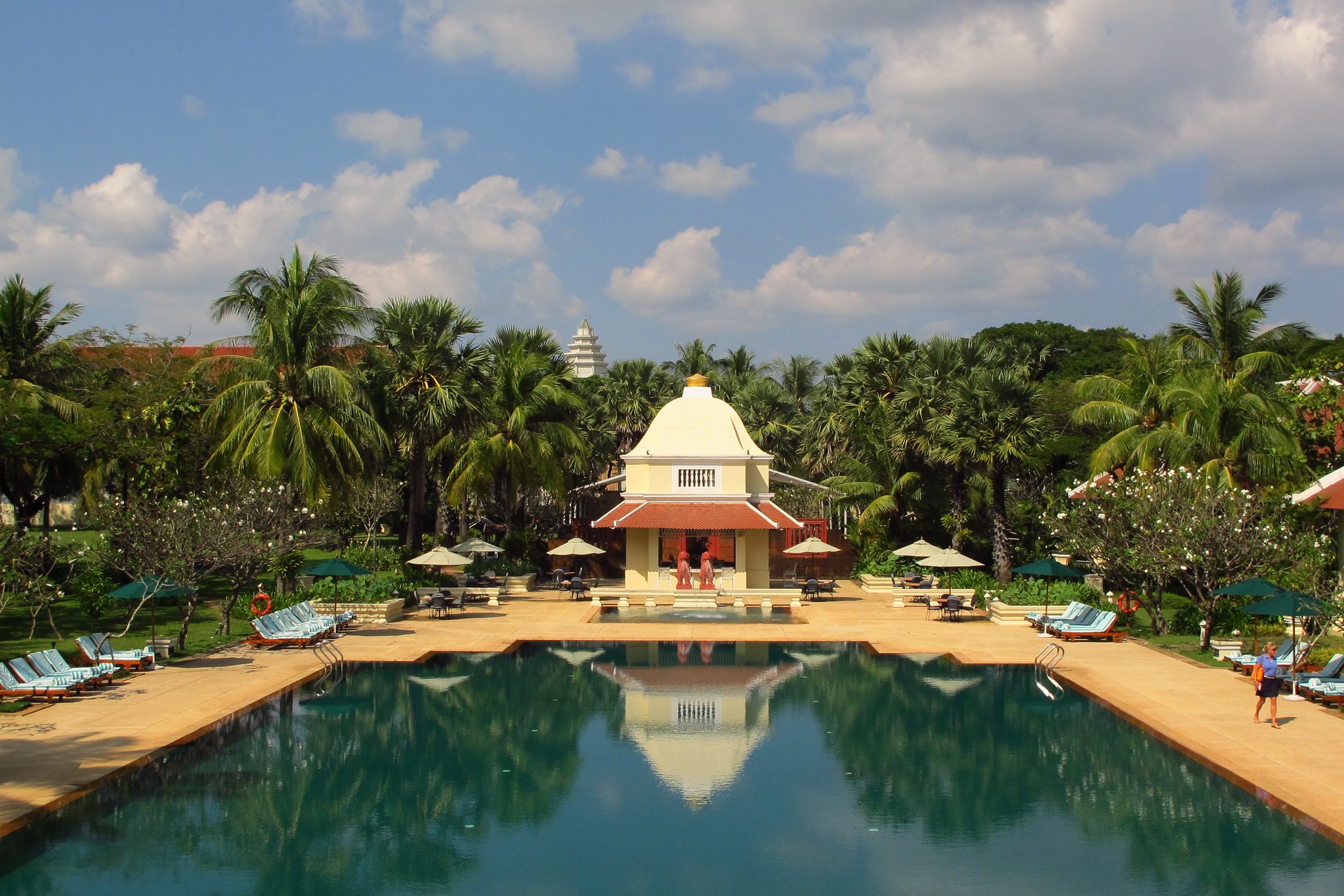 Most hotels in Cambodia have pools, even in low budget categories, making the hot afternoons a little bit more bearable.
Monuments & Activities IN CAMBODIA
Cambodia is a diverse region that offers a variety of activities for travellers to explore. From its temples and ruins to the wildlife and eco-tourism, the country has it all. The vast range of monuments and sightseeing spots entice not only history buffs but all kinds of travellers. Activities ensure an adventurous excursion.
Angkor Complex – a UNESCO World Heritage site
Visiting the historic Angkor Complex site is comparatively a lot more expensive as compared to other tourist spots. To visit the Angkor complex, a 1-day pass is $37 USD, 3-day is $62 USD, and 7-day is $72 USD. Besides the temples, there are several other attractions surrounding it, and in Siem Reap. This charming town is characterised by Chinese-style shop-houses and French colonial architecture. Popular day trips include visiting the Tonle Sap, the largest freshwater lake in Southeast Asia, and Phnom Kulen National Park ($20 USD entry fee for tourists). There's activities like cycling, quad-biking, ziplining or kayaking for the adventure seekers. These can be booked in a range of $40-60 USD depending on the activity.
Other Activities
Other activities and tours can cost anywhere between $80 and 170 but are absolutely worth it. Attractions around the country including museums, popular sites and exciting activities have varied rates. Some of these include the Phare circus in Siem Reap: $18-38 USD. A highly recommended food tour in Phnom Penh is usually $60 USD- expensive, but worth every penny. The Tuol Sleng Genocide Museum and the Killing fields memorial in Phnom Penh are also famous sites. Though not the happiest places to visit, they are great to understand Cambodia's dark past that plays an important role in history. The approximate cost is $3 – 5 USD as entrance fee plus an additional cost for guides or audio guides.
Rates for other popular tourist attractions & activities include:
The National Museum, Phnom Penh – $10-15 USD for entry and an additional $5 USD for an audio guide.
The Royal Palace – $10 USD and $10 USD more for a guide along with separate charges for photography.
Apopo Visitor Centre, Siem Reap (Rats used to help clear landmines) – $5 USD
Bicycle rent in Siem Reap – $5 USD
Bicycle tour in Phnom Penh – $45 USD (Explore Koh Dach, a Silk Island, an ideal day trip to explore local handicrafts and village life or the Oudong mountain to visit the former royal city)
A tour guide for 1 day usually costs $35 USD or more, depending on the duration, your location and language of preference.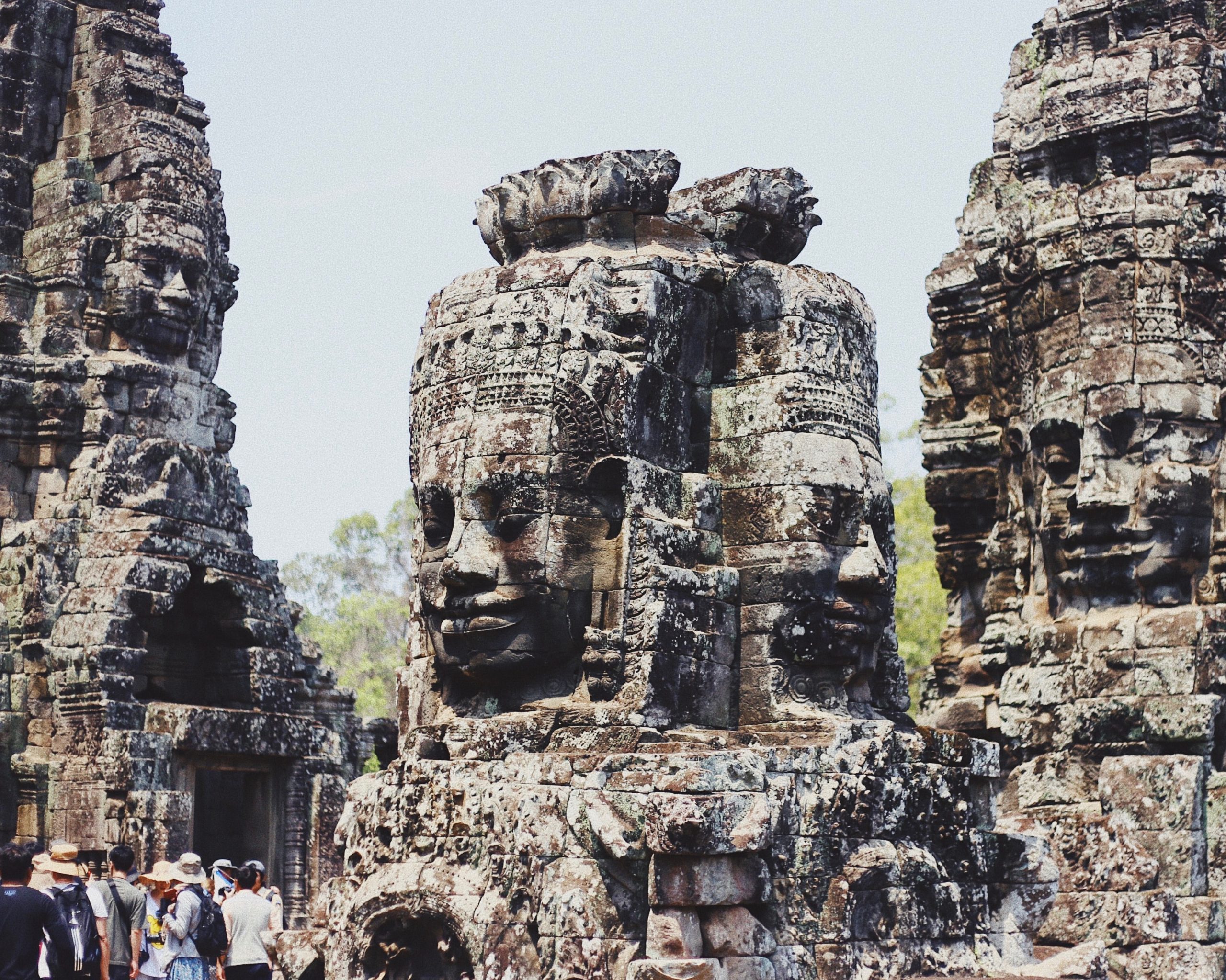 The Bayon Temple at the Angkor Archeological Park in Cambodia is part of the Ta Prohm complex, an Angkor site almost as famous as the world renowned Angkor Wat.
transport costs IN CAMBODIA
Inter-city Commute
As for inter-city commute in Cambodia, the only options are flights, private cars, mini bus or tourist buses. Flights are the most expensive and tourist bus services are the least expensive. The cost of private cars depends on the distance as well as the location. For example: Siem Reap to Phnom Penh would be around $70 USD per person by private car for a couple. Whereas a bus or shared mini-bus for the same route would cost around $15 USD per person. This makes it a highly economical option for backpackers and budget travellers looking to minimize cost. Thus, your cost of travel in Cambodia varies according to how you choose to travel.
Intra-city Commute
For commute within a city, tuk-tuk is a standard mode of public transport in Cambodia. It functions like a taxicab in the sense that it offers door to door service, making sightseeing and daily travel very convenient. For foreigners, this mode is highly recommended. Most tuk-tuk drivers can communicate in English, and you can rent them on a daily basis at a fixed rate. The locals pay about $0.50 USD per kilometer, but being a foreigner, they will charge you about $1 USD per kilometer. Another common mode of transport is the three-wheeled cabs that use the same operating mechanism as Uber taxis. They are app-based ride hailing services. They are extremely convenient as the driver uses his smart phone to track your pick up and drop location. The approximate cost of travelling via these is $0.5 USD per kilometer.
Taxicabs can also be hired to travel around a city. However these cabs usually run by fixed rates as opposed to running by the meter. They also require for you to get directly in touch with the driver, unlike other cities where you can simply hail one on the road. For foreigners, especially first timers, Grab is a good option. Widely used in Cambodia especially across the popular cities, it is the Southeast Asian version of Uber. It can be a lot more convenient and cheaper than tuk-tuks also. You could account for an approximate budget of $5-15 USD per day out of your cost of travel in Cambodia, for 2 people for intra-city commute.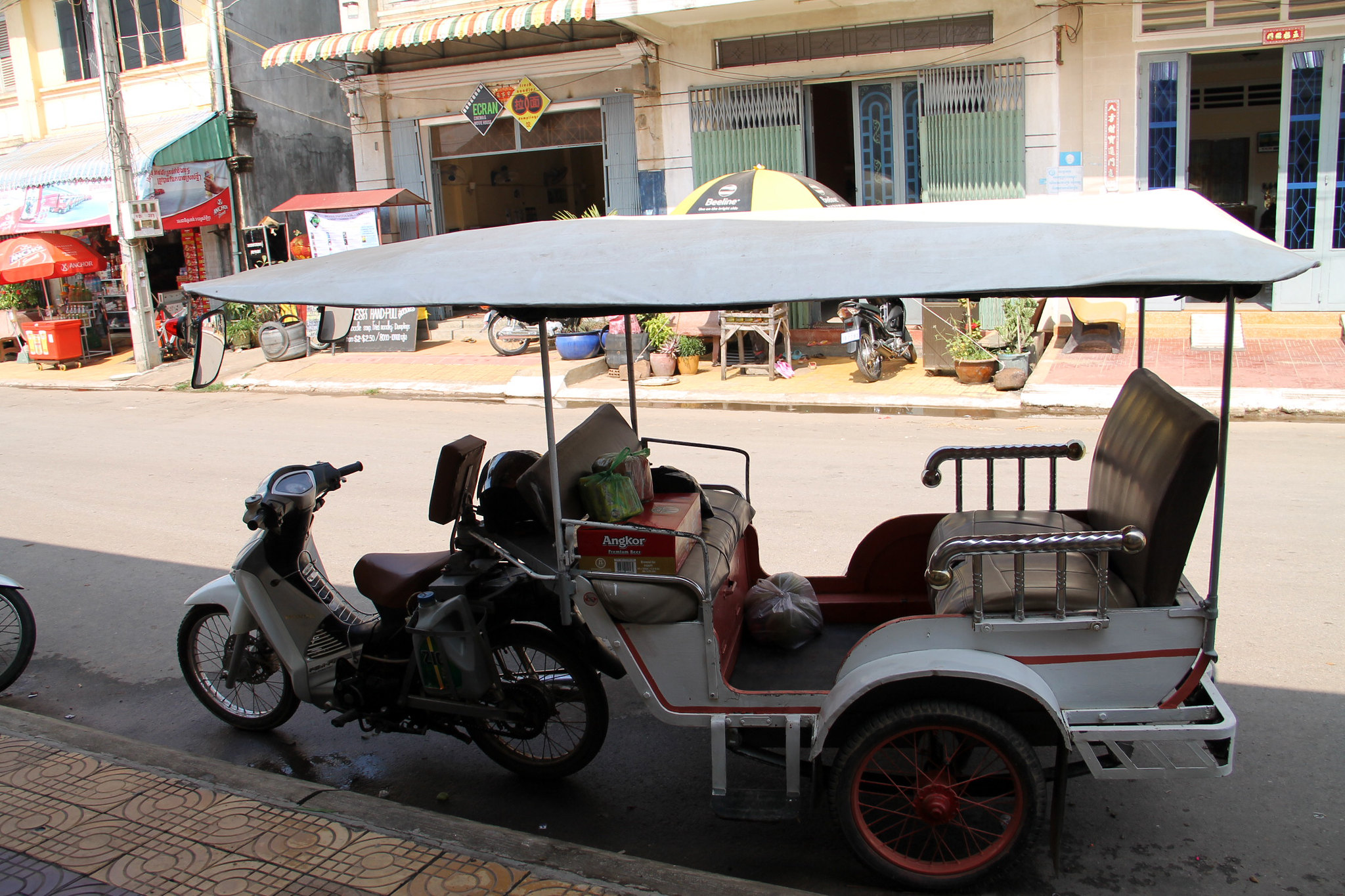 Travelling by tuk tuk in Cambodia is affordable – as long as you know how to bargain and are familiar with the average price range.
Food & Beverages in cambodia
Cambodia has a wide range of eating establishments, from high-end restaurants to street food delicacies. So depending on your budget you can have your pick, but irrespective, make sure you try all kinds of food and local specialities while you're here. Around major tourist attractions, prices are usually inflated, but that gives you an excuse to check out local eateries.
Because of Cambodia's rise in tourism, you'll find a good selection of Western and international restaurants in cities like Phnom Penh and Siem Reap. Prices tend to be reasonable, with a plate of pasta available for $5-10 USD. Popular foods like pizza are available for well under $10 USD. Irrespective of your budget, you can always experience one high-end meal during your stay in Cambodia. Siem Reap and Phnom Penh have restaurants serving modern multi-course traditional meals for $25-30 USD.
The amazing street food would cost anywhere between $1-5 USD. A normal dinner/lunch at a walk-in restaurants costs anything between $5-10 USD per person including non-alcoholic beverages. Alcohol in Cambodia is highly affordable with beer made locally or the big names available at convenience stores. A beer is usually is $1 USD, whereas cocktails are available in a range of $3-6 USD. The nightlife in Cambodia is super cheap. As long as you stick to local restaurants and popular tourist bars, you can have the best night out in less than $15 USD.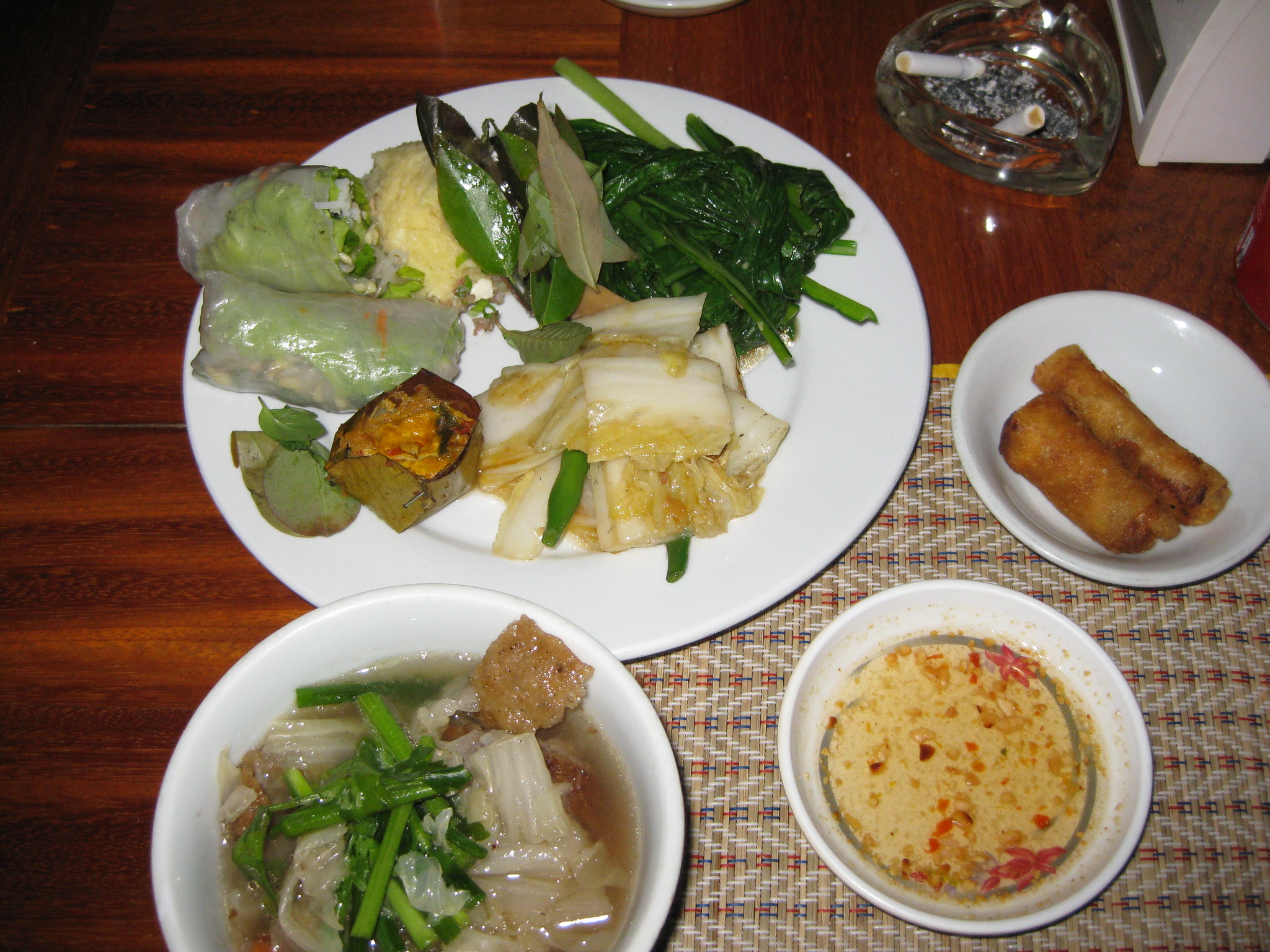 Get a healthy yet absolutely delicious meal coupled with a beverage for less than $5 in Cambodia.
COST OF SHOPPING IN CAMBODIA
So you like shopping but you're worried about its impact on your cost of travel in Cambodia? You've nothing to fear. Cambodia is a shopper's paradise if shopping is something you genuinely enjoy. Siem Reap has many markets and shops, many that run on social initiatives. This way you know you are really supporting local communities and artists. Definitely visit the local markets that are a pathway into the region's history and culture. Even Phnom Penh has a couple of great stores and a night market. You can also visit silk, stone or wood manufacturers and buy directly in Siem Reap and other cities (Battambang). Some of our favourite items to purchase from Cambodian markets include, Khmer silk, paintings and various other local handicrafts.
If you're unsure about where to shop from, here are some recommendations – Artisans Angkor (wooden artefacts), The Russian Market (ideally for clothing and souvenirs), Angkor night market, Theams house, Daughters of Cambodia (An NGO working towards empowering victims of sex trafficking). For more such gems that you'll definitely love, let us help you plan your trip now!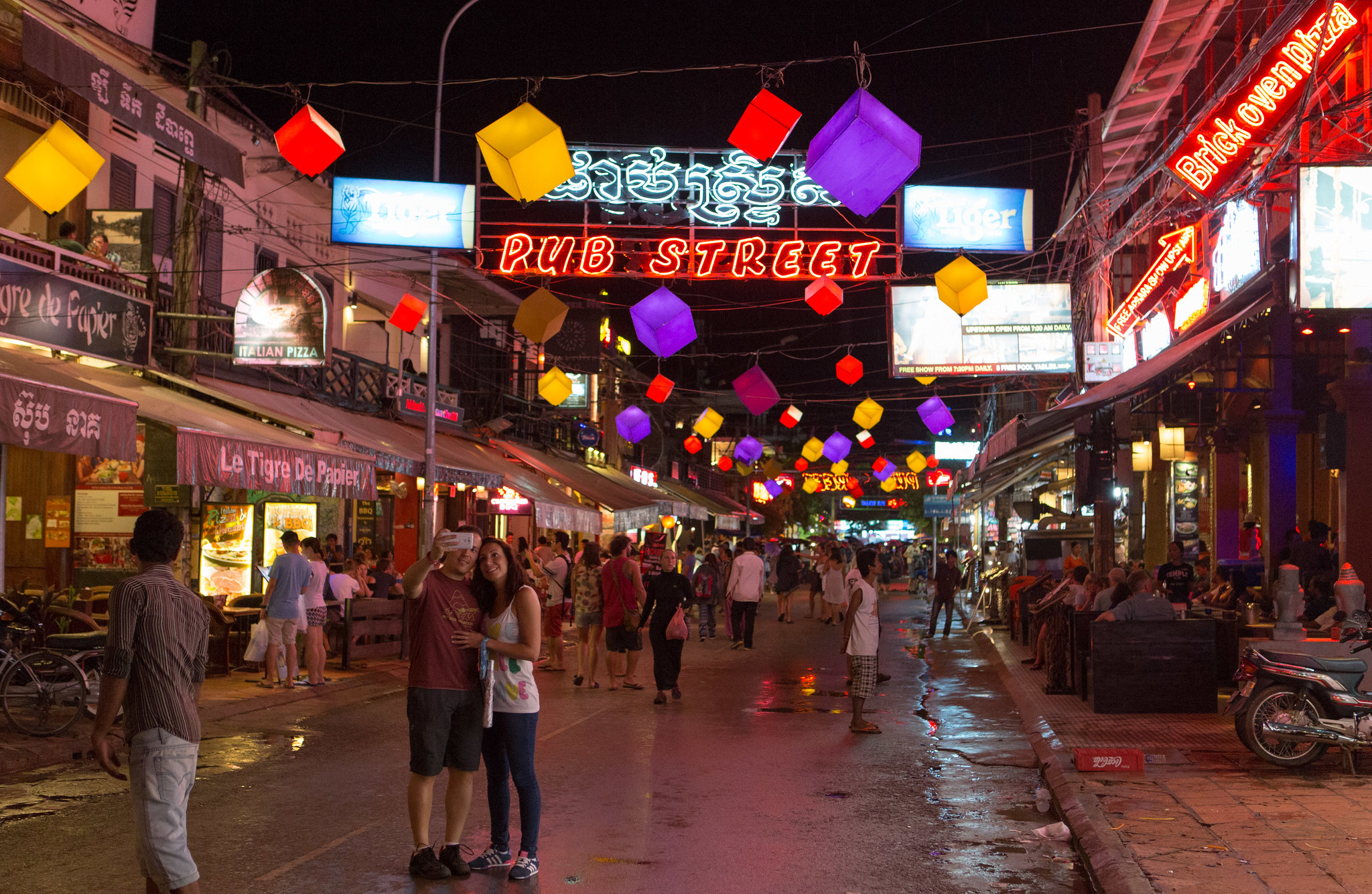 Party your hats off at the pub street in Siem Reap as the sun sets and the night takes over, but also explore the neighboring alleys during the day for some affordable and responsible shopping.
Estimate Budget for a 10 day trip to Cambodia
(Siem Reap, Koh Rong, Phnom Penh)
After extensive research conducted by our travel scouts over a long period of time, here's an estimate of a ten day trip to Cambodia, catering to all kinds of travellers, from backpackers (being the least expensive) to luxury travelers who seek comfort before anything else.
Backpacker (1 person estimate) – $750 USD
This estimate includes staying in hostel dorms primarily and in a private room in Koh Rong and transport strictly restricted to Public transport. As for food it involves a mix of both, street food as well as local restaurants. The estimate also covers entry fees for all important monuments and a maximum of 2 activities which can be altered with respect to prime preferences and budget.
Budget Travellers (2 persons) – $850 USD per person
Budget travellers would usually be put up at private rooms in homestays or budget hotels with pools and fairly decent locations, however, they would be devoid of the boutique charm or authentic character. Transport in case of budget travellers would be a private car for one long distance drop off, and otherwise it would include shared transport like a mini-bus. Food accounted for is again a mix of street food, local restaurants along with a meal or two at slightly higher end restaurants. The budget is inclusive of all entry fees at monuments along with 2 activities and inner city transport via tuk tuk.
Comfort Travellers (2 persons) – $1450 USD per person
For comfort travellers, the approximate budget is inclusive of boutique hotels, charming, brimming with character including amenities like a swimming pool and great service. Transport would be highly convenient with only private transfers and a 2 day pass to the Angkor complex along with a guide to accompany you for one day each in Siem Reap and Phnom Penh respectively. The budget also accounts for 2 activities and a traditional Cambodian massage to pamper yourself. Food would ideally be dining at good restaurants for all meals throughout your trip and inner city transport in a tuk tuk.
Luxury Travellers (2 persons) – $2600 USD per person
This estimate, catering to luxury travellers, is a blend of accommodation at exotic luxury resorts (the best properties in Cambodia) along with only private transfers comprising of car services for all ten days in Siem Reap and Phnom Penh. This again includes a two day pass to the Angkor complex along with guides for one day each in the cities of Siem Reap and Phnom Penh. It also accounts for two exciting activities, 2 pampering yourself with 2 massage sessions and dining at the best of restaurants for the entire duration of your trip.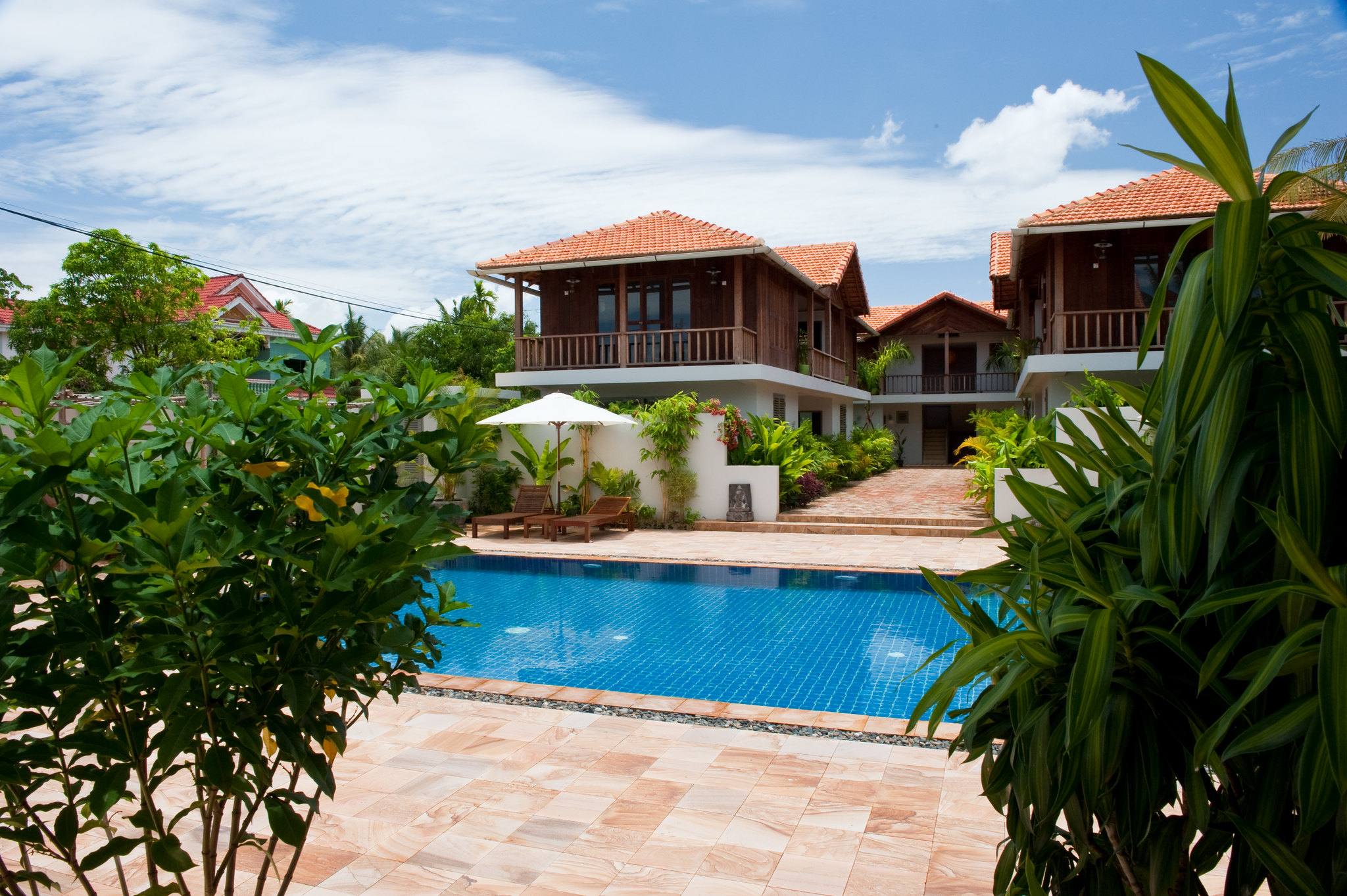 If you're looking for a luxury holiday, Cambodia has it all and so much more. with eco luxury tents and wilderness lodge and beach resorts, this country is ideal for those looking to pamper themselves without making a hole in the pocket.
Cambodia is a relatively reasonable destination with easy visa processes if you're looking for a short getaway in Asia. All the essentials can be covered to fit into your budget. A backpacker looking to spend a minimal amount can do so by simply staying in hostels and saving by using public transport. A luxury traveller can simply go all out with facilities catering to all your travel requirements. Pick the right time to visit, dodge the rain, and you're all set. For the ideal trip that caters to all your preferences, get in touch with us and we'll help you curate you Cambodian trip.
helping you travel your way
We provide a helping hand to independent travellers who need assistance with planning and booking their trip. The primary goal is to turn your dream holiday into reality.
YOU MIGHT ALSO LIKE
LEAVE A REPLY