Festivals in Sri Lanka
The Festivals in Sri Lanka make for a great cultural experience for those travelling to Sri Lanka. So when you're planning a trip to the island, doing so around a festival will let you experience the country in a rather interesting way. Virtually all festivals are religious. Most are Buddhist festivals in Sri Lanka, but there are a few Hindu ones too. They all come with extravagant celebrations of Peraheras (parades), music, dancing, food, and colour. Sale of alcohol is banned and several businesses remain closed during these festive holidays. But you're still likely to find hotels and restaurants open and willing to serve you.
Buddhist festivals in the country follow the tradition of celebrating during Poya (a full moon holiday) as it signals the start of a new month on the lunar calendar. The religious significance of these days is what makes them special. Its origins trace back to when Buddha had urged his disciples to embark on spiritual practice during days that have a full moon. Many pious Buddhists respect these as religious days, where numerous pilgrims travel to celebrate and give their offerings to temples. You should certainly plan in advance if you're travelling to Sri Lanka during a religious holiday, as many hotels will be fully booked out way in advance. Be sure to take into consideration how much time is needed to explore the island and the cost of travelling to Sri Lanka.
Here are some suggestions of the most prominent festivals you can plan your trip around.
Sinhala and Tamil New Year
Though many of us celebrate the New Year in January, April marks the New Year on the lunar calendar for Sinhala Buddhists and Tamil Hindus. This is an event you should definitely make a point to experience, as practically everyone in Sri Lanka will be celebrating the 'Sinhala Aluth Avuradda' and 'Tamil Puthandu'. Festivities take place on the 13th-14th April, to commemorate the completion of the harvest season and the beginning of the Southwest monsoon.
All around there's a feeling of goodwill, as Dansals (food stalls) emerge along the street to offer free food to all, exchanging a milk-rice known as Kiribath and limitless tasty sweets. To promote good health and healing, children and the elderly are blessed with herbal oils. The celebratory sound of the Rabana (drum) fill the streets with music while people excitedly burst firecrackers to keep the merriment going. Sri Lankans take time off work to spend it with their family, engage in religious activities and wear new clothes to signify a new beginning. The importance of community and togetherness can be felt in the air. Make sure you feast out on as much as possible and join in on the various competitive games that take place during these festivals.
When: 13th April,2020 and 14th April, 2021.
Where: The best place to witness this is in big cities like Colombo and Kandy. Although celebrations will be carried out across the country for you to join in.
Vesak Poya
The Vesak Poya festival in Sri Lanka is the most important holiday for Buddhists in the country as it marks three important milestones in Buddha's life. These milestones include his birth, enlightenment, and reaching nirvana when he had died. Celebrations for Vesak Poya take place across the island, with Colombo and Kandy flaunting the most impressive displays. Particularly the light show in Colombo.
It is known for being the festival of light for a reason. Houses hang oil lamps outside and display uniquely decorated lanterns called Vesak Kudus, to illustrate the life of Buddha. Temples and Pandals (platforms) are beautifully decorated with lights and colour. Devotees meditate, fast and give offerings to temples. If you are near Kandy, you should visit the Raja Maha Vihara Temple in Kelaniya (10 miles from Kandy). Legends state that Buddha himself once visited this location, so many religious people flock here. The spiritual atmosphere is overwhelming and lights illuminate the city when darkness settles in. Vesak Poya is definitely one of the most fascinating Buddhist festivals in Sri Lanka, worth witnessing if you're travelling to Sri Lanka.
When: Celebrations take place during the full moon in May. So Vesak Poya, will be held on the 7th May in 2020 and on 26th May in 2021.
Where: Festivities around the Gangaramaya Temple and Beira Lake, in the centre of Colombo, are a magnificent experience.
Kandy Esala Perahera
Visit Kandy to witness the 10 day festival of the tooth relic in July-August. Esala Perahera is one of the oldest and most spectacular Buddhist festivals in Sri Lanka. For five days, pilgrims bring offerings to temples, to thank the four guardian gods: Natha, Vishnu, Kataragama and Pattini. Then on the 6th day, the possessions are paraded to the temple of the tooth.
This is one of the most fantastic Perahera (parades) you can witness. The celebrations include traditional and cultural performances of dance, acrobatics, and fire jugglers. Moreover, these performers parade alongside exquisitely adorned elephants, draped in gems and fine cloth. All in a celebration of the city's rich history. People cheer with excitement at the glorious festivities. An elephant carrying a large golden casket on its head, is guided to the temple while holding a replica of the famous tooth relic. The festival comes to an end with a water cutting ceremony at the Mahaweli River in Kandy.
Note : You can and should book your hotel and a seat to watch the procession, well in advance. The main festivities take place on the last day, and start at 7 PM. But we would advise you to arrive early, as most of the roads will be closed a few hours before it begins.
When: This year, celebrations will take place from 26th June to 6th July, 2020. The main parade takes place on the 6th of July.
Where: The Temple of the Tooth Relic in Kandy.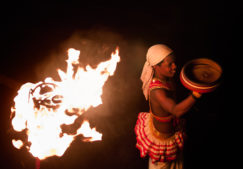 Parades during the festive celebrations of Esala Perahera in Kandy
Poson Poya / Poson Festival in Sri Lanka
Poson Poya is the second most important Buddhist festival in Sri Lanka after Vesak Poya. It commemorates the advent of Buddhism in Sri Lanka, in the third century. Vesak Poya centres around Anuradhapura, which is one of the first cities to convert to Buddhism. There is a mass pilgrimage to Anuradhapura as thousands of worshippers journey to the religious centre of Sri Lanka. Most climb the mountain of Mihintale. A place where Mahinda preached Buddhism to one of the Sri Lankan kings and assisted its popularity to grow.
Once again, this features on Poya, during the full moon in June. Lanterns are put on show and Pandals are extravagantly decorated. People sit around to listen to each other's stories, engage in dancing and also play music. Dansals are erected, and the offering of free food displays how community transcends the differences between people. If you're travelling to Sri Lanka during this festival, be sure to participate in the celebrations. Climb the mountain with other pilgrims and experience an overpowering sense of spirituality and kinship.
When: This year the festival is on the 5th of June. In 2021, Poson Poya falls on 24th June.
Where: The main celebration takes place in Mihintale. Take a train to Anuradhapura followed by a car to the mountain.
Kataragama Esala Festival in Sri Lanka
The Kataragama Esala Festival is one of the prominent Hindu festivals in Sri Lanka dedicated to the Hindu God of Wisdom, Skanda. Otherwise known to Sri Lankans as Kataragama Deviyo. Devotees travel far and wide, taking a long pilgrimage to Kataragama in south Sri Lanka. Once again you will see decorated elephants, regional dancers using a Kaavadi (a pole decorated with vibrant peacock feathers), acrobats and jugglers, all performing to the beat of thunderous drums.
However, this one is not for the faint hearted. One of the prominent features of this festival is that many commit acts of penitence to atone for their sins. People indulge in acts of ritual self-mutilation and pierce their skin with hooks and skewers, usually in their faces or backs. They then attach themselves to carts and pull them through the street. Others walk across burning firewood believing that their devotion will protect them from burning the soles of their feet. While offering a fascinating cultural insight into religious devotion, we caution that it may not be for everybody.
When: The festival usually takes place in July or August. This year it falls on 26th & 27th July, 2020.
Where: Kataragama.
Navam Perahera
For two days in February, around 50 to 100 elephants and 5,000 performers parade through the streets of Colombo. The performers dress up conventionally and entertain a large number of eager audience. They start from the most important temple in Colombo, The Gangaramaya Temple. They then tour around Viharamahadevi Park and South Beira Lake before returning. Dancers come from all over the country and perform traditional Kandyan, Sabaragamu and regional dances for the crowds to enjoy. Like all Peraheras, you will witness whip crackers, jugglers, fire eaters, drummers and all types of artists and entertainers Sri Lanka has to offer.
One million people celebrate this event. It isn't like other Buddhist festivals in Sri Lanka. Regardless of caste, Muslims, Buddhists, Christians and Hindus, all come together for this grand celebration. They all preach harmony between every community. They reflect how the temple itself is a place of worship for all, regardless of race, religion or caste. At the end of the procession, the 'chief tusker' elephant bears the sacred relics of Buddha, enshrined within a majestic casket, and brings them to the temple. Celebrations of Navam Perahera are definitely worth witnessing if you're travelling to Sri Lanka around the same dates.
When: In 2020, the procession will take place on the 8th February and on 26th February in 2021.
Where: Gangaramaya Temple in Colombo.
PLAN YOUR TRIP WITH INDIA SOMEDAY
Most travelers associate Sri Lanka with its rich, diverse culture, fascinating history, gorgeous coastline, tea plantations and abundant wildlife population. While exploring the places that best cater to your interests, be it beaches or adventure amidst nature, don't leave out the cultural experiences. This exotic island country, is also home to a number of cultural and religious festival celebrations. Multiple festivals in Sri Lanka are celebrated with sheer grandeur and zeal throughout the year.
Celebrating a local festival is an experience by itself, giving you an insight into the origin of existing customs and beautiful traditions. Especially the various Hindu and Buddhist festivals in Sri Lanka. These are some of the best from a long list of festivals. Looking for the ideal getaway and intend on travelling to Sri Lanka? Get in touch with us and we'll help plan the perfect trip. A trip that accounts for the best time to visit Sri Lanka. And also allows you to explore this vibrant, glorious aspect of Sri Lankan culture while experiencing all that the island has to offer.
helping you travel your way
We provide a helping hand to independent travellers who need assistance with planning and booking their trip. The primary goal is to turn your dream holiday into reality.
YOU MIGHT ALSO LIKE
LEAVE A REPLY