Honeymoon in Sri Lanka
If your idea of being romantic is anything but cliched, a honeymoon in Sri Lanka makes for an ideal getaway. From clean beaches and dreamy escapades to peace amidst nature, you can have it all. With a never ending list of adventure and leisure activities in Sri Lanka, you can strike boredom off your list. Why settle for the ordinary when this tropical island can match up to your expectations of extraordinary? Here's a list of reasons why Sri Lanka should be your first choice as newlyweds looking to celebrate their love.
The dreamy tropical island of Sri Lanka is perfect for a honeymoon, with the best of beaches, hills and culture.
Sandy toes and SUN-KISSED souls
Do you associate romance with a quiet getaway? Then taking a walk in one of the many beaches, with a backdrop of palm trees is all you need. As the waves gently caress the shore and the sun slowly sets, you'll know that the country is conspiring to create the perfect romantic moment for you. Some of our favourite beaches are Bentota, Mirissa, Tangalle and Trincomalee (Uppuveli and Nilaveli). For newlyweds seeking solitude and pampering, these beaches make for a breathtakingly beautiful escape. Home to some of the best honeymoon resorts and boutique hotels, you're guaranteed to have your fairytale come true. Even lazing in the midst of white sand beaches will rekindle the spark that you share with your loved one. You can also have a quiet candlelight dinner by the shore, indulge in whale watching at Trincomalee or simply relax in luxury.
Beach resorts in Sri Lanka you ought to consider – The Last House (Tangalle), Amanwella (Tangalle), Saman Villas (Bentota), Taprobane island (Weligama Bay).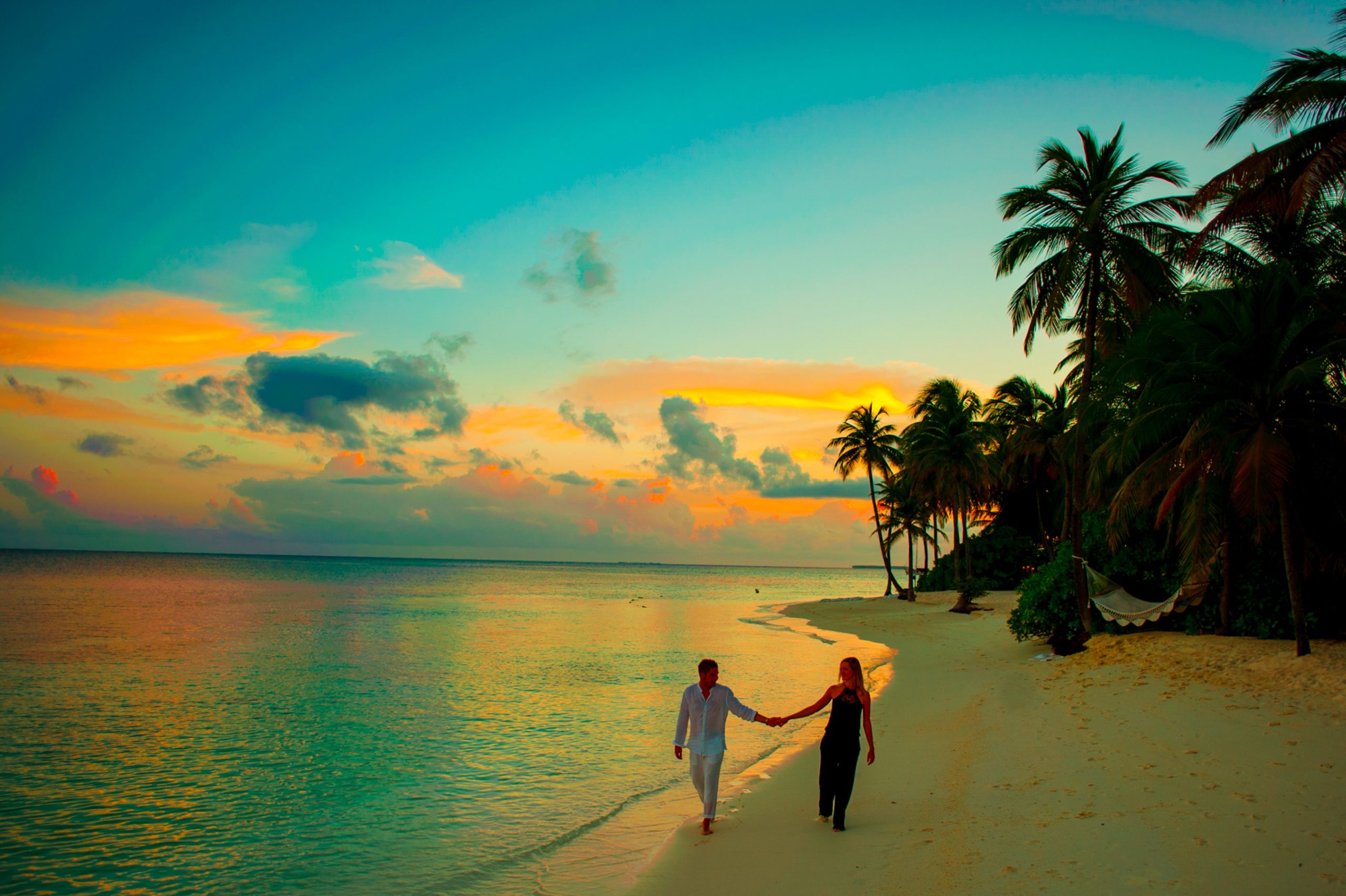 The beaches of Sri Lanka with beautiful sunsets and a picture-perfect backdrop of palm trees, make for the perfect romantic evening.
Spend your honeymoon basking in luxury
Sri Lanka with its exotic beaches and lush green landscapes is also home to some of the most breathtakingly beautiful boutique hotels. Romantic, luxurious, unique, colourful and exploding with culture, you can find all kinds of fancy boutique hotels. The Dutch, Potuguese and British influence also adds to the charm, making it the perfect honeymoon stay. The best part is that these hotels cater to all kinds of budgets without compromising on ambience, authenticity, comfort and luxury. From beach-side bungalows to splendid views of landscapes and lakes, you can find just the right spot that share that romance-filled intimacy with your partner. Moreover, if you want to take things to new heights, you can also find places which are secluded high up in the mountains or deep into the wilderness. So a honeymoon in Sri Lanka absolutely creates that perfect fairytale experience.
The best places to visit in Sri Lanka to celebrate your love: 33 Lake Terrace (Hikkaduwa), The Horizon Hilltop Villa (Unawatuna), Ulagalla by Uga Escapes (Anuradhapura), Kikili House (Galle), Jetwing St. Andrews (Nuwara Eliya).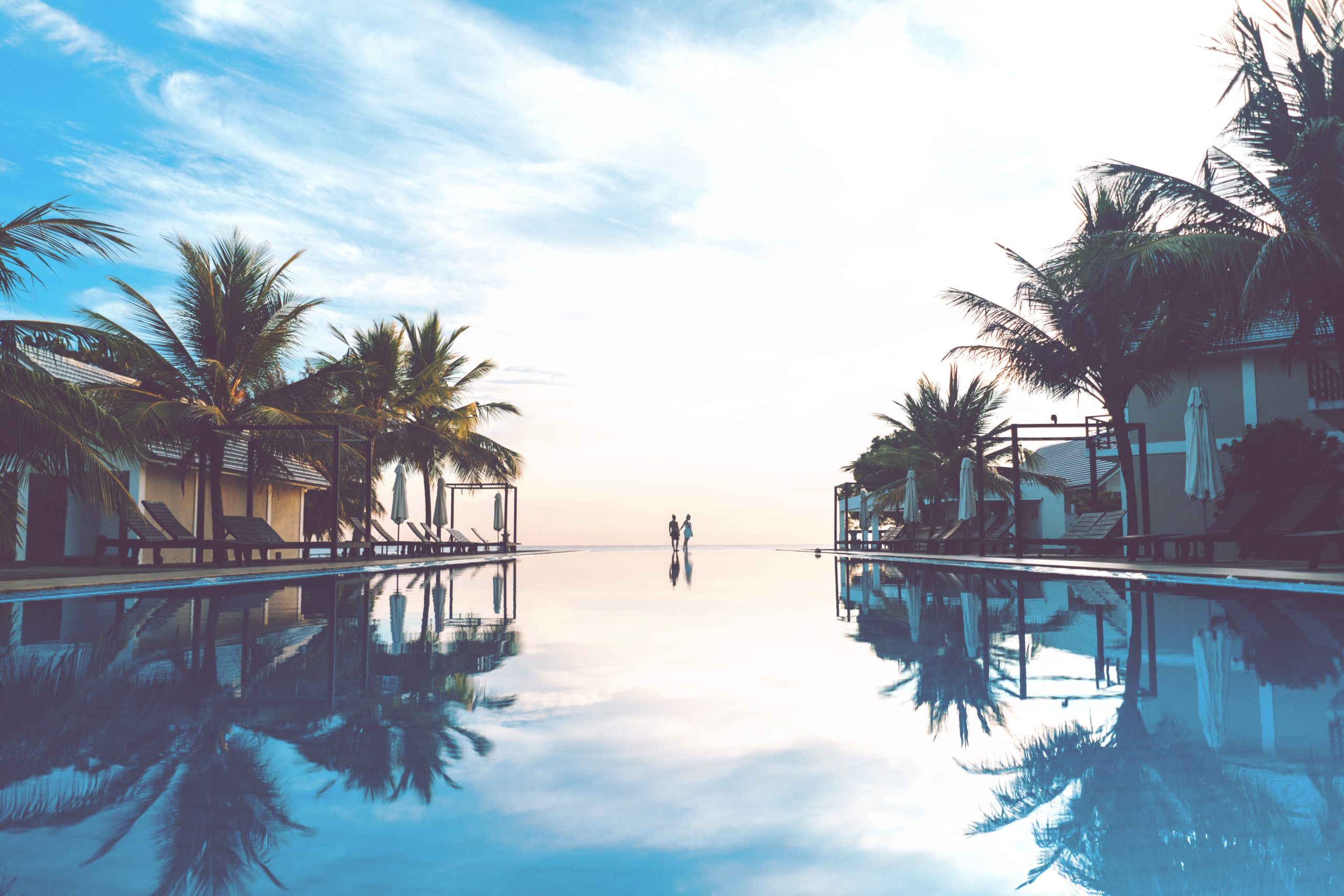 Sri Lanka has a number of fancy boutique hotels for that fairytale honeymoon. If you want to experience luxury at affordable prices then look no further.
Wild ride
For ardent nature lovers, with a soft spot for adventure in the wilderness, Sri Lanka is just the place to visit. Leopards, Elephants, Whales, rare marine and bird life, this tropical island is a wildlife lover's paradise. Yala National Park boasts the highest leopard density in the world, you could also stay the night and experience the jungle nightlife. Habarana is also known for its jungle safari (Minneriya National Park) and is amongst the best places in Sri Lanka for honeymoon. The intimacy and solitude in the lap of nature promises the best of both worlds. You could go kayaking or even ride up in a hot air balloon, leaving the world below you. Another great honeymoon spot for couples looking to be one with nature is the Sinharaja Forest Reserve. You could go bird watching or simply opt for a wild camping experience.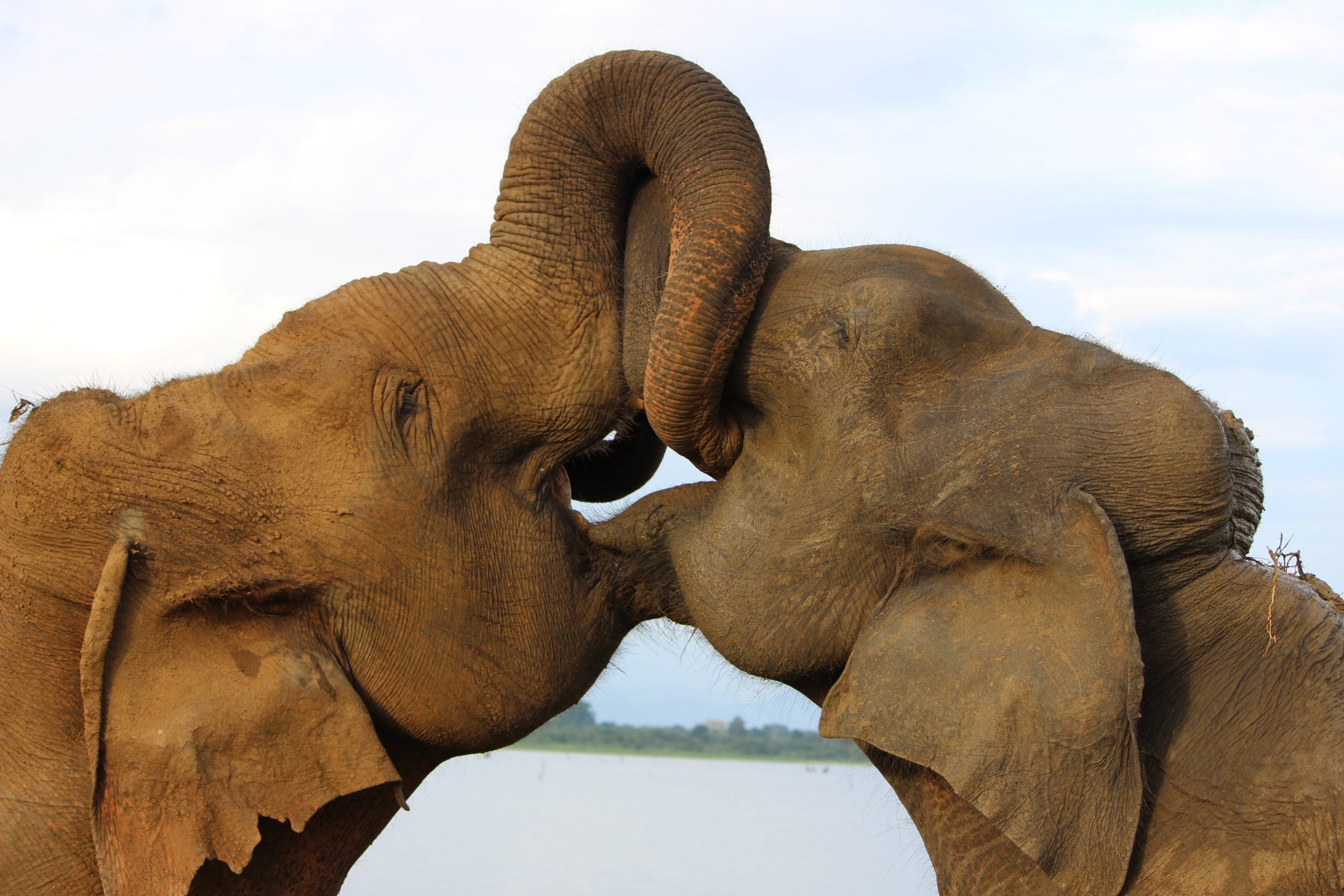 Sri Lanka is a perfect place for couples looking out for some adventure amidst nature.
Basking in the midst of Nature
Sri Lanka by default is associated with beaches and lowland jungles. However, its mountainous interiors are just as dreamy as its scenic coast. If you'd rather profess your love, with nothing but the raw beauty of nature playing cupid, we've got you covered. Horton Plains and World's End, perched on the Central Highland Plateau, are an absolute treat to the eyes. Overlooking a valley and tea estates almost 800m down below, with streams adding to the beauty, the destination oozes of romance in every way. An intimate getaway in the serene mountain village of Ella will make you fall in love all over again. Amidst clouds and jungle canopies, it makes for the perfect hideout. The city of Nuwara Eliya, commonly referred to as "Little England", is every couple's ideal retreat. Whether it's Hiking or visiting the dreamy cascades, you can most definitely check boring off your list.
Sweet Escapades: 98 Acres Resort & Spa (Ella), Ella Jungle Resort ( Ella), Heaven Seven Hotel (Nuwara Eliya), The Grand Hotel (Nuwara Eliya).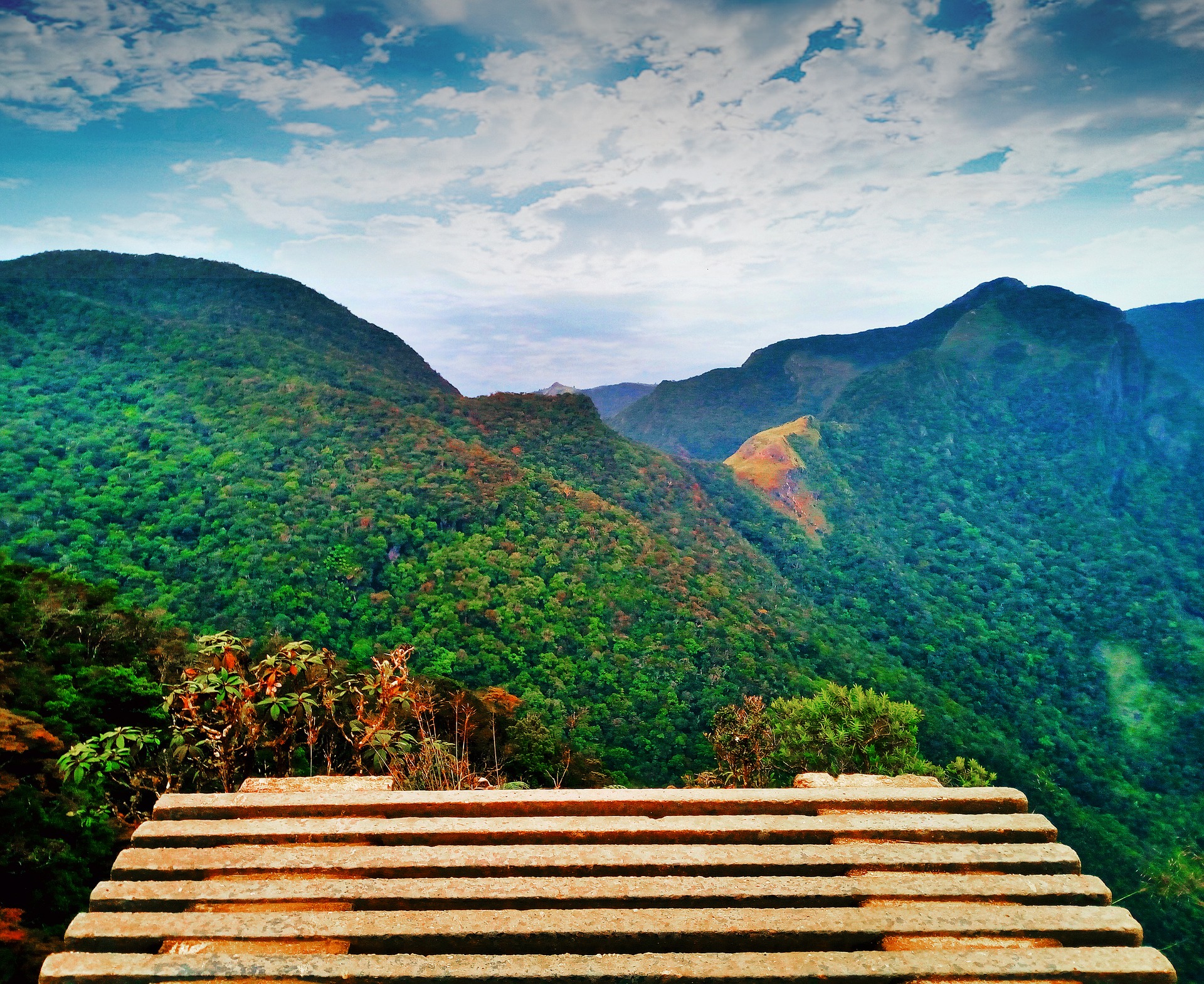 A trek to the world's end makes for an unmatched experience for couples who can get lost in the raw beauty of nature.
High on Adrenaline
If lazing around by the beachside isn't your idea of the perfect honeymoon, you can set out on your own adventure. For all those newlyweds seeking that adrenaline rush, Sri Lanka is no stranger to adventure watersports. Scuba diving, snorkeling, surfing, kitesurfing, you can do it all. Hikkaduwa, Arugam Bay and Trincomalee are our favourite spots to indulge in these activities. Whether you're new to these sports or just looking to rent out equipment, they have it all covered. This is perfect for those couples who love going on adventures together and keep that spark alive!
Besides the ocean sports, you can indulge in exciting activities on rivers and waterfalls, as well. Be it kayaking down the Kalu Ganga, white water rafting in the Kalani river or canyoning and waterfall trekking at Kitulgala, there's plenty of thrill awaiting for couples to engage in.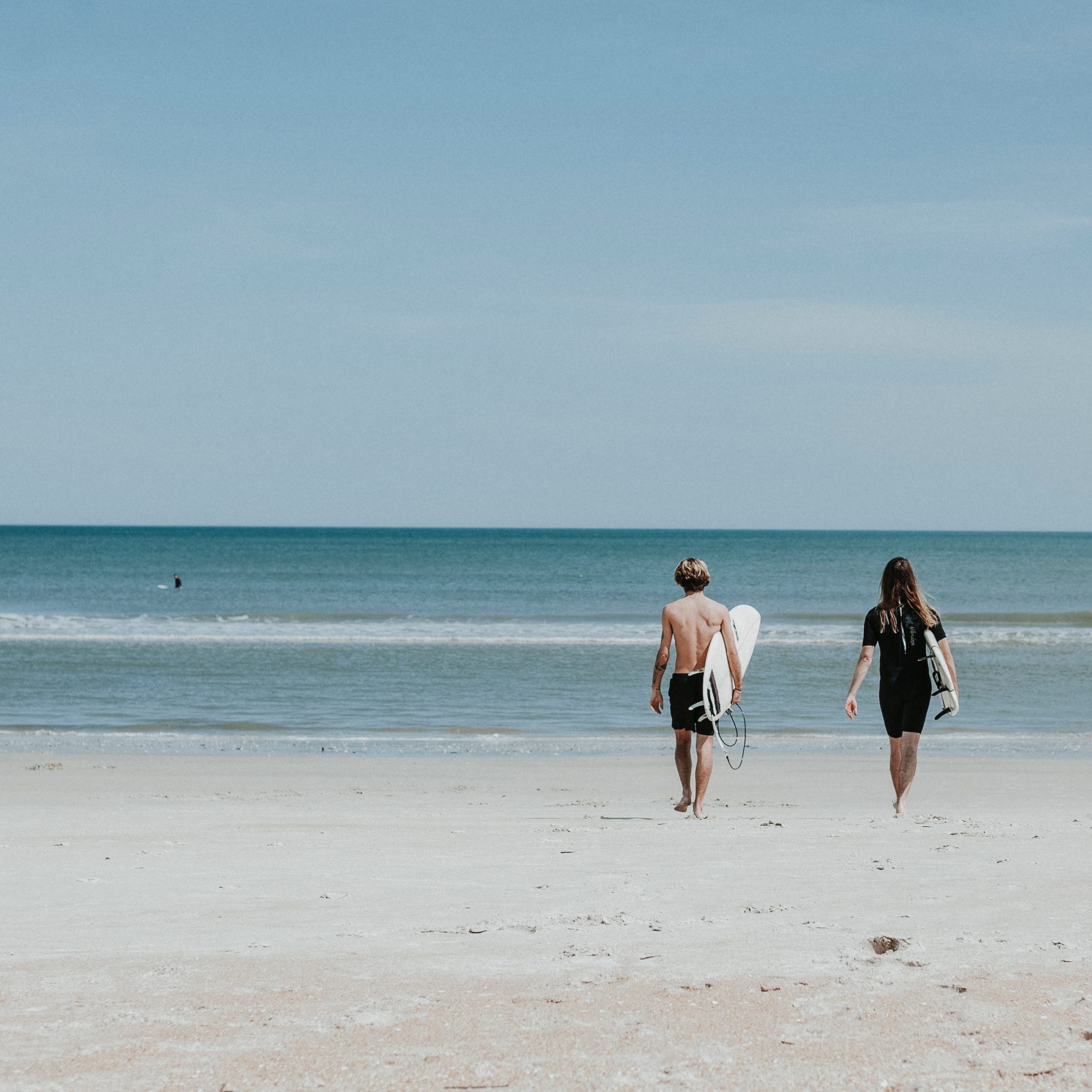 What's a honeymoon without a little thrill in it? Sri Lanka with its number of water sports is sure to give an adrenaline rush to all the adventure seeking couples.
Cultural Immersion
Sri Lanka is so much more than beaches and wildlife. The island is rich in culture with a history so captivating, it's difficult to not be overwhelmed by it. Immersing in this cultural exploration may be perfect for an ideal honeymoon. Couples that thrive on travelling need not look any further. Especially if you're looking to create memorable stories of learning and embracing a new culture together with your partner. Sigiriya is one of our personal favourite, given its beauty, historical significance and fantastic weather. You can take a romantic balloon ride and see the fantastic Sigiriya rock from above. You can also visit Minneriya National Park on a personal safari ride spotting elephants, lions and bears. Imagine experiencing this, while relaxing in a 5-star resort with fantastic jungle views and a stunning ambience. Lovely, right? Anuradhapura, Polonnaruwa and Kandy with their local cycling tours and fascinating cultural heritage sites make for a unique travel experience.
Stay at: Elephant Corridor Hotel (Sigiriya), Clove Villa (Kandy), Ulagalla by Uga Escapes (Anuradhapura)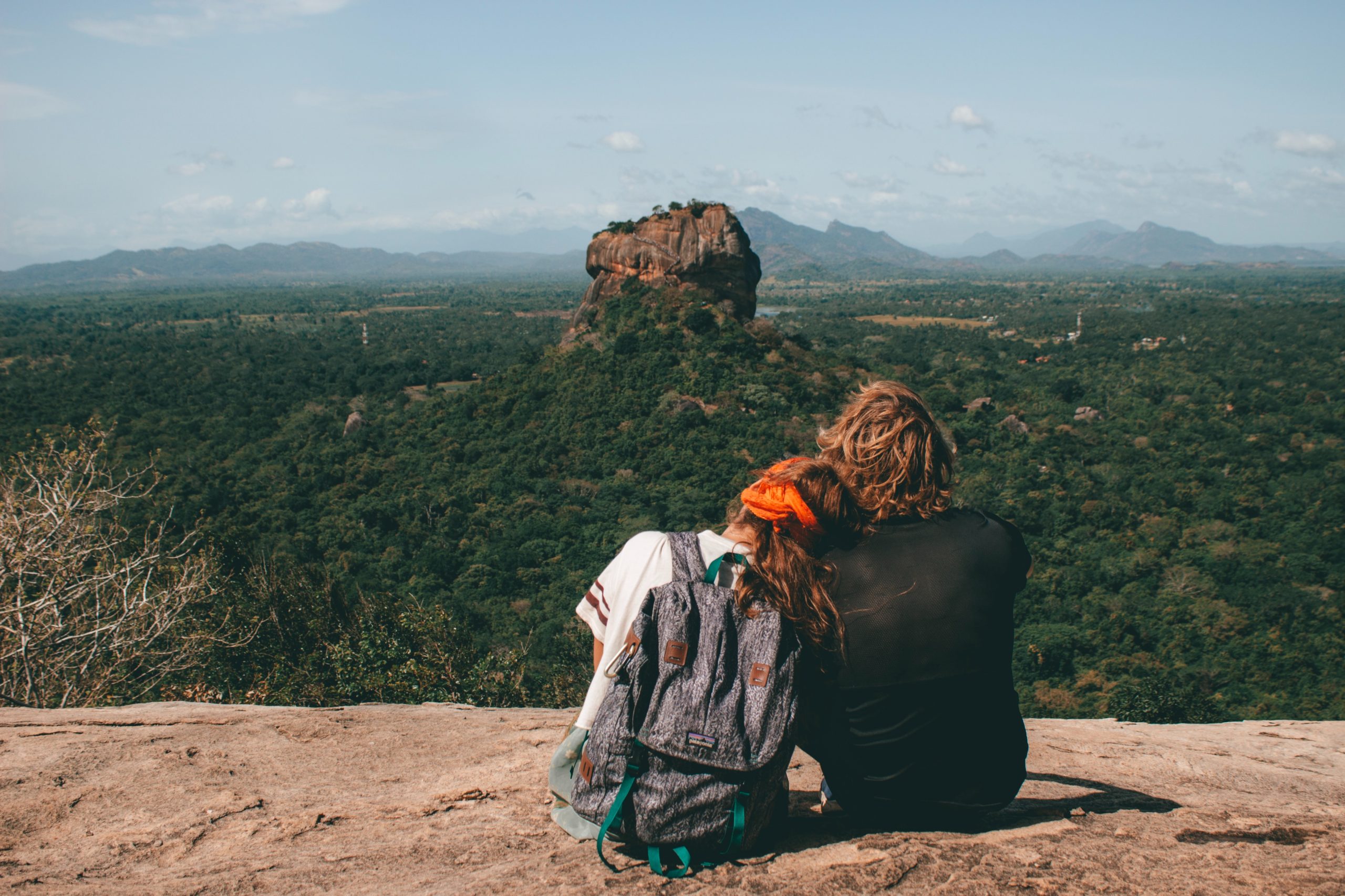 Exploring the cultural side of this island along with your partner can be an exciting experience.
Abundant in natural beauty, with vast stretches of lush green landscapes & scenic beaches, there's something for every kind of couple. With Luxury hotels and exotic wellness retreats, going on your honeymoon to Sri Lanka is definitely a great idea. Rich in cultural diversity and home to numerous ancient cities and heart warming people, all of this simply adds to the charm of this tropical island. Whether you're looking to simply relax and pamper yourself or indulge in exciting adventure activities, you can do it all. In case you're wondering how many days is enough to visit Sri Lanka, we'd say 10 days is ideal to soak in the beauty of this exotic island.
helping you travel your way
We provide a helping hand to independent travellers who need assistance with planning and booking their trip. The primary goal is to turn your dream holiday into reality.
YOU MIGHT ALSO LIKE
LEAVE A REPLY