Best Beaches in Sri Lanka
Travelling to Sri Lanka? The gorgeous beaches along the palm fringes coastline, ought to make it to your Sri Lankan bucket list. Being one of Asia's most popular beach destinations, we've narrowed down on the best beaches in Sri Lanka so it's easier for you to pick. An island extending into the Indian ocean, the edges of this gem display a never-ending stretch of beautiful beaches. Serene, secluded, or with a nightlife that ends when the sun rises, Sri Lankan beaches cater to everyone. So if you're wondering "What is Sri Lanka famous for?", we have to say beaches, hands down! Here's a list of beaches we fell in love with, each one with its own charm, while catering to all the varied definitions of fun.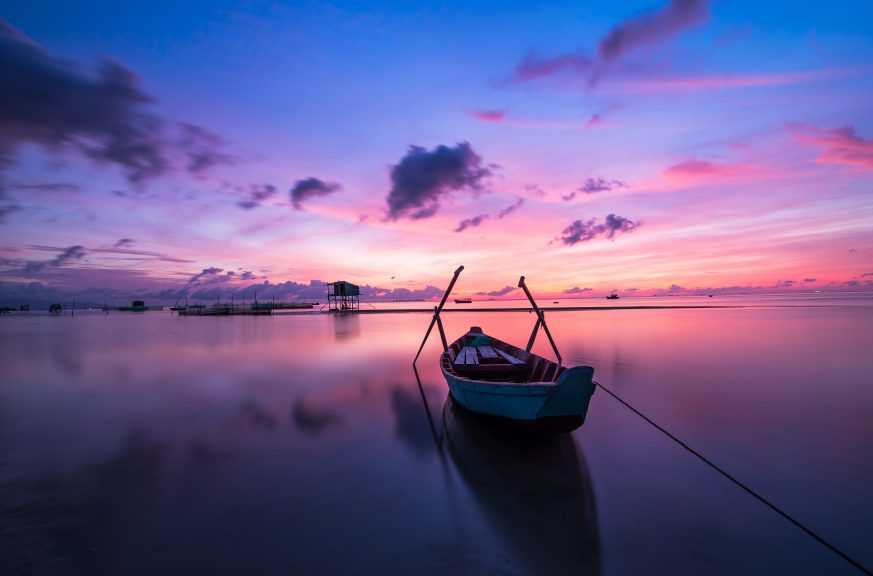 Witness the breathtaking sunset while unwinding at Mirissa beach in Sri Lanka.
uppuveli & Nilaveli
6 kms North of Trincomalee, Uppuveli is a well-kept Sri Lankan secret. This strip of golden sand borders a developing village that's sparse in population and rich in culture. Its mellow ambience, authentic seafood and water sports make it the perfect laid-back holiday destination. Uppuveli is more lively and developed, but along the coast of Trincomalee is the more secluded Nilaveli beach. Further north of Uppuveli, Nilaveli is a longer stretch with almost no bars or restaurants, and also perfect for diving.
Pigeon Island marine life sanctuary, just offshore from Nilaveli, has diverse coral reefs, fish, anemones and nudibranch. This is definitely one of the places you should visit if you're looking at scuba diving in Sri Lanka. We would definitely recommend spending two to three nights in Trincomalee to explore these pristine, fairly undiscovered beaches of Uppuveli and Nilaveli. Besides the beaches, this quaint town boasts a number of temples worth visiting. The diners though modern, serve some of the most authentic Sri Lankan food. Even in season time, this beachtown definitely tops our list of the best beaches in Sri Lanka. An important factor to take into consideration while travelling to Sri Lanka is the weather pattern, especially if you're looking to hit the beach.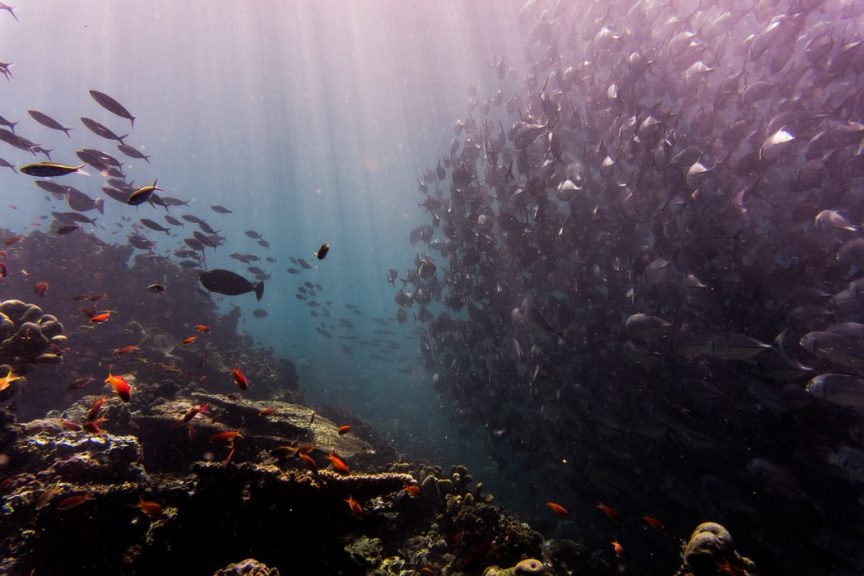 The Uppuveli beach along the beach town of Trincomalee, best known for its reef dives.
Kalpitiya
The west coast peninsula of Kalpitiya is every beach bum's dream come true. Home to a large fishing community, this region also allows access to two of the most lovely beaches: Alakunda and Kalpitiya beach. Alakunda is a fairly busy beach as compared to Kalpitiya which is fairly untouched by tourism. Kalpitiya beach can be reached only after crossing the Kalpitiya lagoon. For us, it's the best spot for kite surfing, and dolphin and whale watching. The best time to experience this would primarily be between the months of May to October.
What makes Kalpitiya amazing is that it's a remote destination which is a marine sanctuary, and home to various marine creatures, making it one of the primary reasons it tops our list of favourite spots for diving and snorkeling. Bar reef, one of the finest Sri Lankan dive spots, is a good enough reason for an avid diver to explore this beach. Alakunda on the other hand is just the ideal retreat for a twitcher. You can also go for guided bird watching excursions. It's a great way to spot native exotic bird species, which will surely be a fascinating and memorable experience while travelling to Sri Lanka, the ideal beach destination.
Kite surfing at one of the offbeat beaches along the west coast of Sri Lanka, Kalpitiya Beach which is also a great spot for diving and snorkelling.
Arugam Bay
This strip of soft sand is perfect to sink your toes in. It was the first to draw the attention of surfers and sun chasers to Sri Lanka as the waters here are suitable for surfing, especially for beginners. Arugam Bay is also a great place for beach parties, making it the perfect blend of chaos and calm. Some of the popular surf spots you ought to explore are: Baby Point, Peanut Farm Beach, Main Point and Elephant Point. High season in Arugam Bay runs from June until August.
If surfing isn't for you, take the lagoon safaris where you can spot crocodiles and elephants. And if food happens to be your only priority, there are restaurants that cater to every possible taste. Be it exotic seafood and wood-oven pizzas or vegan options and smoothie bowls, you can find it all. Ask a surf enthusiast and they would definitely vouch for this being one of the best beaches in Sri Lanka.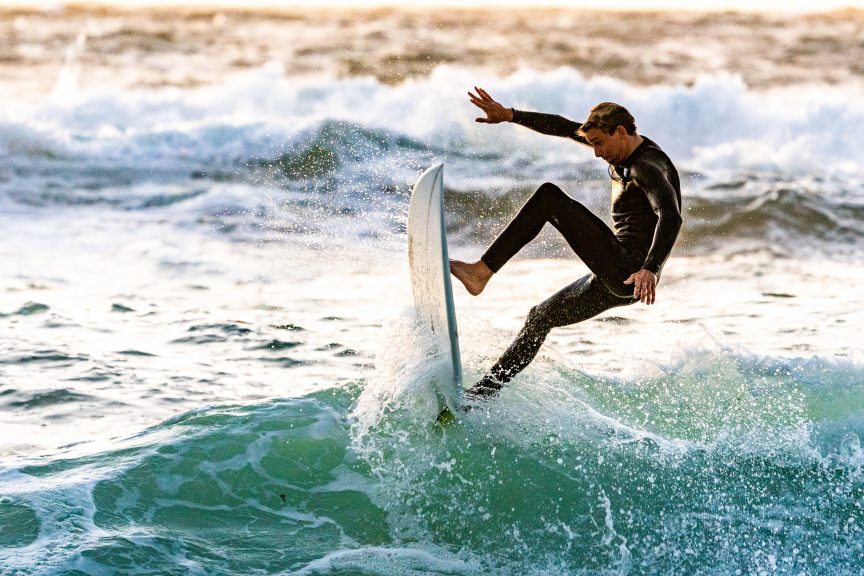 Surfing at Arugam Bay, can be summed up as every surfer's paradise.
Bentota
Staying in Colombo and looking to escape the city? Bentota Beach is the perfect peace-seeker's hideout. Even though it's nearly deserted, boredom is one thing that's off the list. If you're looking for something adventurous, you can indulge in activities like snorkeling, canoeing, wind surfing and diving. You could go on a cycling tour across the fishing village and experience the local lifestyle, or explore the rich history and culture. Bentota makes travelling to Sri Lanka an unforgettable experience.
Even though the nightlife is mellow, you could go dancing at the floating club. Bar hopping from upscale beach bars to the more affordable and casual ones is another fun activity to indulge in. One thing you should definitely put down on your itinerary is the Bentota beach parties, where tourists and locals gather for a fun night by the ocean, under the stars. Bentota also houses some of the best resorts in Sri Lanka, so if you're looking for an exotic, luxury beach experience, look no further.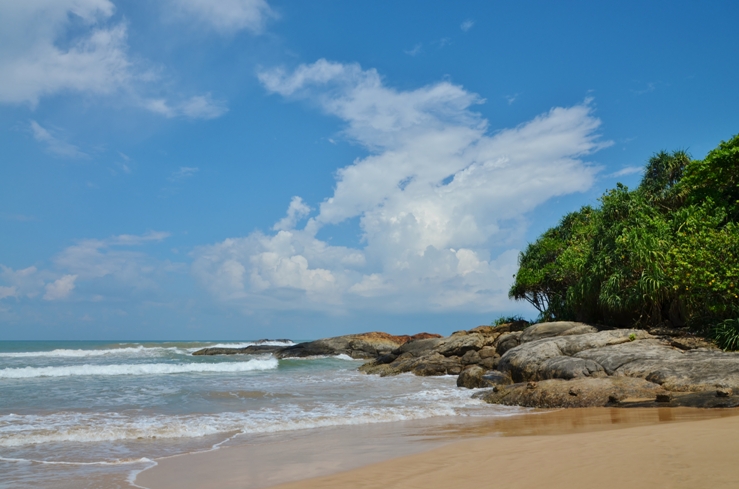 Bentota beach, one of the most developed and touristed beaches of Sri Lanka. You have to experience the beach parties here.
Mirissa
Four kilometers southeast of the crowded Weligama beach, lies the peaceful Mirissa beach. From basking in the sun to partying through the night, Mirissa is the perfect place to get the ideal beach experience. As photography enthusiasts, the picturesque landscape of Mirissa was a paradise for us. One of the things you can do at the beach is visit the fishing harbour. The beach is dotted with plenty of small restaurants and cafes, serving fresh seafood and authentic Sri Lankan cuisine. After sunset, restaurants put out tables on the beach with lanterns and tea lights. You can even spot barbecue setups, as the trees are lit with fairy lights.
Mirissa is also a famous destination to go on a dolphin or whale watching tour. However, a lot of agents who provide this service have a reputation of being irresponsible. Over the years, one concern that both locals and tourists have had is how certain standards of responsible tourism are ignored by these agents. And the creatures' natural habitat is also compromised. Be cautious and well-informed while picking a vendor for this excursion.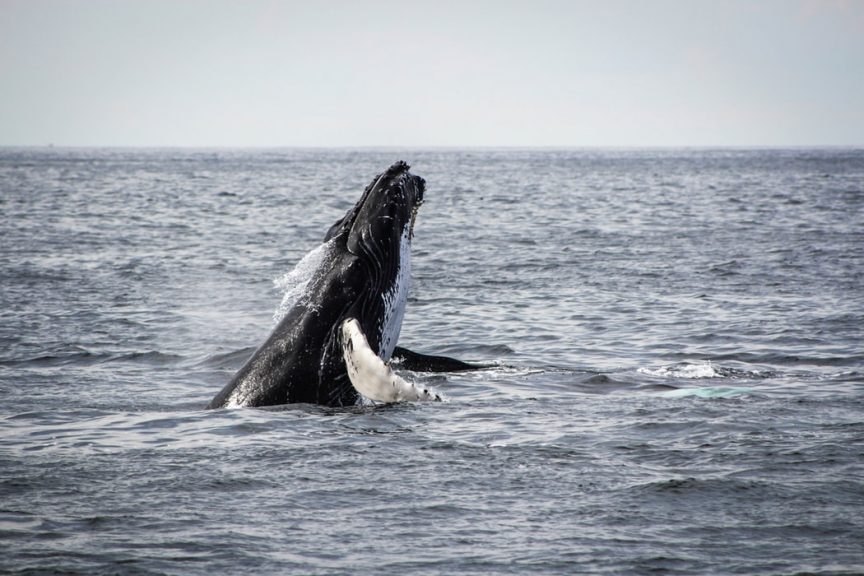 Whale watching on the south coast at Mirissa Beach is a sight to witness. However make sure you abide by the principles and ethics of responsible tourism while doing so.
Unawatuna
Unawatuna, situated off Galle, is one of the most popular beaches in Sri Lanka for good reason. Though crowded with locals and tourists alike, you can to truly experience the Sri Lankan culture here. With beach side bistros and restaurants serving delicious local seafood, discos promising a fun nightlife and ample of water sports, this horseshoe-shaped gem is rich in history and rare biodiversity. The ocean also makes it a popular spot for diving, snorkeling and surfing, whether you're experienced or simply a beginner. Unawatuna may not be our first choice when it comes to spending a quiet evening, but it is undoubtedly an accurate representation of this island destination.The rope swing at Dalawella beach, just south of Unawatuna, is something that went viral over Instagram and for all the right reasons, so if you're here, be sure to visit it.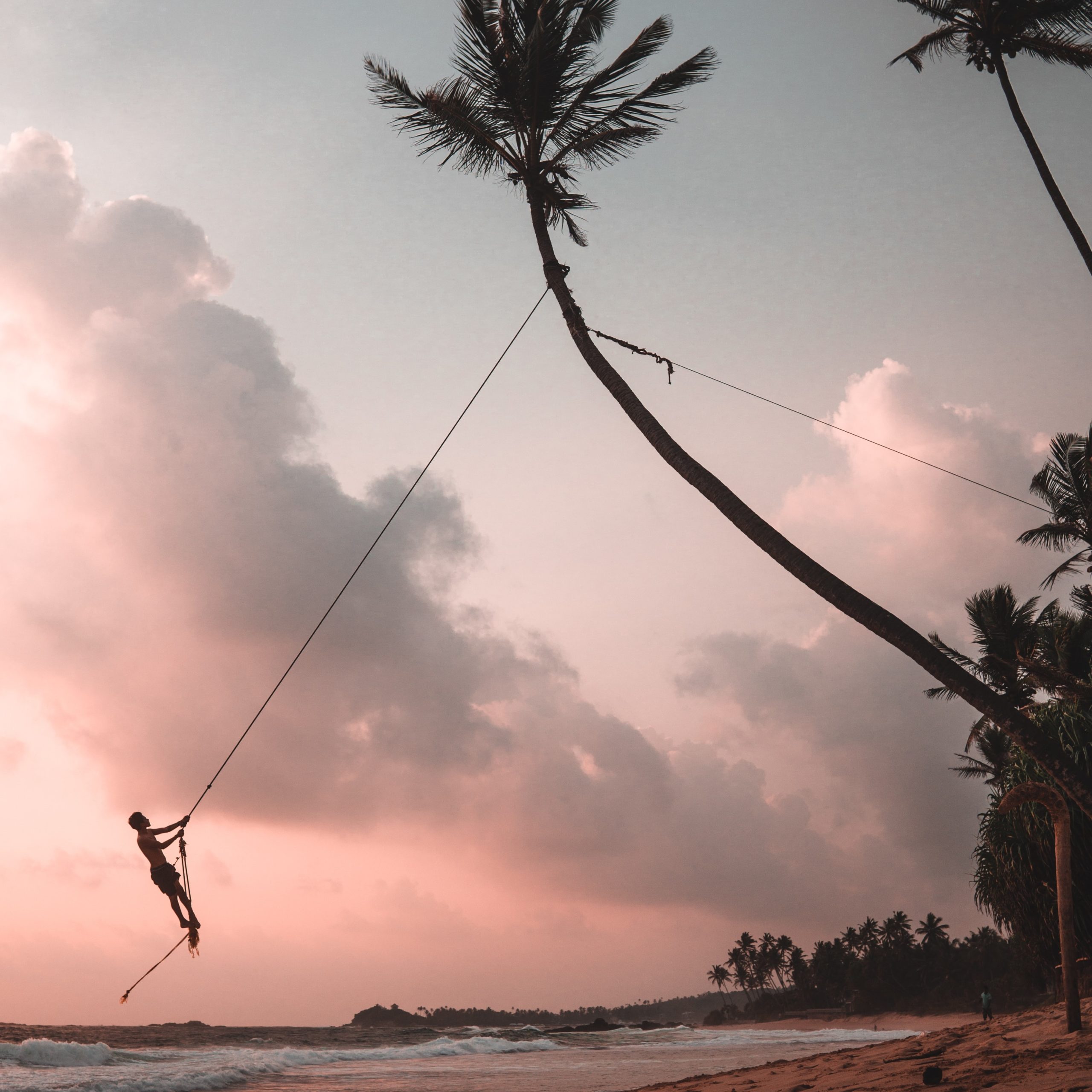 The insta-famous Dalawella Beach swing is located just down the road from the popular town of Unawatuna. Not just giving you that perfect shot but also a super fun experience.
Tangalle Bay Beach
If you're looking to get away from the usual hustle, this white sand beach makes for the perfect place to lay back and relax peacefully. The small bay with a sheltering reef is one of the places that's well worth the visit, while the reef catches the bigger waves and it acts as a natural Jacuzzi. At Tangalle Bay Beach, you can find a fresh water lagoon and a fishing harbour right at its mouth. The seafood here is fresh off the boat, and available at shacks along the entire stretch. Tangalle is a destination you can totally count on to get some much needed peace of mind.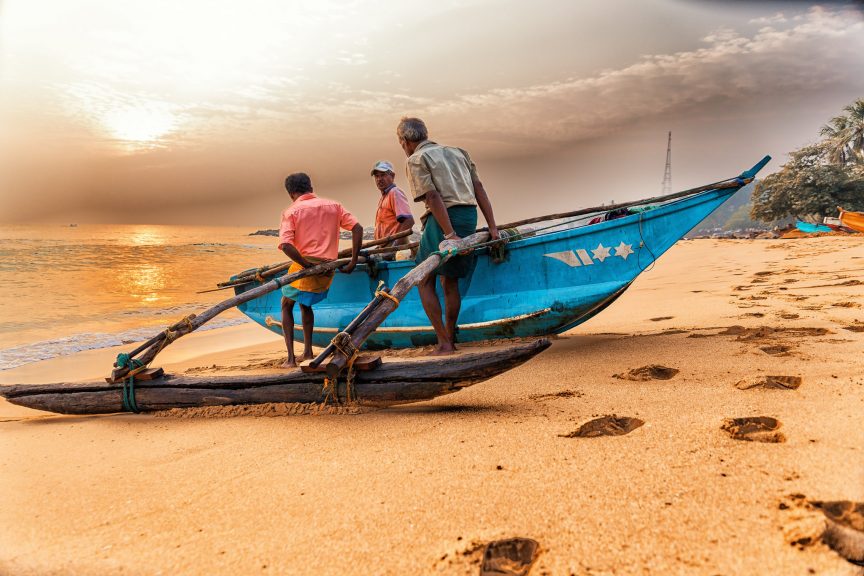 Looking to go off the beaten path and escape tourist crowds? Tangalle beach guarantees a peaceful time, uninterrupted by the usual beach crowds.
The exotic island country of Sri Lanka has tons to offer, from wildlife and tea plantations to a rich diverse culture and white sand beaches. The highlight is definitely the pristine beaches across Sri Lankas never ending, breathtakingly beautiful, coastline. But for the ideal beach experience while travelling to Sri Lanka, these are definitely our personal favourites as they cater to each one's idea of what a perfect beach should look like. Planning a trip to Sri Lanka, but afraid to miss out on the "must see" and "must do"? Get in touch with us. We'll help customize your trip with a blend of the best beaches in Sri Lanka and other unmissable experiences in different regions of the country.
helping you travel your way
We provide a helping hand to independent travellers who need assistance with planning and booking their trip. The primary goal is to turn your dream holiday into reality.
YOU MIGHT ALSO LIKE
LEAVE A REPLY