Weather in Vietnam in February
Due to its tapering shape stretching from north to south, the weather in Vietnam tends to be complicated. Vietnam has a distinct weather pattern, with each region experiencing different seasons at different points of the year. Naturally, this makes deciding the best time to visit Vietnam a bit of a challenge. The rare phenomenon of the entire country being perfect to travel through takes place in February, as the weather in Vietnam in February is fairly ideal throughout. Read up on how the different regions experience the weather in Vietnam in February, and start planning that dream trip right away.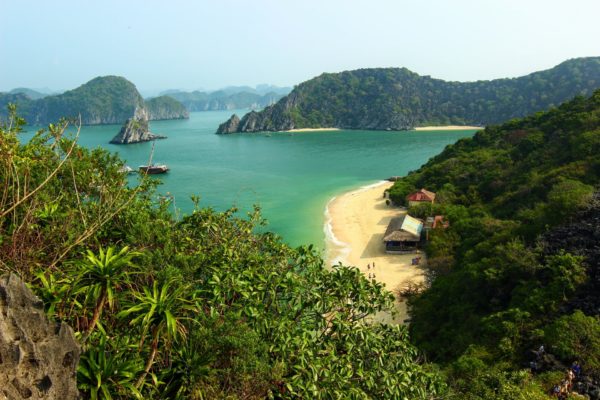 The weather in Vietnam in February makes it a good time to visit Halong Bay- Photo Credit Rashel Ochoa
Weather in North Vietnam in February
(Sapa, Ninh Binh, Hanoi, Halong Bay, Cat Ba)
The weather in North Vietnam in February is characterised by clear skies and bright sunshine. December is generally the driest month in the north. However, February continues to remain dry, though a stray shower or two will make its appearance. Average temperatures hover at around 17 °C. Hanoi has clear, cool weather, perfect to explore the Old Quarter. Expect a slight misty haze at the coast and around Halong Bay. However, this shouldn't be bad enough to completely obstruct your view.
Sapa and the other locations in the far north are quite chilly and occasionally foggy. But, the cool weather is ideal for treks and hikes. Carry woollies for the night as it can drop to below 15°C. While you can always trek through Sapa's hills and meet the ethnic minorities that live there, February is not a good month if you want to see the famous rice terraces. September would be more ideal.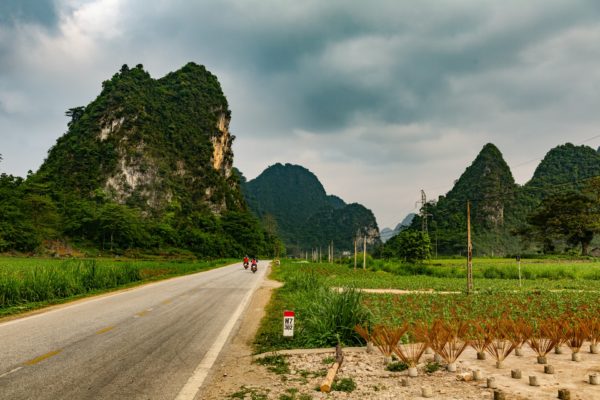 The weather in North Vietnam in February can still be cool and cloudy- Photo Credit Marc Hastenteufel
Weather in Central Vietnam in February
(Da Nang, Hoi An, Hue, Nha Trang)
The weather in Central Vietnam in February is all sunny days and clear skies. Rain is extremely sparse and only makes itself known with a light sprinkling or two. Beach bums will be thrilled to know that the beaches around Da Nang, Nha Trang and Hoi An are at their prime. Average temperatures hover at a comfortable 25°C. It's a great time to experience the adventurous side that Vietnam has to offer. You can also visit one of the many national parks in this gorgeous country, particularly the Phong Nha – Ke Bang National Park.
Locals in Hoi An plant rice saplings in January, so it's still too early to see fields of green or gold. April would be the ideal month for the breathtaking transformation. Head to Da Lat and the central highlands if you still want some cool weather – these regions are pleasant year round due to the high altitude.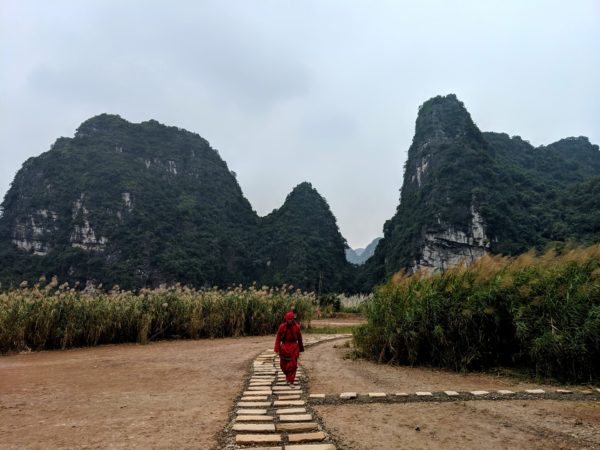 Make sure you go trekking or adventuring in Vietnam- Photo Credit Aditi Khazanchi
Weather in South Vietnam in February
(Phu Quoc, Mekong Delta, Ho Chi Minh City)
The streak of good weather in Vietnam in February continues in the south, with temperatures averaging at 27 °C. Beaches around Phan Thiet and Long Hai are perfect for those seeking the sun and sand. It is also a great time to go sandboarding at Mui Ne's famous sand dunes. Temperatures will keep rising until it peaks at the beginning of the wet season in early April.
Phu Quoc island is an island paradise, with its beach resorts in full swing. February is a good month to go scuba diving off the coast of Phu Quoc as water visibility is fairly high.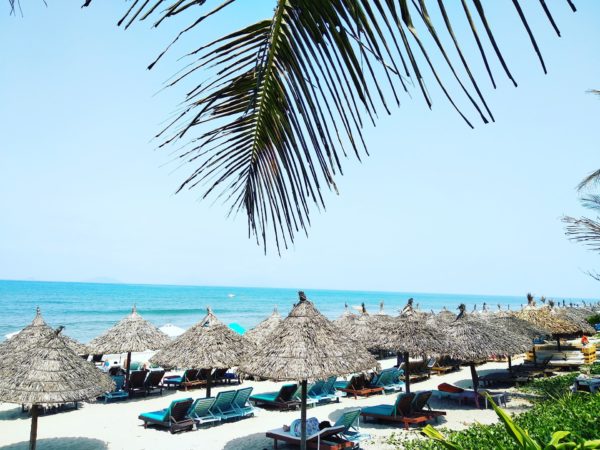 Summer and the beach is calling in South Vietnam- Photo Credit Vu Nguyen
Festivals in Vietnam in February
Vietnam's culture and traditions are unique and interesting, and unlike any other in the world. The best way to see the Vietnamese fervour towards their many festivals is through participating in the festivities with them. Read up about the possibilities of partaking in festivals in Vietnam in February.
Lim Festival
Apart from widespread festivals that the entire nation partakes in, Vietnam also has several smaller festivals that are centered in certain regions. The Lim festival is one of these. Taking place on the 12th and 13th day of the first Lunar month, this festival is celebrated in the Lim village in Bac Ninh, around 18 kms from Hanoi.
It is characterised by the Quan Ho folk songs, which "lien anh" and "lien chi" – male and female Quan Ho singers – perform. Apart from this, you will also witness competitions for wrestling, weaving and cock fighting among others. The best way to experience this festival is by staying at a homestay.
Perfume Pagoda Festival
Taking place on the 15th day of the first lunar month, the Perfume Pagoda festival usually falls in the second-half of February or early March. Throngs of pilgrims flock to the Perfume Pagoda near Hanoi to pay their respects to Buddha. Reaching the pagoda involves a two-hour drive from Hanoi to Ben Duc Pier, where visitors travel on row boats to reach the Pagoda. The journey to the Pagoda is quite scenic, passing limestone karsts and rice paddies.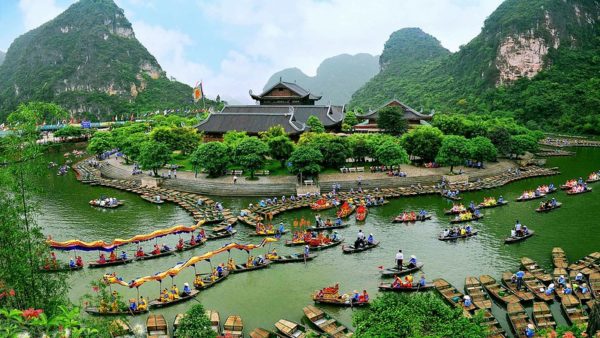 The Perfume Pagoda Festival is wondrous to behold – Photo Credit Thanhhoa Tran at Pexel
Vietnam is effortlessly proving itself to be a gem of Indochina, and together with Cambodia and Laos, the three make an unbeatable combination. With the weather in Vietnam in February being ideal across the country, you can choose to explore only certain regions in depth, traverse across the country, or even combine it with its Indochina neighbours. If planning an itinerary is more stressful than fun, contact us and let us know everything you need – we'll give you the best possible customization to enjoy Vietnam's bounties.
helping you travel your way
We provide a helping hand to independent travellers who need assistance with planning and booking their trip. The primary goal is to turn your dream holiday into reality.
YOU MIGHT ALSO LIKE
LEAVE A REPLY