Food in Sri Lanka
A riot of flavours, an amalgamation of influences, and the use of local ingredients. Words fall short of describing the food in Sri Lanka. Armed with its arsenal of spices, Sri Lankan food presents an abundance of incredible dishes. It is for the traveller who is open to new experiences. From a brief insight into the cuisine, to certain must-have dishes, our detailed guide to 'Food in Sri Lanka'. This alone, will leave your mouth watering, tempted to hop on the next flight and taste this delicious cuisine.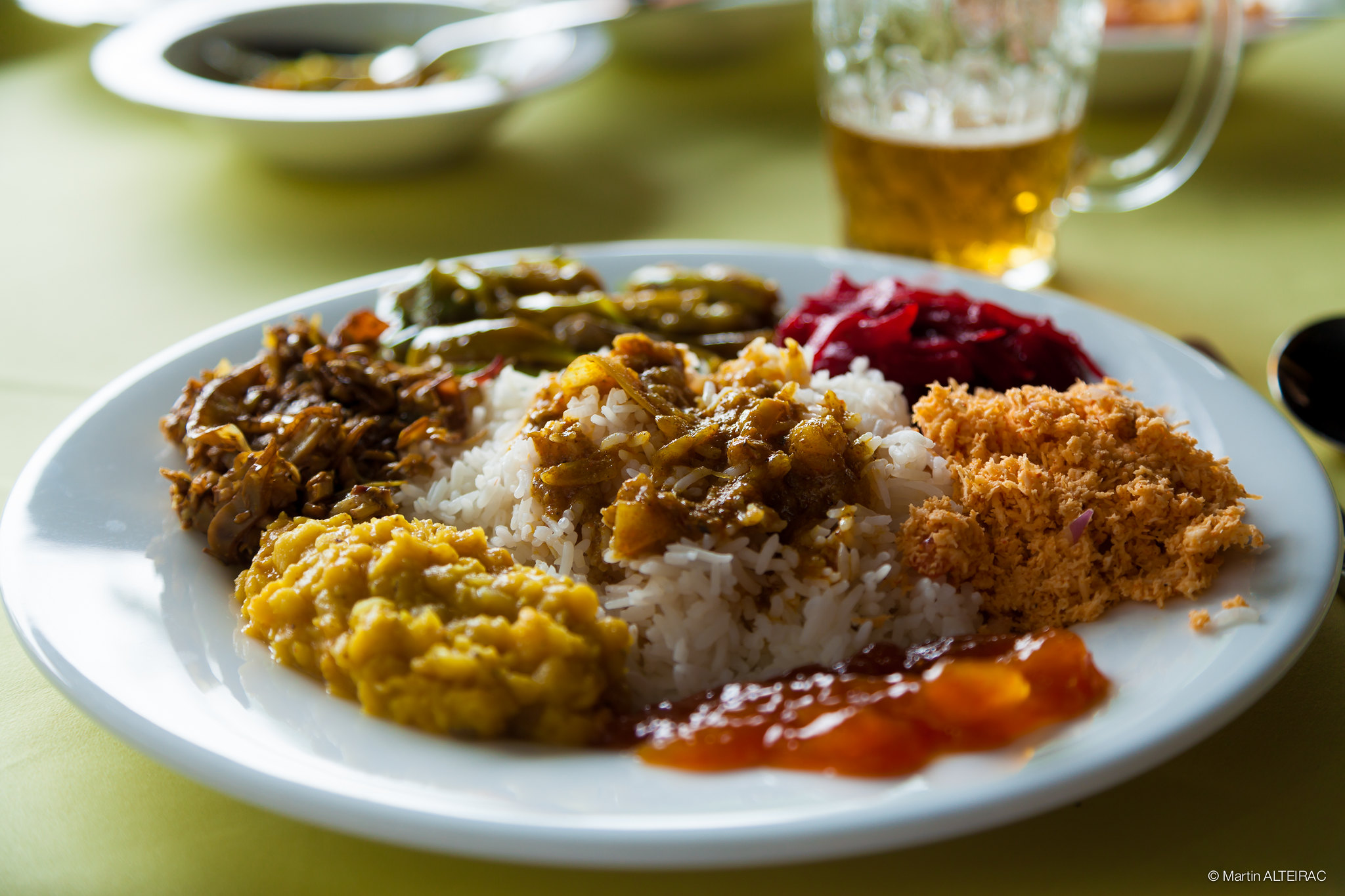 A staple Sri Lankan meal – Rice and Curry. One dish you ought to try on this Island! Flavours vary from one region to another which makes this all the more special.
Sri Lankan Staples
You can find an abundance of fruits and veggies, given Sri Lanka's tropical climate. The coastline ensures an abundant presence of seafood. Rice and curry is an integral part of traditional food in Sri Lanka. It is also a staple food item for the locals. The island's exotic food is a vital aspect of its culture. The curries are known for their mildly spiced flavors, and the use of coconut milk. The types of curries, however, are of great variety. From curries with meat, poultry and fish to vegetable and even fruit curries. These are accompanied by Sambols, fresh pastes made with coconut or leaves, to freshen up the palette. Pappadam, a thin, crisp flatbread is a common yet fun accompaniment that you must try.
For a quick bite to satiate those hunger pangs you can indulge in a few 'short eats'- a Sri Lankan term to denote snacks. Short eats commonly found across the country are coconut roti served with hot sauce. It also includes dishes like fried chickpeas or samosa stuffed with vegetables, eggs or meat in some cases.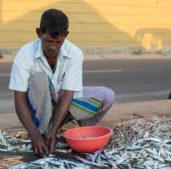 Given that Sri Lanka is an island country, fishing is commonly practiced along the entire coastline. Sea food is an integral part of Sri Lankan cuisine.
Mouth Watering Faves- Must Haves in Sri Lanka
From among a vast range of dishes to eat in Sri Lanka, we managed to narrow it down to some of our favourite picks. Naturally, we had to start off the list with Fish Ambul Thiyal (sour fish curry), the most popular among the various fish curries available. The most important ingredient here is the dried goraka, a small fruit that gives the fish its sour flavor. Kottu is Sri Lanka's version of a hamburger. A type of roti known as the godamba roti is fried and chopped with a selection of ingredients handpicked by you. Kukul Mas Curry is the good old chicken curry you cannot go wrong with. It is infused with local spices and a generous dollop of coconut milk to thicken the gravy. Gotu Kola Mallung (Salad) is a native plant, and the salad is made by combining it with tomato, coconut, chilli and shallots.
Pol sambol is a simple yet refreshing blend of finely grated coconut, chilli, red onions, lime juice, salt and Maldive fish. A fresh coconut garnish used as an accompaniment with most local dishes. Apart from coconut juice, wood apple juice makes for a fine option. This Asian fruit is another highlight of the Sri Lankan cuisine. It tastes sweetish sour, and has a distinct smell. The juice is made by blending the fruit with jaggery or sugar and water. Lastly, for those of you with a sweet tooth, try Watalappan, a delicious coconut custard pudding, especially popular among the Islamic population.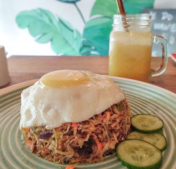 Travelling to Sri Lanka? Be sure to add the Sri Lankan Kottu to your list of must-haves. A preparation of flat bread with vegetables, local flavours, accompanied with egg or meat.
Regional Distinctions and Foreign Influences
Each dish varies from one region to another, an interesting feature of the Sri Lankan cuisine. Food in the North of Sri Lanka has distinct South Indian flavours. Reason being, its proximity to South India and the historical invasion of South Indian rulers. The Western region on the other hand has strong foreign influences, thanks to trade with other countries. Throughout certain districts in the Central region, you'll find spices such as cloves, cardamoms, nutmeg and pepper in abundance. The east coast of the island has dishes familiar from other parts of the world, such as Biryani, and Dutch and Portuguese candies and desserts, popularized by the Muslims living there.
Present day Sri Lankan food is a result of local ingredients, and the non-native ingredients brought by international trade and its colonial past. For instance, black pepper is native to the island and was a widely used spice in traditional food in Sri Lanka, until spicy peppers arrived on colonial era trading ships. Today more than 60 peppers grow there. The local cinnamon, often called Ceylon cinnamon, is another common feature of Sri Lankan cuisine. Apart from topical veggies like bitter gourd, jackfruit and drumsticks used in curries, an obvious British influence is seen in the use of veggies like carrots, eggplant, pumpkin and potatoes. Food in Sri Lanka is an adventure for your taste buds to embark on. Simply get in touch with us and we'll help plan the ideal trip with maximum local experiences for you to understand Sri Lankan culture.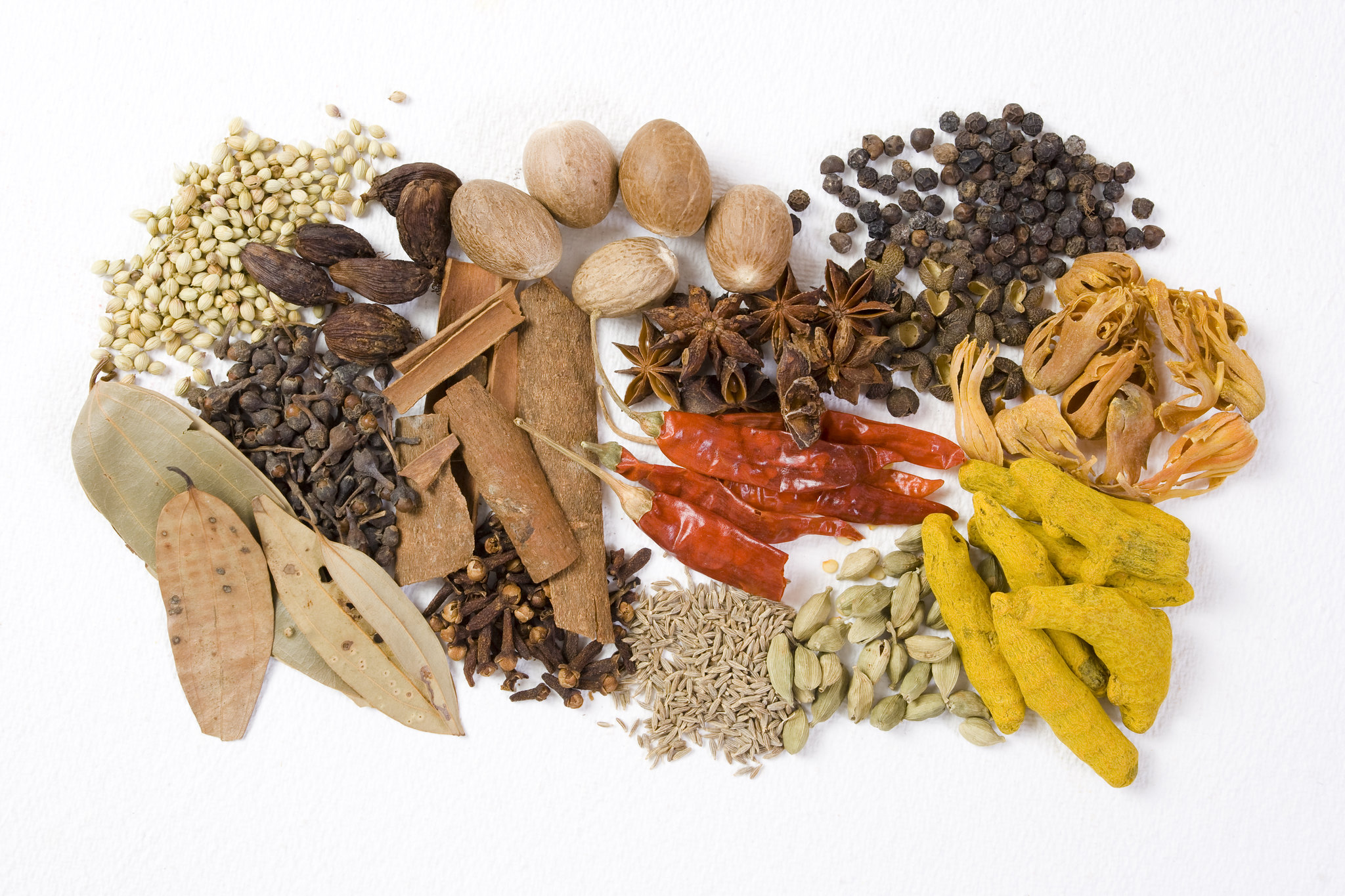 Local Sri Lankan spices used to add a touch of authenticity to popular colonial influenced dishes.
Figuring out the kiddie menu- Food recommendations for children
Worried about travelling to Sri Lanka with kids? Due to its liberal use of spice and distinctly flavourful food, children may find it difficult to adjust to the traditional Sri Lankan cusine. However, this won't be a problem in bigger cities and tourist towns. Here, you will have an abundance of restaurants serving the classic continental pastas, fries and sandwiches. Eggs, chips, and veggies can be a last resort in the dearth of fast food joints. Additionally, Sri Lanka's tropical climate results in an abundance of fresh fruits that they can enjoy. However, if you would like the kids to experience a bit of Sri Lankan cuisine, you can ease them into it with pittu (coconut-rice combination), hoppers (bowl shaped pancakes – sweet & savoury) and the widely popular roti (stuffed flatbread).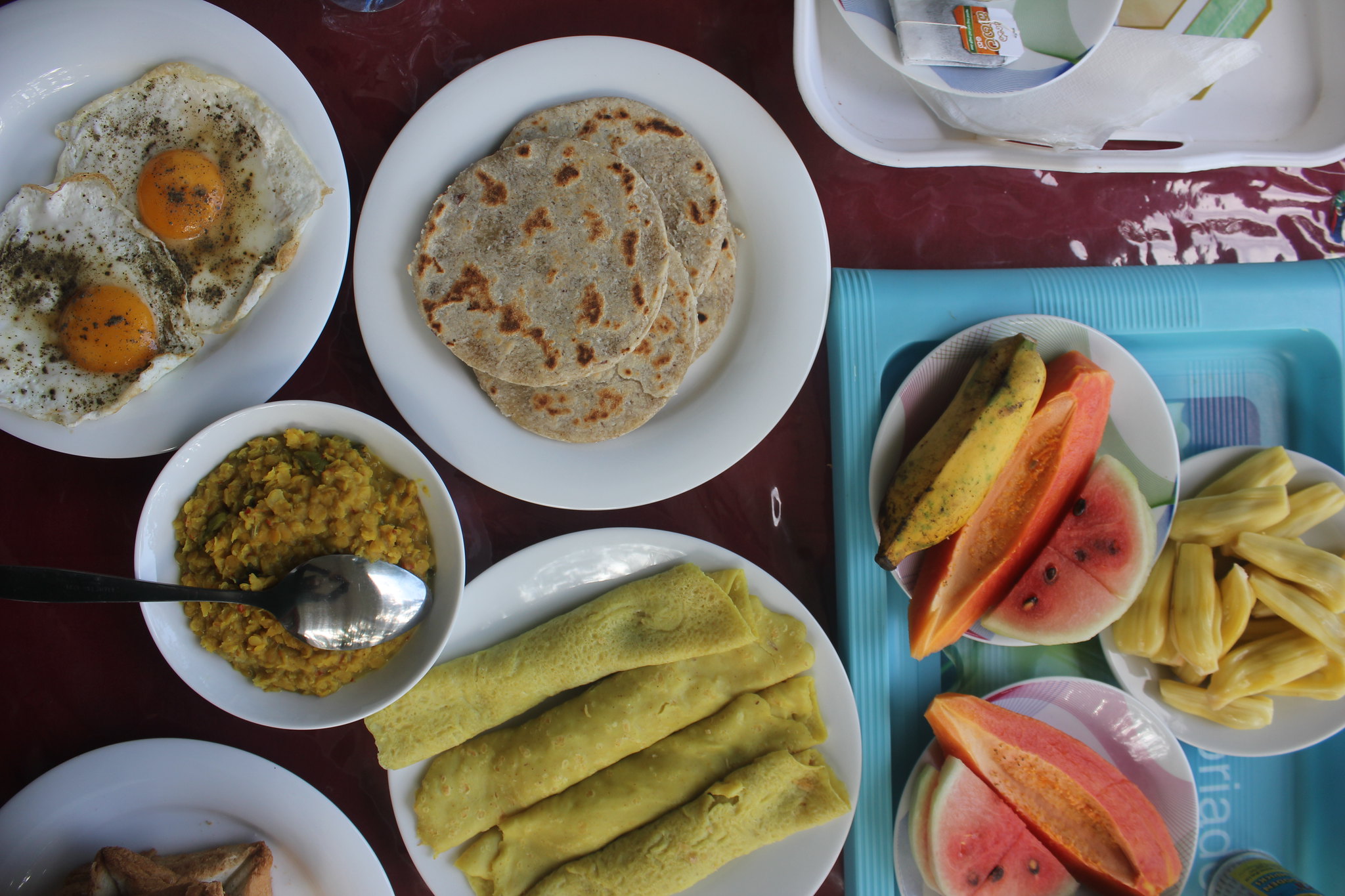 The ideal breakfast with a mix of stuffed coconut flatbread and lentils. Pancakes with honey & bananas and a fruit platter to compliment your meal.
You've probably landed on this blog post to know more about Sri Lanka. But honestly, there is only so much that a description can do. Planning your Sri Lankan holiday? We've given you an overview of all hte essentials you need to explore this gorgeous country. Apart from this, you can also figure out when is the best time to visit Sri Lanka, and the best places to visit in Sri Lanka. For anything else, click on Plan Your Trip and let us help you explore this Island country. Explore the country at it's authentic best, keeping in mind all your requirements and preferences.
helping you travel your way
We provide a helping hand to independent travellers who need assistance with planning and booking their trip. The primary goal is to turn your dream holiday into reality.
YOU MIGHT ALSO LIKE
LEAVE A REPLY